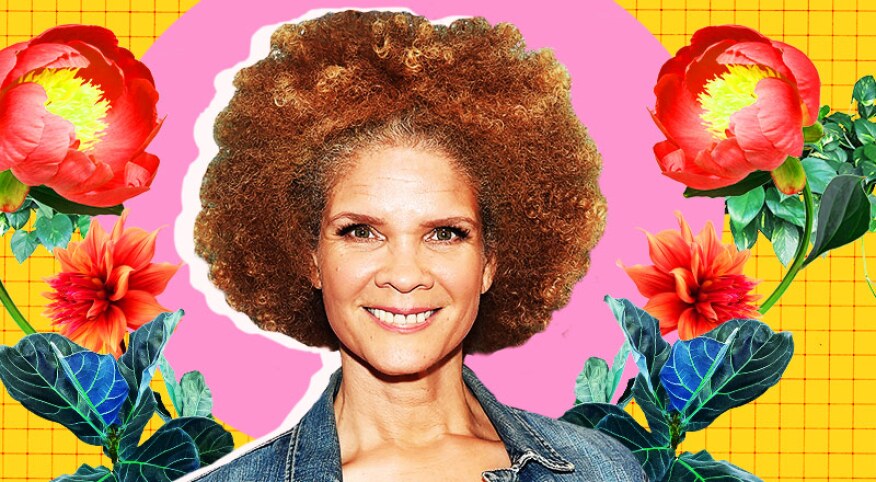 Should you somehow manage to forget her memorable name, you'll still recognize the signature mane of that afrolicious blond you've seen discussing Black culture and social justice on CNN. "There's a story in every curl, coil and kink," writer, Hair Tales producer and image activist Michaela angela Davis tells Sisters.

The multi-hyphenate badass, 56, who conjures her Black Girl Magic at the junction of style, media and advocacy, is currently hosting Salon Sessions with Michaela Angela Davis, presented by AARP. Our tradition of gathering in a hair salon has fostered a safe space for us to administer care, untangle issues and create beauty. This three-part digital series, which started Aug. 12, explores the intersection of Black women's interior lives and society through the lens of hair. Respected thought leaders engage in real talk about loss, healing and liberation — and there's room for your comments, too! (If you missed the first live session with Bishop Vashti Murphy McKenzie on Zoom — and it was all-the-way live — you can catch the recording on AARP's Black Community Facebook page. For updates on the series, be sure to follow @AARPBlackCommunity on Facebook (facebook.com/AARPBlackCommunity).

Affinity. Authenticity. Agency. Affirmation. Abundance. Artistry. Activism. Allure. Attitude. Hair isn't just what's on our head — it also symbolizes where Black women are headed. I rang up my friend Davis, who's found a creative retreat among the red rock canyons of Sedona, Arizona, while collaborating with Mariah Carey on the artist's memoir. Here, her impressions from the journey (comments were edited for length and clarity):

On Affinity
While we are part of larger humanity, there is something very specific that is the culture of Black women. We create our own businesses through hair. We create our own economy, our own community.

On Authenticity
Sitting in the salon, I would hear these testimonies where in a matter of 10 or 15 minutes women were either in hysterical laughter or crying, or ... there was such an emotional connection to the story of their hair. I recognized that this was a thing. Our hair is part of what makes Black women Black ... no matter who we are, no matter our complexion. I'm light-skinned and blond … my hair is Black, you know what I mean?

On Agency
I worked for the Hillary Clinton campaign as a surrogate, joining with the Mothers of the Movement [a group of women whose African American children have been killed by police or by gun violence]. I'd befriended Sybrina Fulton after she buried her son Trayvon Martin. As I got involved, I learned so much about Black women's [political engagement] and strength as a voting bloc. We are a backbone of democracy, but we're so misunderstood.

On Affirmation
On CNN, after Trayvon was murdered, I became the Black trauma go-to, and it didn't stop. It was Trayvon, it was Freddie Gray, Michael Brown, Sandra Bland. I felt like every time I was on the air, I was talking about Black loss. And then after that terrorist attack in Charleston ... it broke me. So I remember being in tears and calling my producer, and I said, "We have to do something that's about Black life, about Black girl joy, or I don't think I'm going to make it." So with no money, with no backing, I scrambled to shoot the small stories that became Hair Tales.

On Abundance
And this is how God works; it's how Black women work. I very rarely call in celebrity favors. But in this case I was like, This is worth the ask. The first person to say yes was Regina King. And then Tasha Smith gave me her L.A. acting studio as a location. So I did this six-part web series with actresses Regina King, Tasha Smith, Amanda Seales and Kim Coles. I also shot Patrisse Cullors, one of the organizers of Black Lives Matter, and [producer] Mara Brock Akil [Girlfriends, The Game, Being Mary Jane].

On Artistry
Hair Tales expanded from [the original six stories] to other platforms, live events, digital content and as a full-length docuseries. I used the same format that Eve Ensler did in The Vagina Monologues. Her conversations with women use the vagina as a tool to talk about sexual violence. Notable people and everyday people tell me about their hair. I've had conversations in Paris, in South Africa, at music festivals and college campuses.

On Activism
In 43 states, you can be discriminated against because of your hair. People are passed up for jobs because their hair is natural. Before the introduction of the CROWN Act (Creating a Respectful and Open World for Natural Hair), there was no policy, there was no support if you were pulled into HR and told, "Can you tone it down?" Or even in service work, if you're a waitress, "Can you not wear your braids?" or "Can you wear a hairdo that's not so ethnic?" And then all of a sudden, you don't have a shift next week. Supporting the many Black women legislators among those working to change this is empowering. At TheCrownAct.com you can learn more and get involved by supporting the lawmakers in your state or introducing the act within your state legislature. This is an important way to galvanize around elected officials and down-ballot candidates at the state and local levels.

On Allure
Every time I see [U.S. Rep. Ayanna Pressley, who embraced her baldness and announced publicly that she suffers from alopecia], she just looks more and more beautiful. She stepped all the way into [her present image].

On Attitude
Even Gen Zs are coloring their hair gray because it's cool. Right? Gen Xers and boomers are also leaning into it. Gray hair that is textured has a life to it that's so beautiful. Watching more women embracing their gray now is fantastic.