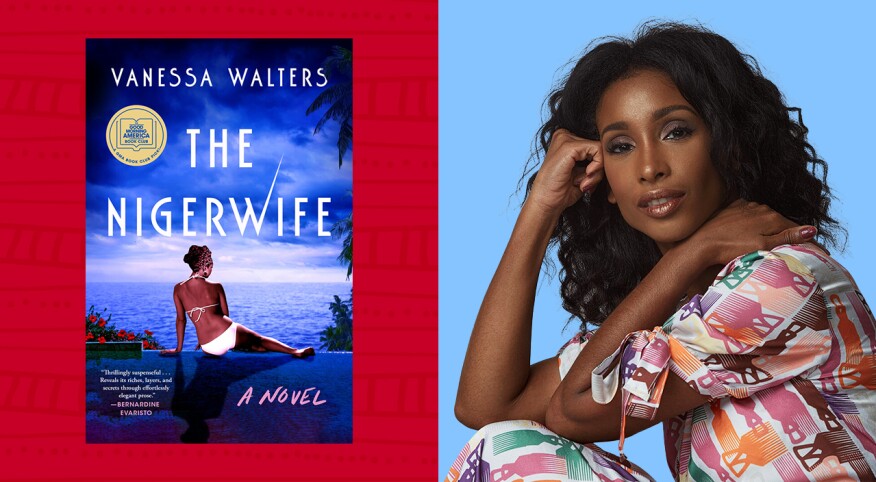 HuffPost called it "The perfect beach read." Good Morning America describes it as "White Lotus meets Big Little Lies." I call it a delicious debut from a talented novelist. Below, I'll share her publisher's synopsis, my fascinating email chat with Walters and I'll tell you how to enter for a chance to win a free copy!

From Simon & Schuster:

Nicole Oruwari has the perfect life: a hand­some husband, a palatial house in the heart of glittering Lagos and a glamorous group of friends. She left gloomy London and a troubled family past behind for sunny, moneyed Lagos, becoming part of the Nigerwives — a com­munity of foreign women married to Nigerian men.

But when Nicole disappears without a trace after a boat trip, the cracks in her so-called perfect life start to show. As the investigation turns up nothing but dead ends, her auntie Claudine decides to take matters into her own hands. Armed with only a cellphone and a plane ticket to Nigeria, she digs into her niece's life and uncov­ers a hidden side filled with dark secrets, isolation and even violence. But the more she discovers about Nicole, the more Claudine's own buried history threatens to come to light.


Click here to enter for a chance to win a copy of The Nigerwife.


Check out what Vanessa Walters told Sisters:
(This interview has been edited for length and clarity.)


HBO plans a miniseries based on your work. What can you tell us about it?

The HBO series is being developed by Amy Aniobi, who was a writer, director and executive producer of the hit TV show Insecure that starred Issa Rae.

Your main character, Nicole Oruwari, is a Nigerwife. What does this mean?

The term Nigerwife is a Nigerian immigration term for a foreign woman who is living in Nigeria as the wife of a Nigerian man. In Nigeria there is also a Nigerwives Association, of which Nicole is a member.

Why did you choose to center a mystery novel around this lifestyle?

The Nigerwife experience is a fascinating one, and one I experienced myself as a Nigerwife in Lagos for many years. Living so far away from family in a mostly patriarchal and culturally different society was an epic adventure, but also came with specific challenges that were so interesting I had to write about it.

How large is this community?

There are many thousands of Nigerwives in Nigeria, but for the specific community of Nigerwives in Lagos I would say a few hundred.

There is a saying, "People who marry money, earn it." What unspoken expectations may there be about Nicole's place in her husband's house and social circle?

Many of the expectations would be explicit, to bear and raise children, to occupy a typically feminine role and to be a submissive wife. An unspoken expectation would be for her to put the family first at her own expense if necessary and give up her own ambitions.

Does Nicole's status as a foreigner in Nigeria influence how she navigates gender and sexual politics in the country, as compared with native-born wives?

Being from the U.K. gives Nicole more status and freedom in some ways compared with native-born wives. The legacy of colonialism means foreigners from Western countries are put on a pedestal. Grace is often found for any lack of understanding of local culture. But values differ across the country from very strict patriarchal and religious ideas to very open minds and acceptance at the other end of the spectrum.

Lagos, Nigeria, is a setting many readers will encounter for the first time or see with new eyes. It is a place of contrasts and contradictions. If Lagos were a human character, what words would you use to describe this individual?

Lagos is loud and friendly, but also wily and competitive. It is tense and wary, but also warm and embracing.

Your novel has inventive plot twists and structure. Who are some fiction writers that inspire you creatively?

A range of writers from Chimamanda [Ngozi] Adichie to Bernadine Evaristo and Sally Rooney and Oyinkan Braithwaite.

When Nicole goes missing, it's her auntie Claudine, from whom she is estranged, who boards a flight from Heathrow to investigate. How did you develop this intriguing character? What brought her to life?

I really imagined initially how my British-Jamaican mother (who has never visited Nigeria) might have experienced the city. Then I had to change this character into someone who had been through the things Claudine had in order for the story to ask the wonderful questions it does.

Sisterhood is a haunting and poignant theme in this story about family secrets. Tell us about Claudine's sisters.

Claudine has a complicated relationship with Penny and also her late sister Jackie. All three have had very different experiences growing up in the same home with the same parents. Claudine as the oldest has experienced the most separation from her parents and been forced to do a lot of labor in the house. Penny as the child with the darkest complexion has struggled with colorism, and Jackie, growing up in the U.K., was not as anchored in her identity and culture as her older siblings, and falls prey to outside influences.

Nicole's family of origin is of Jamaican descent. How do their cultural mores add dimension to the story?

Jamaicans and Nigerians have an interesting cultural intersection as many Jamaicans have ancestors who were enslaved and trafficked to Jamaica, bringing their culture with them. But it has since commingled with the cultures of other enslaved peoples and the British culture. Jamaican culture doesn't have such rigid ideas about social status, gender or sexual politics. They are seemingly at other ends of the spectrum, and it's interesting to see how the story exposes differences but also finds intersections between the two.

Which scene in the story feels the most to you as if you are living within those sights, sounds and other sensations? It's authentic to your own experience?

I particularly like the end of chapter 2 when Nicole is walking through the garden at night, and the night is almost alive with creatures and the water smells of diesel. It's very vivid and something I've experienced several times.

Nigerian weddings are epic affairs. What does a wedding mean to Nigerian culture?

Family has a special reverence in Nigerian culture, and so does social status and religious observance. Weddings are a celebration of social status as much as they are a celebration of family and faith. They are a monumental milestone for a family, which will spend an inordinate amount of money to put on the best wedding it can afford.

What advice do you have for a Sisters From AARP reader interested in visiting Lagos?

Lagos is a wonderful place to visit, and there are many great hotels and fun things to do there. But the trip should be planned well in advance, because it's not a wandering-around kind of city. You have to be very intentional in your choices. But you are sure to have a wonderful time!

Click here to enter for a chance to win a copy of The Nigerwife.