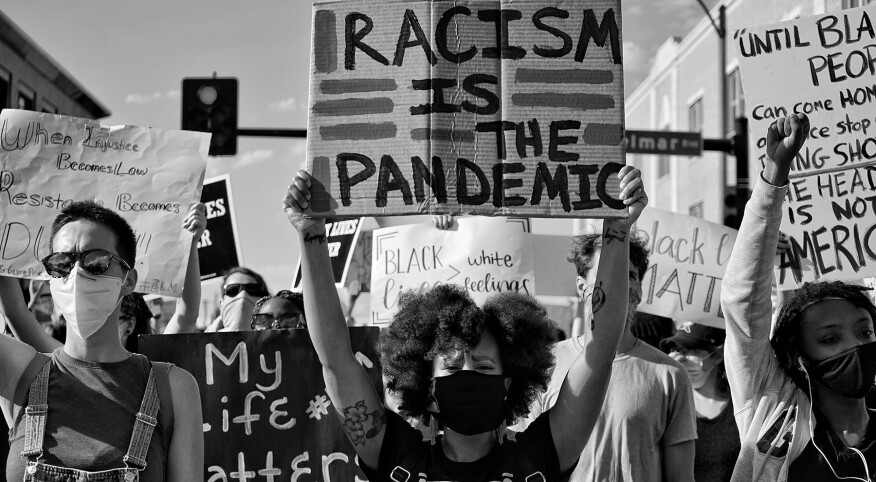 When we look back on 2020, and Lord knows looking back on it can't happen soon enough, we will remember the fears and losses surrounding COVID, and the precariousness of our job and school situations. We'll certainly recall the anger that welled up within after each unanswered assault on yet another Black body, amid a climate in which those fostering racial hate felt emboldened and legitimized.

It hasn't been pretty, but then again, neither has America's history. And where we are on the continuum of that history is in a place of profound change. Sam Cooke's 1964 protest anthem told us that a change was gonna come. Well, there's no denying the volatility of this moment.

Change doesn't always show up the way we want it to. It can be slow and unpredictable, at times seeming to move in the wrong direction and in ways that squelch the spirit. But if you believe in God or a higher power, you know that what was meant for evil can work out for good and that ultimately, this too shall pass.

It's been a hard year. Let's breathe and reflect on these hopeful moments.
And while the COVID pause and has seriously rocked our world, it hasn't been all bad. It made us slow down and gave us a chance to bond with loved ones. It helped us reexamine what's important in our lives and allowed us to move forward with increased intentionality. And it reminded us that we must be the change that we want to see in the world. Martin Luther King Jr. said that the arc of the moral universe is long but it bends towards justice. In slow, sometimes imperceptible ways, that bend is happening, even now. It's been a hard year. Let's breathe and reflect on these hopeful moments:


DJ D-Nice's Club Quarantine took us out of isolation and into party mode.


A record number of Black women (at least 130) ran for Congress.
Books like How to Be an Antiracist are selling out online and in bookstores.
A young Missouri sister convinced the Merriam Webster editors to update the definition of racism to include systematic oppression.
Princeton University's board of trustees decided to rename two important campus facilities because "Woodrow Wilson's racist thinking and policies make him an inappropriate namesake." Newly renovated Hobson College, named for a Black alumna — Ariel Investments co-CEO and philanthropist Mellody Hobson — is scheduled to open in 2026.
Apps like Black Wallet and Black Nation, which promote Black-owned businesses, have seen a surge in popularity, and daily downloads of EatOkra, a guide to Black-owned restaurants, increased over 4,000 percent in one week. Also, Yelp added a tool to help find them.
Led by the NBA and the WNBA, major sports leagues including the NFL, MLB and MLS paused play to protest police brutality.
This:


Image of George Floyd projected over the statue of Confederate General Robert Lee in Richmond, Virginia

Getty Images

Virtual choirs, including this one featuring Tramaine Hawkins, Erica Campbell and cast members from Greenleaf, helped us get our praise on.
Maryland, Virginia, Colorado and Washington joined California, New York and New Jersey in the fight against hair discrimination by passing the Crown Act.
On Blackout Day (July 7), over 2 million people didn't spend any money, unless it was to support Black-owned businesses.
Chicago teens, with financial assistance from the NFL's Sam Acho and other athletes, transformed a liquor store into a fresh food market.


Baroness Valerie Amos

Getty Images

Lori White (president of DePauw University), Erika James (Wharton School of Business), Lynn Perry Wooten (Simmons University) and Baroness Valerie Amos (University College, Oxford University) became the first women of color to lead their respective institutions.

The folks behind the Oscars announced that by 2024 all films submitted for Best Picture will need to meet diversity inclusion thresholds.
Creativity and innovation are flourishing. Many of us are using the COVID pause to explore or brush up on hobbies or start businesses.
A Virginia high school named after Confederate General Robert E. Lee was renamed to honor civil rights hero and good troublemaker John Lewis.
Aunt Jemima got ready for retirement when Quaker Oats announced they will remove her image from the box and rebrand the 130-year old product.
Not to be outdone, Uncle Ben's owners, Mars Inc., announced that this brand will also get a racially relevant makeover. Ditto Eskimo Pie. And the makers of Cream of Wheat and Mrs. Butterworth announced that their packaging is under review.
All 193 high school juniors at LeBron James' I Promise School in Akron, Ohio, received free four-year tuition to Kent State University. In October, Wheaties featured James and I Promise students on one of their iconic boxes.
Congress introduced legislation to eradicate racial divides in health outcomes.
The NFL not only reversed its position on kneeling during the national anthem, they played "Lift Every Voice and Sing" before the start of every season-opening game.


Removal of a statue of Confederate general Robert E. Lee from Robert E. Lee Park in Dallas, Texas

Getty Images

In less than three months after George Floyd's death, 38 Confederate monuments were removed.
Mortgage and refinancing rates hit historic lows. Gas prices also went down.
Color of Change teamed up with actor/producer Michael B. Jordan to launch an initiative to reform the entertainment industry's inequitable power infrastructure.
The COVID pause liberated breasts nationwide from bra captivity.
More white folks got "woke," engaging in racial justice protests in unprecedented numbers.


Senator Kamala Harris

Getty Images

Kamala Harris became the first Black woman to be nominated for national office by a major party.
Record numbers of Black talent (nearly 35 percent in acting categories alone) were nominated for Emmys. The number of wins also broke records.
California Governor Gavin Newsom signed a bill making his state the first in the nation to create proposals for reparations to the descendants of slaves and those impacted by slavery.
Jeanette Epps was selected to become the first Black woman to be a crew member on the International Space Station.
We vibed to "Verzuz" battles featuring folks like Jill Scott vs. Erykah Badu, Teddy Riley vs. Babyface and Gladys Knight vs. Patti Labelle.
GirlTrek's 21-day Black History Bootcamp shined a light on sheroes like Sojourner Truth and Shirley Chisholm.


GirlTrek

Courtesy of GirlTrek

U.S. Open winner Naomi Osaka brought attention to victims of police brutality by wearing face masks with their names on them.
Chelsea Phaire, 10, sent art kits to more than 1,500 children in homeless shelters and foster care.
NASCAR banned the Confederate flag.
DC Comics is giving cartoon props to Queen Bey, Serena Williams, gymnast Dominique Dawes, Janelle Monáe and others in Wonder Women of History, an anthology featuring phenomenal women who changed our world. It will be released in December.
The Dixie Chicks became the Chicks.
Tamara Moore became the first African American woman hired as head coach for a men's U.S. college basketball program.
The city of Cleveland agreed to pay a combined $18 million to Rickey Jackson, Wiley Bridgeman and his brother Kwame Ajamu, three men who spent decades in prison for a 1975 killing they did not commit.
MLB players wore patches on their uniforms to acknowledge the 100th anniversary of the founding of the Negro League.
A new historical marker in southeast Wyoming honored a community established in 1908 by African American homesteaders. The town was abandoned in 1920 because of racially-charged disputes.


Jalaiah Harmon

Getty Images

Audra McDonald, Phylicia Rashad, Billy Porter and others formed Black Theatre United, which seeks to fight racism in the theater and around the nation.
The COVID pause gave us the opportunity to brush up on our cooking skills. Or not.
14-year-old Jalaiah Harmon created one of the biggest dance crazes online with her invention of the Renegade.
Nearly 30 years after she wrote Parable of the Sower, Octavia Butler made it to The

New York Times bestseller list.
The Breonna Taylor Law banned no-knock warrants in Louisville, Kentucky.