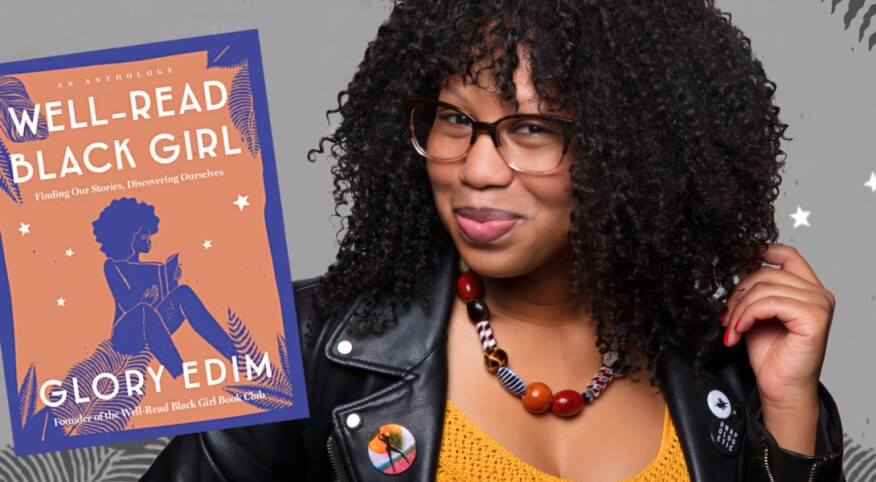 Well-Read Black Girl started as a Brooklyn book club in 2015, and it has become a literary and pop culture phenomenon. Founded by Glory Edim, Well-Read Black Girl's mission is to support Black women readers and writers. In just three years, it has grown to include an online community, a literary festival and a newly released anthology by the same name.

After a hugely successful Kickstarter campaign, Edim held the first Well-Read Black Girl Literary Festival in September 2017 with about 300 attendees. In November of the following year, a second festival hosted almost twice as many festivalgoers. The New York Public Library set up a mobile lending library on site, and Random House publishers and editors were on hand to share advice on the publishing industry.

In addition to a keynote address by award-winning poet Patricia Smith, one of the star attractions at the festival was the Well-Read Black Girl anthology, for which Edim served as editor. Released in October 2018, Well-Read Black Girl: Finding Our Stories, Discovering Ourselves is a collection of essays by a range of Black women writers, including Gabourey Sidibe, Marita Golden and Rebecca Walker. The anthology includes a list of books selected by the Well-Read Black Girl book club, as well as other lists with recommendations for further reading in different genres and topics.

Each contributor was asked to respond to the question, "When did you first see yourself in literature?" As with the literary festival, in this anthology Edim serves as a generous host who provides an open, welcoming space that centers Black women and the richness of their stories. She acknowledges that even "Well-Read Black Girl" is something that is open to interpretation, explaining, "There's no one way to be Black, and there's especially no one way to be a Black woman."

As a curator and community-builder, she hopes to continue to initiate and foster conversations about how Black women identify and define themselves. Such conversations are lacking within the publishing industry. Yet, Edim argues that the lack of diversity within publishing is due not to a lack of talent but a lack of opportunity. She explains, "It's not even just about the writers and authors, the whole landscape needs to be reshaped and reimagined."

The collection reflects the magic of readers discovering an author's work for the first time and finding some connection. Any bibliophile can understand the thrill of that eureka moment. Yet, the anthology is uniquely powerful in that it makes visible part of the process of becoming a Black woman writer. The authors within the anthology include some of the most well-known contemporary literary voices. As they recall the moments that shape them, it reinforces the importance of representation. It demonstrates how Black women's literature has served to affirm and encourage the next generation of Black women writers and readers. It is a celebration of Black women's literary production and the transformational power of books.

One of the standout essays in the anthology is Kaitlyn Greenridge's "Books for a Black Girl's Soul." Edim admits that she knew immediately that she wanted this essay to serve as the final one in the collection. Edim says of Greenridge, "She has such a wonderful wit to her writing. It is clever and hilarious." The author of We Love You Charlie Freeman (Algonquin Books), Greenridge offers unique pairings of books with particular moods and phases of life. For example, she suggests reading Gloria Naylor's Linden Hills as "a book to remind you of the danger of Black bougie life" and Alice Walker's The Temple of My Familiar as "a book to read when you are wondering what it would be like to love in another lifetime."

Currently, Edim is writing her own memoir, but she has ambitious plans for the future of Well-Read Black Girl. Even if you don't live in Brooklyn, you can be part of the Well-Read Black Girl community by signing up for their newsletter and following their social media accounts and the hashtag #WellReadBlackGirl.