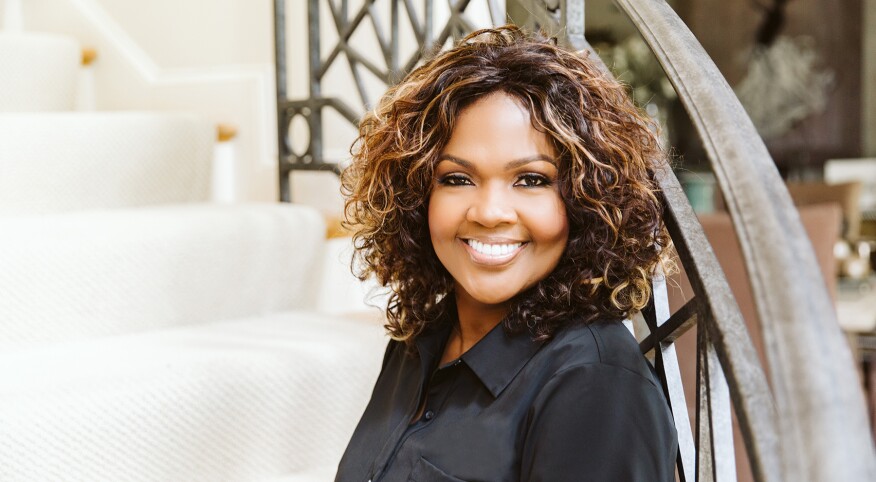 CeCe Winans is a top-selling artist and among the most awarded female gospel artists of all time. For over three decades, the eighth of ten siblings in the musical Winans family has blessed us with her sweet, soothingly soulful voice, first as one-half of a hit-making duo with her older brother BeBe, and then as a solo star.

Sisters from AARP chatted with the 56-year-old via phone while she was promoting her new album, Believe for It. The live record features 15 tracks that play like a Holy Spirit-filled church service, including the new title track and renditions of popular praise and worship songs by Fred Hammond ("Just to Be Close to You"), Bethel Music ("Goodness of God") and Elevation Worship ("Never Lost"). Believe for It was recorded in Nashville (due to COVID-19 there was only a small, spread out audience), where the Detroit native lives with her husband Alvin Love II and they founded the Nashville Life Church.

Recently, the mother of two installed her 35-year-old son Alvin III as lead pastor. "It started with millennials, my kids' friends who wanted us to start a Bible study. We did it at home for a while and we kept growing," she says of the church that has about 400 members. Winans is also a new grandmother. Her 32-year-old daughter Ashley gave birth to a baby boy on Christmas Day. "I'm finally in the club," she says.

Sisters from AARP: Your new record Believe for It is really uplifting and sounds more contemporary Christian than some of your other records.

Winans: I did a lot of remakes of songs that we sing at church. More worship songs, so it definitely has more of that type of feel. And my hope for this record is that churches would hear it and embrace it and be able to add these songs to their weekly repertoire.

Sisters from AARP: What inspired the song choices?

Winans: The way they ministered to me. I had some of [the songs] picked out before the pandemic hit. Because I was supposed to do the live recording close to the top of 2020, around March when everything happened and, of course, I had to postpone everything. So between how it ministered to me, the songs, the lyrics, the messages, and also considering what people have gone through in this last year, I think it's a record that will uplift people's spirit. That will remind them to keep hope alive. Remind them to keep pressing in, because we have a lot of hurting people.



Sisters from AARP: What's the message you hope listeners take away from the single, "Believe for It"?

Winans: This was the last song we recorded and it's a new song. It's bigger than a record, it's a theme that I really want people to embrace. People who believe in God and people who might not ever go to church. I believe that hope is needed, and I want to impart this into the hearts of people everywhere. The song challenges people to brush off your dreams, don't give up or give in, but it's time to believe that you can make it. Believe that you can achieve what's in your heart. It's time to believe for wholeness and healing for yourself, your family and your community. It's time to believe for unity.

Sisters from AARP: Were there any profound revelations or lessons you learned in 2020?

Winans: So many lessons. First of all, before the pandemic really hit here in the U.S., we saw it happening in other places. And of course, I felt sad and I prayed for them. But when it hit here, my prayer went to a whole different level. You know, the Holy Spirit really convicted me. I think we all realize how big the world is when we experience something like this pandemic that swept through just about every corner of the world almost in a matter of months. You realize, oh, the people in Italy, they're my neighbor, too. Everybody's important. You should be praying for everybody like you pray for your own. So that is something that shifted in my heart.

The other thing is unity. We need one another. I always knew that message was important, but I could see it through this past year. We need to walk in agreement because division conquers. The Bible says the house divided cannot stand. We can agree to disagree. But that should not make us separate from each other, not care for one another and not build each other up. So together we stand and divided we fall. I think that is just another message that is in the forefront of my brain. I pray it will saturate my heart and that I will love better than I've ever loved before. Also, of course, we realize that life is precious. You can be here today and gone tomorrow. I'm really grateful that I'm still here and I'm brokenhearted for those who have lost loved ones.

Sisters from AARP: We live in a cancel culture where people are quick to judge. How have you learned to deal with the judgment of others?

Winans: Yeah, I learned that firsthand. I did an interview with the surgeon general about COVID-19 — how people can stay safe and why they should wear masks. I'm not thinking anything political whatsoever, even in the midst of all the madness. Being a pastor of a diverse church, I thought that would be amazing.

So we did the interview. Nothing was mentioned about politics. And I didn't think about it. My management didn't think about it. A few weeks later, I had just finished singing and got a text that said, "Oh my God, you're all over the internet! On Instagram, they're doing this and they're saying that." I just didn't get it. Then later on I found out about the [COVID-19] advertisement [featuring me] that went out [before the 2020 election].

No one wants to be misunderstood. But I'm 56 years old. I know who I am. I know what I believe. I know what I stand for. My kids actually called and asked, "Mom, you good?" They were cracking up, and I said, "Why are you laughing?" They said, "Because clearly they don't know you and they thought they were your fans."

I did an Instagram video [because] I wanted people to understand the truth. I was thrown into something that wasn't right. I never signed up for that. I was never a part of a team or a campaign except to get more information about COVID-19 [to the public].

Sisters from AARP: How did you get to that place where you don't let other people's opinion bother you?

Winans: Well, it definitely comes with age and wisdom. I just believe if I'm going to get older, I've got to get wiser. Also, I've been doing this for a long time. Ever since we started recording, [my brother BeBe and I] were misunderstood on something. It just comes along with the territory of any level of celebrity. With all the success that we had, we still had a group of people who said, "Oh, you guys are not gospel. You guys are just doing this for money." We've been called everything. It just wasn't on Instagram.

So I think that kind of prepares you and tempers you. Time will tell your character. That's what I've learned over the years. And we all need grace. I'm quick to forgive because I need forgiveness. I think the foundation of my faith is the rock that I stand on. The older I get, the more valuable that rock becomes.

Sisters from AARP: What has your self-care routine looked like during the pandemic?

Winans: Well, first of all, I'm enjoying being at home. My life is so much about traveling and being on the road. So that's been a big plus for me, to be at home. It's been awesome to [have] a regular routine [like] going to bed at the same time every night. I cook more than I've cooked in a long time, so my husband was happy. At the same time, the thing that keeps peace in my heart and that is steadfast in my life is reading the Word and prayer.

Sisters from AARP: Whitney Houston was one of your best friends and you did the touching duet, "Count on Me" with her. How did losing her affect you? And who can you count on now for that type of sister-friend support?

Winans: When you lose someone you love, you keep going because you have incredible memories of love and laughter. Then you're going to hit those times where you remember and you're crying. And losing her and then losing [Whitney's daughter] Bobbi Kris, it's something that doesn't weigh me down in a place that leaves me depressed, but it's a tender part in my heart that's saddened. You just have those times when it hits, and you're like, "Oh, man they're really gone." I've lost a brother, my father and a grandmother and all were really close [to me]. So I'm convinced that when we don't think we're going to be able to make it, the Lord helps you to realize that they will always be with you.

And who can I count on now? I have awesome family and friends. I think in life you don't have to have a whole lot of close friends. But you gotta have a few and I've got some incredible sisters and sister-friends who pray for me and who love me. So I am definitely blessed to have great people in my life. But Whitney will always be missed. That was my girl. And even though we didn't see each other all the time, she knew my home was her home. And I knew if I needed anything from her, she would be there. I just wish the world really had a chance to know who she really was.

Sisters from AARP: What was the most surprising thing that you learned about yourself when you stepped out as a solo artist?

Winans: That I was a scaredy-cat. I did not want to be a solo artist. I love working with [BeBe]. I know I'm always better with him than I am alone. But I also learned that I had something to offer as a solo artist that was different from what I offered as part of BeBe & CeCe. I learned to have confidence. Being part of a duo is different than standing alone. I had to carve out my own voice. That was another funny thing, when we started doing solo records people said, "They broke up. They got a divorce." I was like, a divorce? After all those years people still thought we were married!