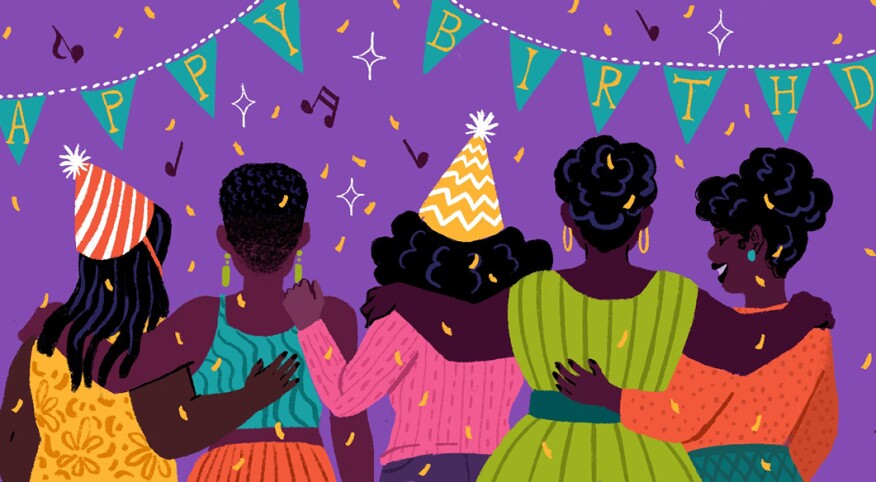 Happy birthday to this newsletter! The Sisters From AARP team is celebrating its second year of publication, and we couldn't have gotten here without you, our loyal readership of fierce, fly and fearless sisters. This year has been eye-opening and challenging in many ways. But as a people our spirit is unbreakable, and we remain hopeful and prayerful that a positive change is gonna come, and that through our continued resilience and perseverance we will prevail.

So shake off the quarantine blues, take a break from the news and put on your dancing shoes. To get your house party started, crank up this playlist with 35 of our favorite celebratory songs, including Stevie Wonder's quintessentially Black born-day anthem, "Happy Birthday," Tony! Toni! Toné!'s swoon-worthy "Anniversary" and Kool & the Gang's timeless "Celebration." Also in the mix: party jams from Usher ("Yeah!"), Prince ("1999"), Cheryl Lynn ("Got to Be Real") and Whitney Houston ("I Wanna Dance with Somebody (Who Loves Me)"), as well as feel-good tracks from Irene Cara ("Flashdance...What a Feeling"), Teena Marie ("Square Biz"), New Edition ("Candy Girl") and Mary J. Blige ("Family Affair"). (Pump up these party jams for your next trip around the sun, too).

Again, without your support as subscribers and your constructive feedback and words of praise shared via email, social media and our community pages, there wouldn't be a Sisters From AARP. We appreciate you, and this is as much your milestone as it is ours. Now, let's get our groove on!