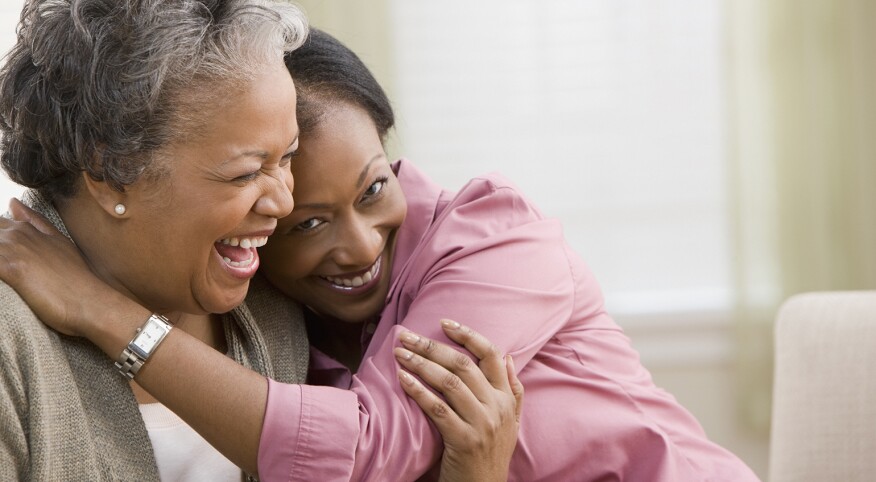 Granny, Grandma, Nana, Big Momma. No matter what we call her, we know her as love, and the many gifts she's given us are something to celebrate. The writers and editors here at Sisters from AARP share memories and shout-outs:

Sharon Boone

My paternal grandmother, Mattie Mae Boone, loved getting up at dawn, driving to some local lake in North Carolina, battered straw hat on her head, and staying until sunset, just fishing.

My cousin Debra and I would sometimes go with her when we visited. I didn't want to bait the hook. Granny told me I'd better figure it out because wasn't nobody gonna keep doing it for me. Someone would spot a snake in the water and I'd be on the edge of panic. She'd say, "don't worry about that old snake, he ain't bothering nobody."

Mattie Mae would expertly talk about fishing holes, poles, and hooks with the men at the bait shop. She did not tolerate being condescended to. No apologies, no hemming and hawing, no downplaying her expertise. That is what I took with me from those days into today.

Tamara E. Holmes

My paternal grandmother, Liler, was all about family and all about being practical. We were taught to always be there for one another. The two pieces of advice I remember from her: "Always keep the family together" and "have some extra money hidden away for a rainy day!"

Sarah Greaves-Gabbadon

I was an impatient child, who could hardly wait for "tomorrow" or "next week" and was constantly frustrated by the concept of "soon." On weekly visits to my maternal grandmother Mabel, who lived about an hour from us in Surrey, England, she'd always tell me "Nothing happens before its time."

Back then I didn't understand what she meant. But now that I'm older, I get it: Certain things (her delicious fried dumplings, for example) just can't be rushed. And some things (the right job, a loving partner) are definitely worth waiting for. Grandma taught me that if something is meant to happen, it will – but not necessarily on my schedule!

Tracy E. Hopkins

I grew up in Baltimore with my maternal Grandma, Anna Powell. Though she passed away when I was eight, she left lasting memories. While my paternal Grandpa, the disciplinarian, stressed that I should "be obedient," Granny was sweet, soft-spoken, patient and nurturing. I recall her taking me to kindergarten on the bus. We'd return to her house, four doors down from my own, every day after school. While my parents were still at work, we would watch "The Price is Right" and "The Young and the Restless."

Whenever there was a thunderstorm, Granny turned off the television and didn't talk on the phone, out of concern that the house would be struck by lightning. We'd lay on the bed listening to the rain and thunder until we fell asleep.

Claire McIntosh

My maternal grandmother Katherine taught me to be a lady. The first time I heard the word "gender" was from her lips, and I had to ask what it meant. She had been saying something about modesty. I never saw her wear pants a day in her life. She was born in 1897.

Grandma Katie also modelled civic duty. She was a naturalized, proud American. I remember her talking about who she voted for and how she thought they were serving the public. She used to write to her congressperson. After she died, I learned she had a 4th grade education.