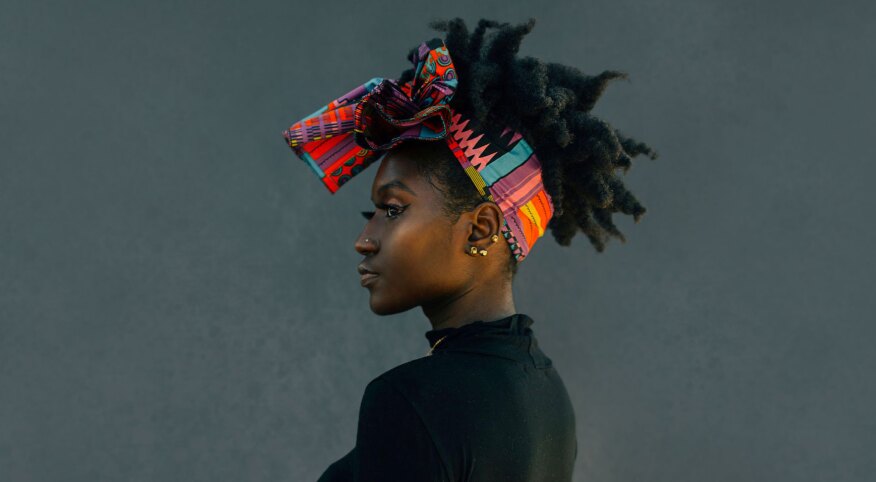 Let's face it: To see a sister wearing a head wrap is to encounter a queen. It gives full "I see you, Sis" vibes. I began wearing a head wrap as a sign of my Muslim faith. But I've come to understand how doing so affects my cultural identity as much as my spirit. For that, I thank my mother, who introduced me to various styles and patterns. Her turbans, accompanied by chunky earrings that made the looks pop, left an early impression. Eventually, wearing a head wrap would become a personal journey of beauty and style individuality. I embrace it as a mark of both defiance and acceptance.

The defiance comes when people outside the culture are overly concerned about what is going on with my hair underneath. What does it look like? How long is it? Do I shower while wearing my head wrap? My nonverbal reply telegraphs "mind your business," and I go about my day. On the other hand, the style attracts accepting gazes and comments from those who value choice, self-determination and authenticity. It connects me to the sisterhood of Black women who just get it. They don't ask questions beyond, "Sis, can you show me how you wrapped that?"

Cultural ties
Religious symbol. Revered tradition. Racist restriction. Radical chic. Runway appropriation. Rebellious adornment. These colorful pieces of fabric — and history — are a beautiful paradox, as multilayered as the women who wear them.

Historically, we didn't always have freedom of choice when it came to a lot of things, including what we wore. The hate has always been real regarding the way Black women have presented ourselves, and so have measures to police that expression. Notable examples include the South Carolina Negro Act of 1735 that restricted Blacks to humble, functional garments of lower quality, and the tignon laws of 18th-century Louisiana that attempted to stifle the social progress of freed Black women by mandating that women of color cover their hair with a tignon (pronounced TEE-yawn), a head scarf similar to the traditional West African gele(pronounced GAY-lay). The covering marked them as subordinate to white women. It was also intended to discourage the mixing of white men and the elegantly dressed Afro-Creole women who were deemed a competitive threat to white women. It did so by "othering them" and seeking to diminish their beauty. But, as Black women have always done, those who had to cover got creative. Tignon wearers tied, embellished and styled the wraps in ways that made a fashion statement.

The abolition of slavery didn't end the societal use of the head wrap to symbolize inferiority and servitude. It continued with the promotion of "mammy" characters like Aunt Jemima. While Black women persisted with a counter narrative and style in wrapping their heads for a variety of reasons, the racist tropes endured in popular culture.

It was during the '60s and '70s that Black women restructured the meaning of the head wrap as a symbol of pride, showing their acceptance of their natural beauty and rejection of Eurocentric standards of attractiveness. Political, social and religious movements saw sisters steering clear of processed hair and navigating toward wrapped hair. Black entertainers like Pam Grier graced the big screen (Foxy Brown, 1974) and Diana Ross graced magazine covers (Jet,1978) with elegantly styled head wraps.

As we moved through the '90s and early 2000s, we saw India Arie, Lauryn Hill and Erykah Badu rock the look beautifully, in sartorial rhythm to a neo-soul beat. The head wrap even made an appearance on Sesame Street, when Erykah Badu created a teachable moment about acceptance.

High-fashion head wraps: Where queens source them, how we style them and where we show them off
Whether we don them for wash day or wear them daily for worship or occasionally as a one-of-a-kind look for a music festival, we're connected and inspired by the endless ways we find to select, style and accessorize head wraps.

Find your next crown. WrappedByNellz.com offers Ankara African prints, solids and geometrical patterns. An array of fabric textures and weights allows shoppers to achieve various looks. YouGoNatural.com offers tied head wraps and turbans, great options to get you out the door quickly.

Stream a tying tutorial. Natural hair vlogger Whitney White, known by her 700,000 Instagram followers as @Naptural85, features a variety of textile textures and shapes in her videos.

Enjoy a music festival or meetup. Looking for places that center Black women adjusting our head wrap crowns? Afropunk is held yearly in Atlanta, Paris, Johannesburg and Brooklyn. The festival celebrates Black music, fashion, film and more.

Head Wraps in the Park is a festival specifically created to celebrate Black women in their glory. Held annually in Los Angeles, it is the brainchild of businesswoman Fatima Dodson. The EssenceFestival of Culture, held yearly in New Orleans, is another event popular with Black women who fully appreciate a proper head wrap slay.

These are great ways to celebrate this unique and wearable part of Black history — and our cultural future.