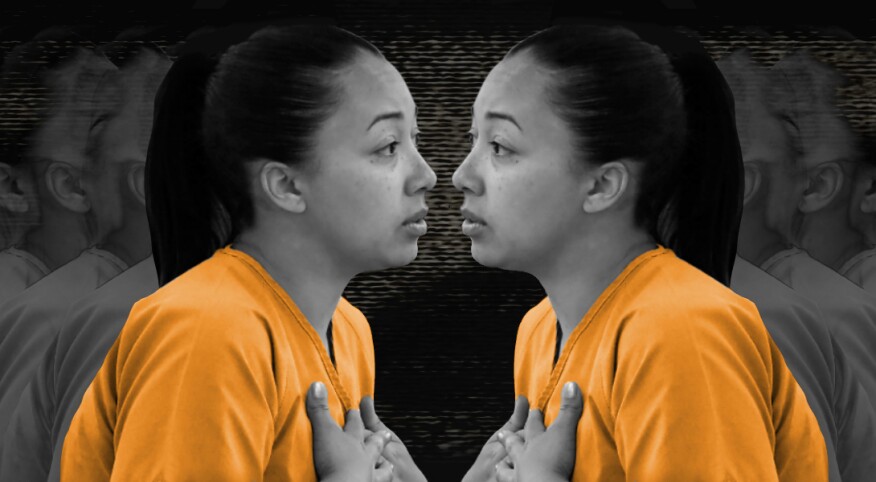 We all collectively jumped for joy last week when we heard the news that Cyntoia Brown was granted clemency. At the tender age of 16, Brown ran away from her adopted home and soon found herself forced into prostitution by a man who physically and sexually abused her. During a date with a john, Brown, in fear for her life, killed 43-year-old Johnny Allen in Tennessee.

For that crime, she was tried as an adult and sentenced to life in prison. Brown's case gained support after the documentary Me Facing Life: Cyntoia's Story was released. In June 2012, the Supreme Court ruled that juveniles convicted of murder cannot be sentenced to life in prison without the possibility of parole. But Brown would have had to serve 51 years before she would have been up for parole. She has been a model inmate behind bars and earned an associate's degree from the Lipscomb University's LIFE program.

Before celebrities like Rihanna and Kim Kardashian joined the fight, Black women had been working with Brown for years. Her clemency was granted largely because of the grassroots efforts of her family, activists and organizers.

Brown's clemency was granted two days following the airing of Surviving R. Kelly, urging a larger conversation about the many ways Black women and girls have been failed, and in what ways we, as a community, have been complicit in that failure.

The safety and welfare of Black girls only came to the forefront of the news after the 2017 story about missing Black girls in Washington, D.C., went viral. Before then, outside of a quick piece on the local news, it was uncommon to see reports in the mainstream media about Black girls who were missing or had disappeared.

With social media and the emergence of the #MeToo movement, the tide is turning on the treatment of accused abusers and rapists. No longer are reports of sexual harassment and abuse swept under the rug. But somehow R. Kelly has been able to retain a core of die-hard fans.

If at any moment before that documentary aired you were unaware of the allegations about Kelly, you now know that he's been accused of pedophilia and abuse. Surviving R. Kelly was a three-night event exposing the gravity and depravity of his alleged crimes. For nearly 30 years, Kelly is said to have preyed on young Black girls. We watched as they told us story after story about the abuse they claimed they suffered at his hands.

The documentary claimed that Kelly held several girls with him and discouraged them from having contact with their families. Some of the families featured had not seen or spoken to their children in 3 years. If these claims are found to be true, each of these girls is a Cyntoia Brown. Taken in as teenagers and being forced into a life they didn't expect, including asking for permission to eat and sleep, as well as being told not to speak to other men. It is abuse.

We have to face the music.

The reason Kelly has been able to tour and play concerts over the last few years is because his audience of Black women has continued to support him. The disturbing videos of Black women wiping his face and body with towels during concerts have been viral for years. In the comments on articles and videos about Kelly's alleged activities, thousands of Black women (and men!) have focused on the permissiveness of the parents and the purported promiscuity of the young girls. The focus is on everyone except Robert Kelly.

Now is the time to show the world that abuse of Black girls and women will not be tolerated. While we're ecstatic that Brown is free, we are aware that thousands of women with her same story are still incarcerated. One way we can help prevent young women from ending up in situations like Brown's or the young women who surrounded Kelly is to believe girls and women when they tell us about the abuse they're receiving. We have to keep our eyes open to the abuse of young women around us.

After the airing of Surviving R. Kelly, the #MuteRKelly momentum picked up speed. In January, Black women gathered outside of Sony Music's New York office to urge the company to drop Kelly from its roster. The company dropped Kelly later that week.

In February, Kelly was indicted and arrested on 10 counts of aggravated sexual abuse of four victims. According to his lawyer, Kelly is nearly broke; he had to spend the weekend in jail before being bailed out. His first stop after leaving the Cook County Jail was the former Rock 'n' Roll McDonalds in downtown Chicago where he is reported to have previously met underage girls.

For every few ways we can stop predators, there are a lot more ways we can help protect Black girls. The most important thing we can do for them is to believe them. Believe their stories of abuse, mistreatment and exploitation. Become aware and in tune with the young girls in your community in order to recognize when a young girl is in trouble and how you can help.

Do not blindly take the word of the adults in situations involving underage children. If your state hasn't done it already, petition to protect young girls by prohibiting the criminalization of survivors of sex trafficking and prostitution. A majority of states still allow minors to be arrested and prosecuted for prostitution despite conflicting federal and state laws that recognize children as victims of sex trafficking.

Last but not least, value the girlhood of young Black girls. Recognize them as who they are: young girls. They're aren't ''fast" or "too grown." They are deserving of safety, support and protection.