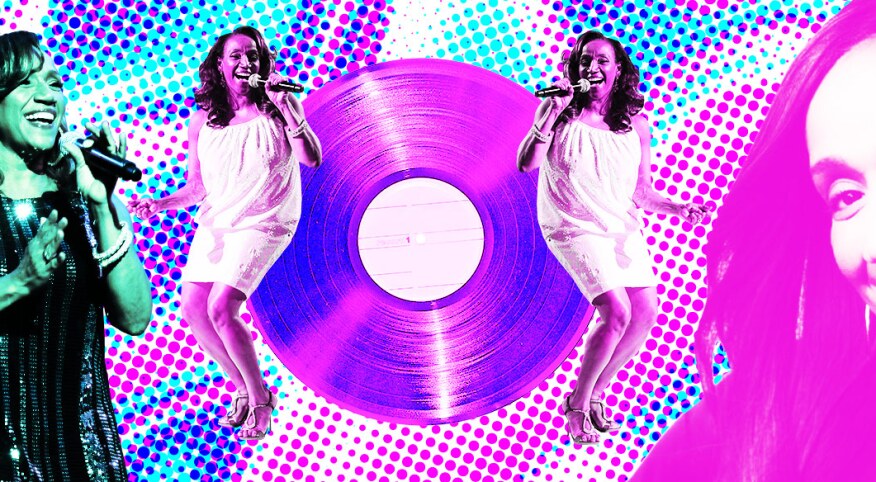 We all remember the four foxy siblings from Philadelphia who took urban radio and discotheques by storm with dance hits like "He's the Greatest Dancer," "Lost in Music" and the smash title single from their 1979 album, We Are Family. And Kathy Sledge was the baby-sister lead singer with the unforgettable raspy tone.

Fans haven't heard from Sledge, now 61, in a minute. But thanks to DJ Derrick "D-Nice" Jones' Club Quarantine dance parties on Instagram Live, Sledge is once again in the spotlight. D-Nice started spinning the lesser known Sister Sledge song "Thinking of You" (it was a hit in the U.K.), calling it the song that defines his Club Quarantine experience.

Sisters from AARP chatted with the songbird via phone from her home near Philadelphia, where she and her family are safely sheltering in place. We also invited her to play guest DJ and select songs for our "Sisters Sweat" dance-workout-in-your-living-room playlist . Enjoy party-hearty jams from Stevie Wonder; Chaka Khan; Earth, Wind & Fire; Bruno Mars; CeCe Peniston; Sister Sledge (of course) and more.




Sisters from AARP: How does it feel to be trending because of Club Quarantine?

Kathy Sledge: It's funny because my daughter woke me up one day and she's like, "Mom, there was a party last night, and DJ D-Nice was playing your song." She said, "He follows you [on social media]." And I realized, "Oh, OK. That's the really cool guy I met at Circle of Sisters in New York." I started tuning in and love the music. I think it's genius what he's doing. He really brought the world together. Sometimes I kind of lay low and I just watch the conversation [coming in from the virtual partygoers]. Sometimes I come in the room and then nine times out of ten [he's playing] "Thinking of You," which happens to be my favorite song to sing.

Sisters from AARP: How are you doing with the quarantine?

Kathy Sledge: Well, I keep a lot of faith. And I have a schedule. My daughter and son came back from Los Angeles right before everyone was quarantined. I'm blessed because my daughter is certified in yoga and barre and my son is a certified personal trainer. So we have a Monday, Wednesday, Friday class with her. Then a Tuesday, Thursday, Saturday class with him. And we take it a day at a time. I don't watch the news constantly. I watch it in the morning, then for the rest of the day I put on the coffee pot and some jazz music.

Sisters from AARP: You're a wife, mother and recording artist. How do you balance your personal and professional life?

Kathy Sledge: I have taught my kids that the key to a quality life is balance. When I was 13, before "We Are Family," we had a No. 1 hit in Europe. Decades later I would joke that I was a real-life Hannah Montana. I would headline festivals with people like James Brown and the Commodores. Then I'd come home, and I'd get on the bus to school. Excited, I would talk about what I did that weekend. And [my] friend, maybe she went to the mall and somebody else went to the movies. I was like, "I was in Japan." I was just being honest, [but] I learned really fast to start saying, "I had to work." And I realized one is your life and one is your work, and always keep your life first. That has always helped me to have a balance.

Sisters from AARP: You look great, so we all want to know your self-care routine.

Kathy Sledge: What's that saying? Getting older is inevitable, aging is an option. I have laughter. Growing up, I was the jokester. A merry heart always keeps you youthful. Life is an attitude. And I love fitness. I ran track in high school, did gymnastics in college and I taught spinning for five years. It isn't a hobby for me. But every year you gotta work harder when it comes to the physical part.

Sisters from AARP: Do you follow a dietary regimen?

Kathy Sledge: Yes, I do. When my mom passed in 2007, I just never ate red meat again. And I have no desire for it. I do have chicken and fish. I eat a lot of whole foods — that's how we were raised. Lots of vegetables. Lots of greens. I love the immune-boosting benefits of wheatgrass — I call it liquid sunshine.

Sisters from AARP: So you learned healthy eating habits from your mom.

Kathy Sledge: Yeah, my mom would give us smoothies instead of instant breakfast drinks. She'd be running out the door telling me, "Dont forget your smoothie." My husband survived tonsil cancer. And [during his recovery] we would do the wheatgrass and the smoothies. Sometimes when you have cravings, it's your body telling you, "I need this."

Sisters from AARP: You went solo in 1989 and that reportedly caused a rift with your sisters Debbie, Kim and Joni. Have you mended those family ties?

Kathy Sledge: I never went solo. I had a solo project and I was pretty much put out of the group. What people don't know is my sisters sued me and told me, in settlement, I wasn't allowed to say I was part of or from Sister Sledge. I have spent so much in legal fees just to be able to sing. But God is resetting everything. Now my sister Kim lives around the corner, and we were always close. She worked with the sisters for years, and she actually came back and apologized. I've been quiet because I was protecting the brand. But I have learned there's madness in every family. I'm proud the lyrics [to "We Are Family"] were written about us. That's how close [we] were.

Sisters from AARP: Did you reconcile with your sister Joni before she passed away in 2017?

Kathy Sledge: Joni loved to be up front and I was that signature voice, so there was always a problem with me. But it was a blessing that, unbeknownst to both of us, a month before Joni passed we both showed up at a wellness retreat in San Diego. We weren't even really speaking. And when I saw her, she looked fragile. We just looked at each other and we hugged and held each other. We knew it was not a coincidence. We knew not to talk about business, and we just loved on each other as sisters. We even sang "We Are Family" at the retreat's talent show. It was the last time I saw her and I'll never forget, the intro started and she looked at me like, "You go ahead and sing your song." And we sang it together.