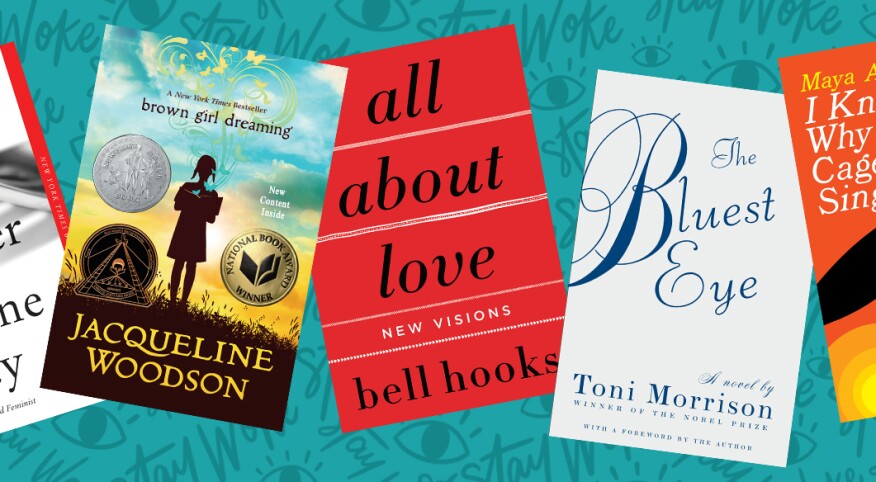 Many of us are considering words from cultural thought leaders for grounding and direction during these turbulent times.

Timeless and moving works from the genius minds of Maya Angelou, Toni Morrison and others offer a chance to plunge into new worlds. We learn through the voices of individuals whose experiences may be removed from our own yet, at the same time, evoke emotions that are deeply familiar.

As Sisters readers, you've told us that you appreciate recent releases and our original list of woke classics. This seemed to be an appropriate time to revisit more favorites and lean into the lessons they yield about navigating challenges.

Below are both old and new classics offering a mix of fiction, verse and memoir. These picks touch on a variety of themes including faith, self-determination and resilience — principles we are tapping into to get through these uncertain times. So, feel free to browse the shelves at home or borrow a read from your library's app. You also can drop us a line at sistersletter@aarp.org to tell us what books mean the most to you now and why. Put "What I'm Reading Now" in the subject line. We may share your recommended read on our next list.

Hunger: A Memoir of (My) Body
by Roxane Gay

Gay's 2017 memoir received praise from NPR, Time and People, as one of the best books of the year. Gay, for whom super-morbid obesity became an emotional refuge following a brutal childhood sexual assault, telegraphs her personal truths with vivid observation and searing candor. Her powerful prose about the experience of fatness — at her heaviest she was 577 pounds — lays bare the unnecessary burdens that come with America's fatphobia. "The list of bullshit I deal with, by virtue of my body, is long and boring, and I am, frankly, bored with it," Gay writes. This conversation is particularly relevant following the hyper-obsession with body image and concerns about gaining weight after stay-at-home orders were put into place. Gay's oscillation between confidence and shame is incredibly relatable. Her courageous, defiant and witty rejection of society's limitations speaks to anyone who has ever felt invisible or dismissed. It also inspires a notion of self-care that goes beyond maintaining the physical vessel.

Brown Girl Dreaming
by Jacqueline Woodson

Although this award-winning work is aimed at young adults, it's a great title for multiple generations to read together, as it explores the themes of home and family history. Described as a free-verse memoir, Woodson's 2014 collection of poems centers around her childhood in the '60s and '70s. Raised in South Carolina and New York, she reflects on moving often and how that impacted her struggle to find both herself and her sense of place. Although peppered with lighter, nostalgic moments, it also explores struggles with battling addiction or navigating sexual identity. The examples of turning to faith in times of uncertainty are especially relevant. Consider discussing this work and sharing your own coming-of-age memories with family while FaceTiming.

All About Love: New Visions
by bell hooks

Published in 1999, this book is a timely reminder that love is a verb. Hooks guides readers across an intimate landscape that encompasses romantic attachments to the rugged proving ground of lasting commitment that requires faith, communication, patience and goodwill to navigate. She also explores the ways that love can be transformative, not just within a couple but within a friendship, a family, a community and a nation. Hooks writes, "We yearn to end the lovelessness that is so pervasive in our society. This book tells us how to return to love." It serves as a good reminder to connect with romantic partners, friends and family intentionally and to affirm that they matter to you.

The Bluest Eye
by Toni Morrison

Last year we lost a literary giant. This year we celebrate the 50th anniversary of her stunning debut novel. What is beauty? That's the central question Morrison challenges readers to examine through the eyes of Pecola Breedlove, a dark-skinned girl grappling with Eurocentric beauty standards. Pecola prays for blue eyes — like those of Shirley Temple or the girl on the wrappers of her favorite candy she has been socialized to believe are perfect. Morrison writes, "It had occurred to Pecola some time ago that if her eyes, those eyes that held the pictures, and knew the sights — if those eyes of hers were different, that is to say, beautiful, she herself would be different." Considering this book was written in 1970, it's sobering that continued bias based on appearance still manifests itself in skewed social-media standards of attractiveness and the need for legislation against discrimination based on hair texture and styles.

I Know Why the Caged Bird Sings
by Maya Angelou

Although Angelou's first memoir was published more than 50 years ago (selling a million-plus copies), the message is timeless and continues to resonate today. The book follows Angelou through her early life, when she was Marguerite Johnson. The beautifully written yet heartbreaking story delves into her experiences with racism, misogyny and her rape at 7 years old. Despite this, the message is about having hope amid darkness. This classic has helped generations of readers through difficult periods.