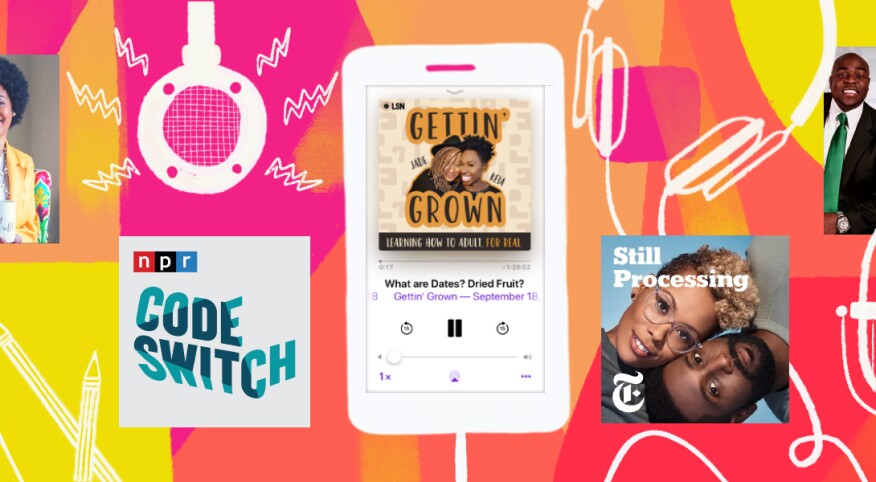 Nearly 44 percent of Americans have listened to a podcast, and there are more than 550,000 of them. How do you choose? Check out these unique perspectives from men and women of color. Their take on entertainment, money, culture, race, mental health and more will inspire you.

Therapy for Black Girls

Dr. Joy Harden Bradford, a licensed psychologist in Atlanta, doles out much-needed mental health advice in this weekly podcast that tackles everything from relationship boundaries to work-life balance to trauma recovery. In a recent episode, she discussed how to recover from broken trust, observing "nobody ever says 'this is what I needed from you in that moment and now I'm disappointed.'"

Code Switch

Karen Grigsby Bates, who covered race, ethnicity and sociocultural change for NPR, is a cohost on the station's Code Switch team, which serves up witty and informed conversations about race and identity. Hosted by journalists of color, the podcast features important conversations about news of the day that will make you laugh. Other times, you'll get uncomfortable. But the hosts will always be unflinchingly honest and empathetic.

Gettin' Grown

Jade and Keia hilariously serve up advice on just about everything, including managing student loan and credit card debt, investing and "securing the bag" for Black women entrepreneurs. They also dish about entertainment and celebrities.

Still Processing

You're missing out if you haven't heard Wesley Morris and Jenna Wortham, two culture writers for the New York Times, tackle all things culture in their Still Processing podcast . In a recent tribute to the late Aretha Franklin, they talked about her hit song, "Think," where Franklin demanded her rights and respect. "Look, there is the part when she's just singing 'freedom,"' Wortham said. "It was like proto-Beyoncé for me. Years before I had a relationship to the empress Beyoncé, I had Aretha Franklin's 'Think.'"

The Ash Cash Show

If you're looking to up your financial game, Ash Cash, a personal finance expert, speaker and television/radio personality, and Tashima Jones, an author and cofounder of Tashima Jones Media, offer financial advice on The Ash Cash Show to help folks live their best financial lives. "Appreciate all that you have right now and that gratitude will open the door for more abundance," Ash said on a recent episode, "Becoming Suited for Success."