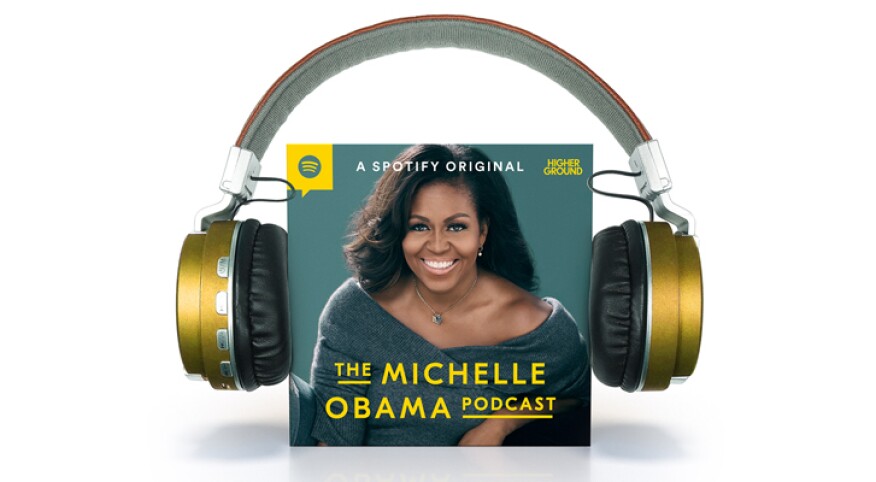 First she opened up in her best-selling memoir Becoming, and then again with the Netflix documentary based on her memoir. Now Obama is bringing us in even closer with her Spotify podcast, where she keeps it real, relaxed and relatable. Listening reminds us of a confidential kiki with a close girlfriend, where the conversation ebbs and flows from trivial kitchen table talk to two-ply-tissue-worthy topics.

"In these episodes we will be discussing the relationships that make us who we are. Sometimes that might be as personal as our relationship with ourselves, or how we navigate our health and our bodies at various points in our lives," Obama says in the first episode.

"In other episodes, we will be talking about what the challenges and joys of being a parent are or a spouse. The growth we gain from leaning on colleagues and mentors, the friends who help us sort through the toughest times. What I love about these conversations is that they are topics and issues that we are all dealing with — no matter what's going on, whether that's a pandemic, or a nationwide reckoning with race ... or sitting with our own thoughts."

The Michelle Obama Podcast premiered on July 29, with new episodes scheduled for release weekly for nine weeks. In the first episode she is joined for an insightful fireside chat with her beloved husband and the sorely missed 44th President of the United States, Barack Obama.

In the second episode, "Protests and the Pandemic," which aired in early August, she is joined by award-winning journalist and former NPR host Michele Norris. This episode has generated a lot of buzz primarily because in it Obama revealed her struggles with low-grade depression as a result of the pandemic and the tumultuous state of the country in terms of race and leadership.

"You know, I've gone through those emotional highs and lows that I think everybody feels, where you just don't feel yourself, and sometimes there's been a week or so where I had to surrender to that, and not be so hard on myself and say, 'You know what? You're just not feeling that treadmill right now,'" Obama says.

"Spiritually, these are not, they are not fulfilling times. I know that I am dealing with some form of low-grade depression. Not just because of the quarantine, but because of the racial strife, and just seeing this administration, watching the hypocrisy of it, day in and day out, is dispiriting."

Like Obama, the pandemic has taught us that it's necessary to slow down, to take a breath (and to be grateful for that very breath) and to give ourselves a break — cause we sure deserve it — when we are feeling low and can't live up to the superwoman expectation we have of ourselves.

What helps the former First Lady keep her head up? "This is the part of knowing yourself, knowing how to replenish yourself with the things that do bring you joy. So for me, my spirit is lifted when I am feeling healthy, when I am surrounded by good people," she says. "So I reach out to my family and to my friends. Even in this time of quarantine, I fought to continue to find a way to stay connected to the people in my life who bring me joy — my girlfriends, my husband, my kids."

Obama also takes a break from the bad news cycle for a second and finds solace in the structure of keeping a consistent routine like waking up at roughly the same time, working out when she's up to it, taking a walk outdoors, setting a regular dinnertime, doing a daily family activity like putting together puzzles with daughters Malia and Sasha and practicing self-care (she's perfecting how to do her own nails and waxing!).

To help us forget our troubles and get happy, the lifelong music lover offers a Spotify playlist of lit songs from and inspired by her podcast. Featured artists include Beyoncé, Chloe x Halle, LION BABE, Teyana Taylor and Lianne La Havas. Push play and groove along with the former First Lady.