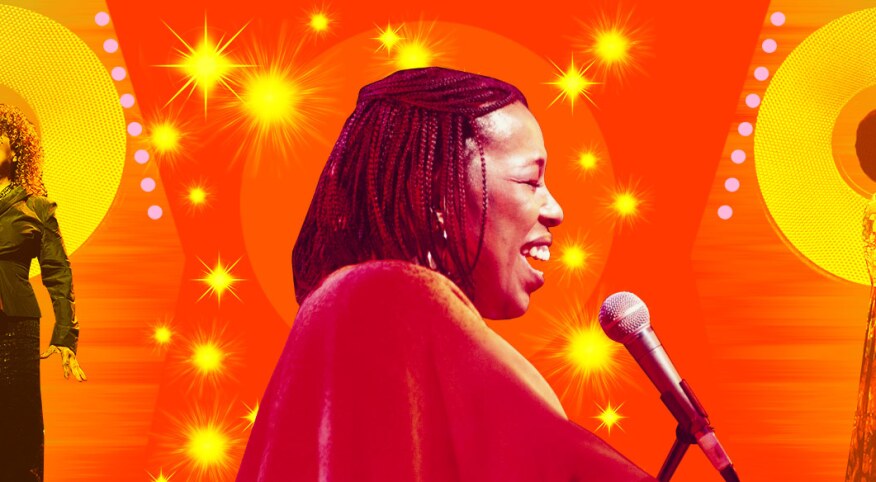 From the editors: The first time we saw Roberta Flack's almond-hued face, it was framed by a full and perfectly shaped Afro, and her soothingly soulful vocals were sweet and comforting, like a warm scoop of bread pudding drizzled with caramel sauce. From her hit singles "The First Time Ever I Saw Your Face" and "Feel Like Makin' Love" to her honey-coated duets with her Howard University classmate Donny Hathaway ("Back Together Again," "Where Is the Love," "The Closer I Get to You"), as well as Peabo Bryson ("Tonight, I Celebrate My Love"), Flack is in heavy rotation on our collective, "I was a little Black girl in the 70s and 80s" playlist. And, of course, the phenomenal "Killing Me Softly With His Song," reimagined as a hip-hop classic by the Fugees in 1996 and endearing her to a new generation, has always been the soul-stirring song we can't help but sing out loud.

In 2016, the Grammy Award-winning singer-songwriter suffered a stroke that has kept her out of the spotlight. But at age 83, her creative juices are still flowing, and she recently helped archive the bonus tracks for the 50th anniversary release of her 1972 debut album, First Take. The classically trained pianist also attended the Grammy Awards last January to receive a lifetime achievement award. She told AARP, "It was breathtaking to be there. And to receive hugs and congratulations from Joni Mitchell and Lizzo in the same 24 hours is something, you know?"

While she's on the road to recovery, the artist Reverend Jesse Jackson described as "socially relevant and politically unafraid" is back in the studio. And, when asked if fans can look forward to catching her in concert when it's safe to enjoy live music again, she teased, "You're going to have to keep an eye out for me — wait and see." In an email exchange with AARP interviewer Alanna Nash, Flack talks about her career, how she's fared during the pandemic, the healing power of music, the Black Lives Matter movement and more.

Q: How have you fared during the pandemic?

Roberta Flack: I am thankfully healthy. I've tried to use the time well and thoughtfully, with weekly practices with my musical director and vocal coach. And my team and I have a lot of projects in the works: a documentary film about my life and music, my biography and a children's book, The Green Piano, based on my life, that is due out for the holidays.

Q: When you listen to First Take, what goes through your mind?

RF: Especially with the songs on the bonus CD that had never been released, I'm taken back to my days performing at Mr. Henry's on Capitol Hill in D.C., and the intimacy I had with my audiences. The sign is still at Mr. Henry's that says "Roberta Flack Trio — Tuesday through Saturday."


No matter what challenge life presents, I am at home with my piano. I can find my way when I hear music.
Roberta Flack
Q: "First Time Ever I Saw Your Face" debuted on this album. Clint Eastwood included that song in the soundtrack of Play Misty for Me, and it became one of the biggest hits of 1972. What can you share about that?

RF: Clint has always been a musical visionary. He told me that he heard my version of "First Time Ever I Saw Your Face" while he was driving down a Los Angeles freeway and had to stop his car. He called me out of the blue and said, "I'd like to use your song in this movie about a disc jockey." I was floored, but I said, "I want to do it over again. It's too slow." He said, "No, it's not." That's the version of the song that you know, and that gives you a snapshot of his ability to see the beauty in simplicity and to use music to convey emotion.

Q: Donny Hathaway cowrote two songs on this album. He had been your friend since college and later your duet partner. What impact did his 1979 suicide have on you personally?

RF: This is still hard for me to talk about. I loved Donny. He was a musical genius, and I don't use that word lightly. Donny had his struggles through the years — he suffered from severe depression — but when he sat at the piano and sang for and with me, it was as if nothing was wrong. It was magnificent.

Q: How has music played a part in your recovery from your stroke?

RF: To me, music is everything. It's the language of emotion, expression and connection. It reaches across race, age, religion, borders and time to connect us. When I was at the Grammy telecast, I was able to see artists like Demi Lovato, Alicia Keys, Ariana Grande, and I love that connection to other artists, because through their music I understand what young people today are thinking and feeling. No matter what challenge life presents, I am at home with my piano. I can find my way when I hear music.

Q: There's a magical connection between music and the brain that often survives trauma and Alzheimer's.

RF: Yes. It is a great wonder that my mind delivers lyrics and music to me. Nature, time and evolution may have something else in mind, but music is ever-present and crystal clear to me. In May, I received an email from a fan. He told me that his wife had Alzheimer's disease and had been almost totally non-responsive for many years. Then one day, "Killing Me Softly With His Song" came on the radio. His wife turned to him and said, "Dance with me." For four minutes they turned back time and danced as they had done years before.

Q: The Reverend Jesse Jackson once described you as "socially relevant and politically unafraid." Do you feel that way?

RF: I'm deeply saddened that many of the songs I recorded 50 years ago about civil rights, equal rights, poverty, hunger and suffering in our society are still relevant in 2020. I hope that people will hear these songs in a new way as they connect to their lives today, to this pandemic, to the growing economic disparities, to Black Lives Matter, to police brutality, to activism versus apathy, and the need for each of us to see it and address it. I will continue to use my music to touch hearts, tell my truth and encourage people always to do whatever they can, however they can, to make the world better.