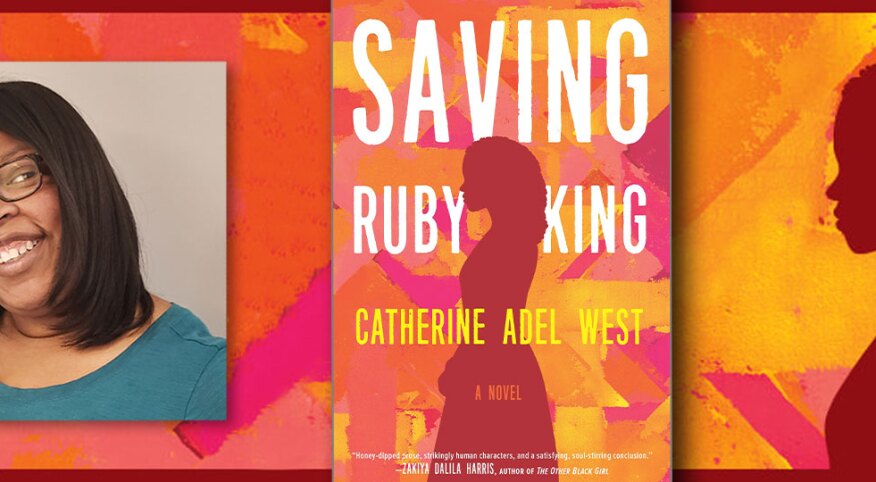 Many families keep secrets. Ruby King's family is no exception. But her family's secrets are deeper and more dangerous than most, leading to long-lasting trauma that shakes up her life, her faith, and her closest friendship.

When Ruby King's mother is found murdered in their home in Chicago's South Side, the police dismiss it as another act of violence in a Black neighborhood. Devastated by the loss and left on her own with her abusive father, Ruby feels understood only by her best friend, Layla. Layla's father, the pastor of their church, demands that Layla stay away from Ruby. Layla defies him. Her effort to save Ruby uncovers buried truths and hurts that have bound the two families together for generations.

If you appreciate the point of view of emerging authors and want to read an epic, enthralling family saga that celebrates strong female friendships, add Saving Ruby King by Catherine Adel West to your summer must-read list.


The Author's Inspiration


West drew heavily on experiences from her own life for the plot and characters of Saving Ruby King. When she began writing, "It was a way for me to understand the relationship I had with my father and how the Black church played a role, for better or worse, in it. It evolved into a story of friendship, love, secrets, and Black father-daughter relationships we rarely see played out via literature or art at large." 1


About the Setting


West felt strongly about setting her contemporary novel in the Chicago neighborhood where she grew up. "[The] South Side of the city and its people need to be shown for their beauty in all its complicated grit and glory," she said. "Without Chicago, Saving Ruby King wouldn't be half the story it turned out to be." 2


Why It's Important To Read Saving Ruby King Now


The themes of Saving Ruby King are both timely and timeless. West says her book reflects current issues of social and racial injustice and is a "testament that African Americans have always believed there are inherent problems in our law enforcement and judicial systems. My book and others are literary witness statements to the reality Black and brown people live with daily." 3

West also speaks to enduring themes of religious faith, forgiveness, understanding, healing, and, especially, the fierceness of Black women. "From our ancestors to our parents, Black women come into this world, into this nation, realizing our lives need to be a testament to our power, and Black women are, above all, powerful," West says. "Recognizing our power is indeed a beautiful and sometimes tragic struggle, but there's a victory in that." 4

Critics agree: Saving Ruby King is a hypnotic summer read. "Family, friendship, secrets…this rich suspenseful page-turner has it all," Woman's World says. Ms. Magazine concurs: "…this is a powerful story of family, faith, and friendship." Its impact lingers. As Zakiya Dalila Harris, author of the novel The Other Black Girl, says, "Saving Ruby King is a stunning force of a novel that has everything anyone could want in a family saga – honey-dipped prose, strikingly human characters, and a satisfying, soul-stirring conclusion that will stay with me for a long, long time."


About the Author


Chicago native Catherine Adel West graduated with both her BA and MA in journalism from the University of Illinois, Urbana-Champaign. Her work has been published in Gay Magazine, Black Fox Literary Magazine, FIVE:2:ONE, Better Than Starbucks, and others. Saving Ruby King is her first novel.

Read Catherine Adel West's powerful debut novel, Saving Ruby King. Order your copy here.




Interview sources:
1. https://booktrib.com/2020/07/22/author-qa-saving-ruby-king-will-take-loyal-friendship-and-facing-the-truth/

2. http://deborahkalbbooks.blogspot.com/2020/06/q-with-catherine-adel-west.html

3. https://booktrib.com/2020/07/22/author-qa-saving-ruby-king-will-take-loyal-friendship-and-facing-the-truth/

4. https://booktrib.com/2020/07/22/author-qa-saving-ruby-king-will-take-loyal-friendship-and-facing-the-truth/