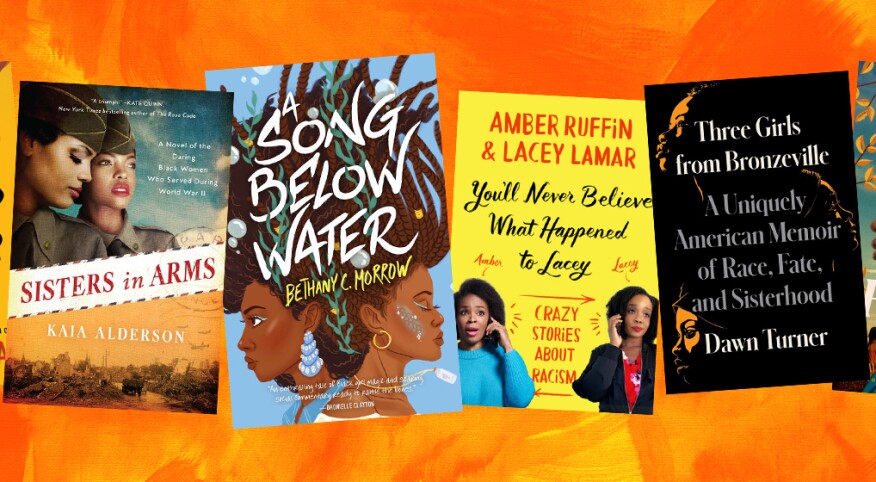 Whether we're related to one another by blood or just by deep affection, sisterhood among Black women is a powerful thing. Our sister-friends laugh and cry with us, support us and celebrate us. When needed, they also help us to heal. These beautifully crafted stories may give you a newfound appreciation for all the women who lift you up.


Fiction
Blindsided
by Trice Hickman
The best-selling author of The Other Side continues the adventures of good friends Bernadette, Tess and Arizona in this steamy sequel. These three women share everything, including the same birthday. While each seems to have it all, complications arise concerning the men in their lives. From pregnancy issues to difficulties in the bedroom, they navigate their problems with the help of their friends. In these characters, readers will see either ourselves or someone we know well. The situations they face in relationships speak to all womankind. Bernadette, Tess and Arizona's intertwined journeys may spark gratitude for your most enduring friendships, full of love, support and laughter.


Sisters in Arms: A Novel of the Daring Black Women Who Served During World War II
by Kaia Alderson
Grace and Eliza are members of the Six Triple Eight, the only all-Black battalion of the Women's Army Corps. Although from different backgrounds and with strikingly different personalities, the two women face the same struggles in the segregated Army. Eliza, spoiled and privileged, works with the prickly Grace as part of the only Black women's battalion to go overseas during the war. And they depend on one another, forging a complicated friendship in this heartwarming tale. The idea behind author Kaia Alderson's debut historical novel was sparked by a photograph on Twitter of two World War II-era Black women marching in WAC uniforms. Historical fact combines with engrossing fiction in this untold story that enlightens and entertains, making Sisters in Arms an inspiring read.


Take My Hand
by Dolen Perkins-Valdez
In 1970s Alabama, Civil is a nurse who wants to make a difference in her community by providing family planning services for women. She grows troubled when she's tasked with administering birth control to two poor, young Black sisters, especially as she comes to care for the girls and their family. When tragedy strikes, Civil must find the courage to unmask a racist conspiracy and risk the consequences of speaking truth to power in the Deep South. This moving novel has roots in the true stories of women like Fannie Lou Hamer. The New York Times best-selling author of the previous novels Balm and Wench, Dolen Perkins-Valdez pens a powerfully emotional tale that calls upon the many ways Black women create sisterhoods. The strength and courage the characters exhibit will stay with readers for a long time.


A Song Below Water
by Bethany C. Morrow
Bethany C. Morrow told an interviewer, "The truth is, we're powerful. We know that; the world knows that. They hope they can convince us otherwise, and they're often beside themselves when they can't." That sentiment is aptly woven throughout her debut young adult fantasy novel, A Song Below Water, and embodied in its heroine, Tavia, a siren whose voice is literally her power. Best friends Tavia and Effie hide things: Tavia is forced to keep her mermaid powers secret, while Effie stifles survivor's guilt following a childhood trauma. These young women must find their magic and use it to shape their destinies. A sense of lyrical wonder permeates this mermaid tale, encouraging readers, especially Black girls and women, to find their voices and stand up for what's right.


Nonfiction
Three Girls from Bronzeville: A Uniquely American Memoir of Race, Fate, and Sisterhood
by Dawn Turner
Journalist and novelist Dawn Turner's vivid and moving memoir is a testament to the power of sisterhood and generational resilience. Unflinching, courageous and, at times, tragic, the author's recounting explores how she, her younger sister Kim and her best friend Debra come of age in the 1970s, living in the historic neighborhood on Chicago's South Side. Turner's great-grandparents left Mississippi during the Great Migration, when millions of Black people fled the Jim Crow South looking for better opportunities. Unfortunately, opportunities didn't always materialize. While they had big dreams as youngsters, Kim becomes a teenage mother and develops an alcohol dependency. Debra ends up in prison for murder, leaving Turner to wonder how and why things went so wrong. Strong female support from Turner's mother, her Aunt Doris and her grandmother intervenes time and again. And while tragic incidents impact their lives, they don't define them, leaving room for redemption and reconciliation.


You'll Never Believe What Happened to Lacey: Crazy Stories About Racism
by Amber Ruffin and Lacey Lamar

Writer, actress and television host Amber Ruffin teams up with her sister, Lacey Lamar, for this hilarious book on a subject that, on the surface, isn't funny: racism. But as these two women show, sometimes you have to laugh to keep from crying. The sisters grew up in the Midwest, where Lamar still lives. Ruffin has moved to New York, where her writing scored her four Emmy nominations for Late Night With Seth Meyers and she's landed an eponymous late-night show. You'll Never Believe What Happened to Lacey is full of anecdotes about the racist encounters Lamar has experienced in Nebraska, from strangers touching her hair to people thinking she's Harriet Tubman! Readers will no doubt shake their heads and still not be surprised at many of these stories, from racist coworkers proclaiming ignorance to store personnel targeting a shopper just because she's Black. It's the sisters' humorous spin on the outrageous that makes this book so readable.