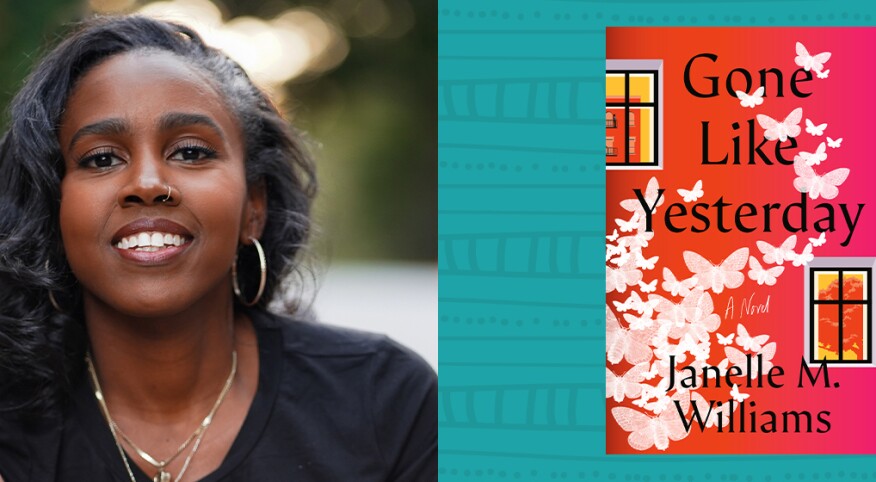 Janelle M. Williams creates a world in this debut novel that readers will find both familiar and surprising. It is a world that mirrors our own, but in Gone Like Yesterday, spongy moths follow, guide and sing to some people. They are messengers from the ancestors, connecting the living and the dead as well as the living in one place with the living in another.

This giveaway has now concluded. We'll have another one for you soon!

Zahra and Sammie are both moth people, but Zahra has been trying to ignore the moths and Sammie is just becoming aware of them. Zahra first meets Sammie's uncle, Trey, when she gets into his Uber. One awkward, then tense, then momentarily frightening ride opens the door for Zahra to help Trey's niece, Sammie, write her college entrance essay.

Williams writes from the perspective of both women to weave a story that's a mix of mystery, magic and music. Through Zahra's and Sammie's eyes we see friendship, new and young love, and families that aren't altogether whole.

The book opens with a mystery. Zahra's grandmother calls from Atlanta to say her brother is gone. He's been known to disappear before, but something about this time is different. When Zahra decides to make the trip from New York to Atlanta in search of her brother, Sammie insists on going, too, and Trey offers to drive. Their journey is full of surprising discoveries that help each woman better understand who and where she comes from and what the moths are really trying to say.

The themes of Gone Like Yesterday are both personal and universal: history, legacy, family, friendship and what it means to be lost, found, seen and heard, especially as a Black person. Although the action takes place in 2019, you'll find the book pleasantly nostalgic as Zahra and Sammie connect you to your memories of your high school and young adult years — the friendships, crushes, worries and goals. This is also a book for music lovers. The characters sing, including the moths, so there are plenty of musical references to artists like Yolanda Adams, Shaggy, Luther Vandross, Kendrick Lamar and more. But it is Zahra's brother, Derrick, who fittingly gets the last word, or song.

We spoke to Williams about her inspiration for this book and her approach to honoring the past without letting it consume the present.

(This interview has been edited for length and clarity.)

How did you begin to write this story?

I started it from one perspective — Zahra's. I knew I wanted it to be about her reckoning with this tightrope that you can walk as a Black American. How can you exist in this world knowing the history? It can become overwhelming. I wanted to write from the perspective of this woman who is trying to forget it all. And then she has this brother who is doing the opposite. He's leaning into it. He's overwhelmed by it. He's not able to get away from it. I knew I wanted a story that worked with those two ideologies.


What inspired you? Was it a line, a memory, the idea of the tightrope or something else?

Music is the kind of thing that sparks things for me. "Cloud Nine," by the Temptations — that song specifically stuck with me [when] I went to see [the Broadway musical] Ain't Too Proud because it is such an upbeat, fun song, but at the heart of it, it's really sad. That got me thinking about music and the way we mask things in our music. There's so much emotion in all our music because we are feeling so many things at once.


What made you choose spongy moths?

Every year my job holds a sleepaway camp, and on the ride back you see all these trees and they have cobwebs all over them. A coworker sitting next to me was talking about these trees and these cobwebs. He knew so much about these moths. I became very intrigued, and I knew then that I was going to use them in a book one day.


What did you find most rewarding about writing this book?

It's always rewarding to write the end, especially if you really like your ending. And I'm very proud of the ending of the book. I'm also really proud of Sammie's character and proud of having written from her perspective. It feels like a nod to all the wonderful young people that I've worked with.


Do you see a bit of who you are or who you want to be in any of your characters?

I just want to be clear that I would never say some of the things that Zahra says to the teens she works with. I don't think I'm quite as cutting as she can be. I'm not that person. Please don't think I am Zahra! But we're really similar in the way we think and feel and navigate the world. I'm definitely a combination of Zahra and Derrick. Sammie is more along the lines of the teens I admire now. I loved writing her. I've worked with a lot of teens who are like that, and I'm just truly amazed by them all the time. She is someone that I would've wanted to be or would've loved to have been friends with in high school.


The ancestors speak to your characters through the moths. If you could speak to your ancestors, what would you ask them?

Who and what did they love? It can be hard to know what people were passionate about or what they were interested in. So much of what I know and so much of what we learn is the struggle. I would want to get to know them outside of the struggle. I just want to know them as people.

What's your personal approach to walking the tightrope of being a Black American?
I try to remind myself that I'm a decent person, but I can always be better and make sure I'm doing things for the cause. I never want to be complacent. But I also don't want to be so hard on myself. I also have to remind myself not to judge people who don't make the same choices that I do.

This giveaway has now concluded. We'll have another one for you soon!