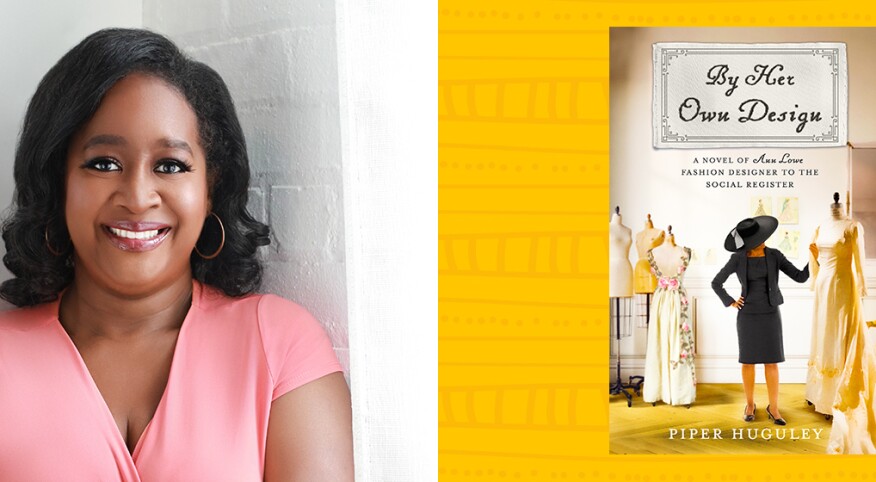 Ann Lowe was born in 1898 in Clayton, Alabama. The state was notorious for anti-Black racism for generations. Despite the hardships Lowe encountered as a Black woman, her determination and her unique ability to design one-of-a-kind gowns took her from Alabama to Tampa to New York.

Along the journey, she evolved into a highly sought-after designer for some of the wealthiest women in America. She's best known for designing the wedding dress of Jacqueline Kennedy.

Ann Lowe's life is the inspiration for Piper Huguley's latest novel, By Her Own Design: A Novel of Ann Lowe, Fashion Designer to the Social Register.

The book giveaway has concluded. We'll run another one soon.

Lowe is finally getting the recognition she deserves. Following the Met Gala last spring and leading up to New York Fashion Week (September 9 to September 14), the Metropolitan Museum of Art displayed Lowe's gowns in a special exhibit (metmuseum.org).

Fashion is still a mostly white industry, but thanks in part to the suffering and sacrifices of trailblazers like Lowe, many celebrated Black designers command luxury prices for their work. Some of the contemporary Black women designers we see at the collections and in the pages of Vogue entered doors opened by Lowe. Among them are Rebecca Henry and Akua Shabaka, the mother-and-daughter design team who founded the House of Aama (houseofaama.com); Tracy Reese, founder of Hope for Flowers (hopeforflowers.com); and Felisha "Fe" Noel, creator of Fe Noel (fenoel.com).


About the story
Dubbed society's best-kept secret, Ann Cole Lowe was the couturier to society's elites.

Piper Huguley's dazzling narrative chronicles the struggles and triumphs of Lowe's life. Her journey began in Clayton, Alabama, where she lived with her grandmother and mother. Her grandmother, a freed slave, and her mother were seamstresses to Lizzie Kirkman O'Neal, the first lady of Alabama, and other elite women. They passed down their sewing skills to young Ann. At 5, she began fashioning scraps of material into flowers that were so lifelike, she could sell them for pocket money. They later became her signature, appearing on many of her designs.

As a Black woman growing up in the post-slavery and Jim Crow eras, Lowe had to overcome almost insurmountable hardships and disappointments to achieve her dream of being a designer.

As she maneuvered through a racially oppressive world, she faced personal and financial struggles. She became a child bride to an abusive, alcoholic husband at age 12, took over the family business at 16, raised her young son as a single mother after escaping her marriage and experienced the seizure of her business by the Internal Revenue Service. Yet, as intense as those depicted situations are, a water pipe bursting in her shop is the book's gripping turning point. The real-life incident occurred within days of Jacqueline Bouvier becoming Mrs. John F. Kennedy. The future first lady's gown and the bridal dresses were badly damaged. Lowe's capabilities were severely tested as she worked tirelessly to restore the gown and dresses in time for the wedding.

Summoning remarkable grit and resilience, Lowe relied on her love of design and others' inspiration and support to press forward. 

Among her achievements: She opened luxury ateliers in Tampa and New York, from which she catered to elite clients. She attended a Paris fashion show, where she met fashion luminaries of her day, including Christian Dior.

Lowe also designed a gown for actress Olivia de Havilland, who played Melanie in Gone With the Wind. De Havilland wore the gown when she won an Oscar in 1947. In the 1960s, Lowe's dresses appeared on The Mike Douglas Show.

The book giveaway has concluded. We'll run another one soon.


An interview with the author, Piper Huguley
(This interview has been edited for length and clarity.)


What inspired you to write about Ann Lowe?

I knew about Ann Lowe because I'm a Kennedy follower. One night my editor retweeted an article on [Lowe] and asked if someone would write a novel about her. Once I read the article and a few other resources, I knew this project was for me. After my agent read my prologue, she [put out the word to not] let anyone else touch this project.

Why did you write Lowe's story as a novel instead of a biography?

I appreciate you asking me this question. Writing a biography that does justice to anyone's life requires major funding and years of work. In terms of the historical facts of Ann's life, I had the thesis of the scholar who had been working toward that biography, Margaret Powell, who I dedicate the novel to. I'm not a textile scholar, and [I hope my book] will intrigue somebody to follow and do the real work of the comprehensive and scholarly biography that Ann Lowe deserves.

Lowe's grandmother told her the key to surviving as a Black person was to find "some good white people." She said, "Get up under that right butt cheek if you have to." Was it just what they had to do to survive in those times?

Exactly. That is a line that people do bring up, tsk-ing at it, but people at that time, that's what they thought was the way. Society wouldn't let you go to school and all that other stuff, so instead what you have to do is get you some white people. Oprah Winfrey talks about how her grandmother told her that. … I just wanted to cast it as what it was, a patron who supported an artist, and the artists knew patrons were needed to do their art.

What role did Jacqueline Bouvier Kennedy play in Lowe's life? 

Ann had a relationship with [the Bouvier] family as a designer of special-occasion dresses, and it's one of the things I was trying to emphasize because in the historical record, in terms of Jackie Kennedy, she's usually just [presented as] a family seamstress, and that was not it at all. She had a relationship as a designer that was ongoing. But the whole aspect of why Kennedy ended the relationship had to do with the fact that she hated the dress. [Editor's note: According to The New Yorker, when a journalist asked about the designer, instead of giving Lowe credit, Kennedy dismissively said "a colored woman dressmaker."] And that somewhere along the way, maybe deep, down inside, Kennedy knew she hadn't done the right thing with Ann Lowe. And years later, would've reached out potentially to pay off Lowe's IRS debts.

What insight or inspiration would you like your readers to gain after having read your novel?

Ann was a person who pursued her dreams, and that's the universal aspect of this story. Before our call, I got a note from a white man who read it and got that same thing from it. People looking at it, they go, this is for Black women. But it's for everybody who has a dream.

The book giveaway has concluded. We'll run another one soon.