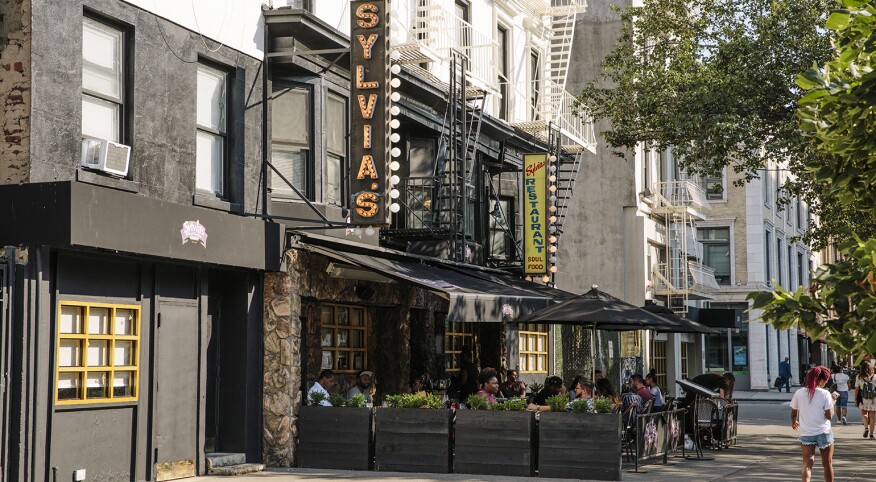 At Harlem's Abyssinian Baptist Church service, the spirit moves me. My old college classmate Robert, a New York City transplant from the South who attends this historic black church, invites me to the 9 a.m. worship service for regulars (tourists should attend the 11:30 a.m. service, but get there early for seats). Two hours later, we spill out, still uplifted from the stirring sermon.

Music — from gospel to jazz to Afrobeat to salsa — is the soundtrack of this large swath of upper Manhattan, which generally ranges north of Central Park to 155th Street. It's a straight shot on the subway (about 30 minutes from midtown) to this neighborhood. With its own special rhythm, particularly on a Sunday, when songs of praise emanate from many of the 400-some houses of worship, it attracts both regular churchgoers and visitors from around the world.

What started out as a Dutch village in the 17th century became the undisputed center of black culture in the 1920s and '30s, with a flourishing of music, art, literature and activism that became known as the Harlem Renaissance. Josephine Baker, Duke Ellington, W.E.B. Du Bois and Jacob Lawrence all lived or passed through here. A stroll in central Harlem is like walking through a history book, with the sites of momentous events and larger-than-life characters on every corner.

From the Abyssinian, it's only a block to Striver's Row, an aristocratic set of 19th-century town houses that were reluctantly made available to upwardly mobile African Americans, or "strivers" (including Scott Joplin, Eubie Blake and W.C. Handy), after whites had abandoned the area. Today it's protected, part of the officially designated St. Nicholas Historic District.

Back on Lenox Avenue (also known as Malcolm X Boulevard), Harlem's main north-south drag, we turn south. A few churches look like the Abyssinian — large and elaborate with neo-Gothic edifices and stained glass windows — but most are storefronts, wedged in among Harlem's unique retail landscape: bodegas, pop-up world music–CD kiosks, West African–textile marts and hipster coffee shops.

For lunch I want soul food. We grab two seats at the counter at Sylvia's, founded in 1962 by "the Queen of Soul Food" Sylvia Woods. Robert has smothered chicken and waffle topped with a dollop of melting butter. My cornmeal-crusted catfish and fried eggs are the perfect Sunday indulgence. Had we decided to go cool rather than classic, we might have walked one more block to Red Rooster, celebrity chef Marcus Samuelsson's mod take on down-home cuisine.

Malcolm meets Martin where Harlem's main north-south and east-west thoroughfares cross: 125th Street, also called Martin Luther King, Jr. Boulevard, hosts the landmark Apollo Theater. Many musicians — from Ella Fitzgerald to Jimi Hendrix — had career breakthroughs on its celebrated stage.

Our stroll ends at a statue of the legendary Duke Ellington and his grand piano. We're heading downtown, but I feel like I've only skimmed the surface of this culturally rich neighborhood. Not to worry, Robert reminds me: "You can always take the A train back up."

Harlem highlights:

Hamilton Grange. Founding father Alexander Hamilton lived in this early Federal-style home back when Harlem was a rural retreat. The house is now a National Park Service site you can tour for free; open Wednesday through Sunday.

Minton's Playhouse. Established in 1938 by saxophonist Henry Minton, this nightclub bills itself as the birthplace of modern jazz, or bebop. Stars such as Thelonious Monk, Charlie Parker and Billie Holiday once performed there. Reserve a table to see jazz legends and up-and-comers.

Langston Hughes House. The poet lived in this row house at 20 East 127th St. for the last 20 years of his life. You can see his typewriter and piano in the parlor. Free, though a $5 donation is suggested; open Tuesday, Thursday and Saturday.

Apollo Theater. The famed theater holds a Wednesday Amateur Night (tickets start at $22), where you might see the next Sarah Vaughan.

Sylvia's. A classic soul-food diner at 328 Malcolm X Blvd., between 126th and 127th Streets, serving everything from barbeque ribs with Sylvia's "Sassy Sauce" to okra and tomato gumbo.

Abyssinian Baptist Church. A Harlem fixture founded in 1808 that welcomes tourists to its 11:30 Sunday service (which often doesn't wrap up until 1:30 or 2:00). Dress appropriately — no flip-flops and shorts, for instance. At 132 Odell Clark Place (formerly 138th Street).