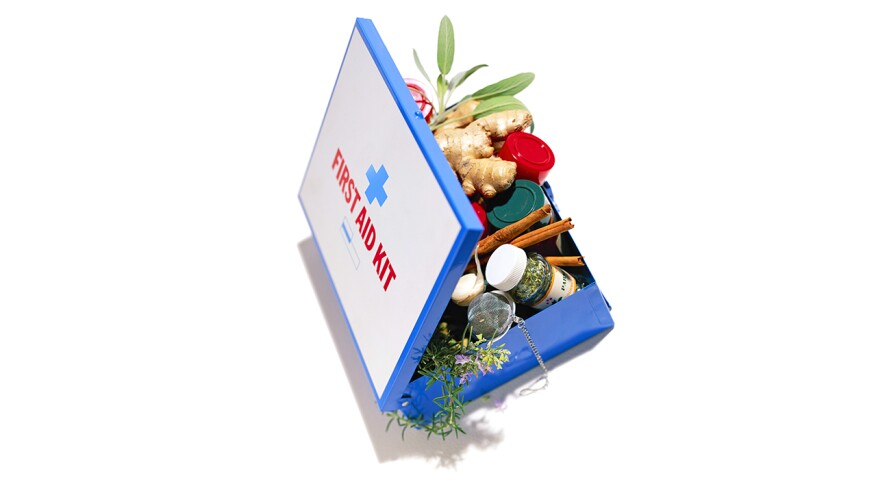 Herbs can do more than make your food taste better or garnish your plate; the chemicals they contain are natural remedies for several common complaints. Start with these four that you probably already have in your kitchen. Hungry for more ideas? Find them on aarp.org. (Be advised: Some herbs may have side effects or interact with medication. Always talk to your doctor before taking any supplement.)


Garlic

Tastes great in greens. Used as both an herb and a spice, but botanically a vegetable, garlic is widely believed to help fight the common cold. Scientists have yet to confirm its effectiveness for the sniffles, but some research has found that garlic helps reduce blood pressure and prevent hardening of the arteries. Tip: To activate garlic's curative compounds, crush or chop fresh cloves five to 10 minutes before cooking. Wear gloves to avoid irritation if you have sensitive skin.


Ginger

Try it in carrot soup. What can't ginger do? Research shows that it can ease knee pain from osteoarthritis; speed muscle recovery; ease nausea from motion sickness; lower cholesterol; and relieve dental pain as well as ibuprofen! Tip: The easiest way to peel ginger is with a spoon!


Oregano

Perfect in salad dressings. This herb also adds a minty kick to everything from potatoes to pasta sauce. Bonus: Its leaves are rich in carvacrol (a compound proven effective against the stomach bug norovirus), and tea made from them can help boost the immune system. Tip: For one tablespoon of fresh oregano, substitute a teaspoon of dried.


Thyme

Delish in chicken and bean dishes. This aromatic member of the mint family has been used since the Middle Ages to flavor food. According to researchers at New York's Mount Sinai Health, thyme also helps soothe inflamed bronchial tubes and suppress coughs. Tip: Use a tea ball to steep dried thyme leaves, or soak sprigs of fresh thyme in boiling water for five minutes and sweeten with honey to make a cough-calming tea.