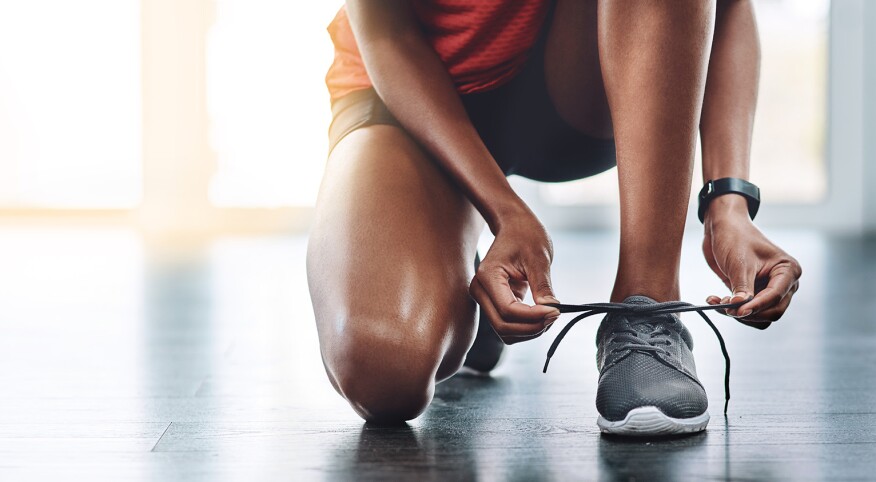 I live on steep, sloping road, and I drink my tea on the front porch. I used to wonder why I'd see so many sisters trudging up that incline in the mornings when there's a wonderful waterfront loop nearby. Now I know: A 180-pound walker burns approximately 311 calories in an hour while walking 3.5 mph. Uphill, she'll burn 490 in the same time frame. That treadmill incline setting is our friend, ladies.

Welcome to Sisters' first-ever walking issue. It's filled with motivation to put on our headphones, lace up our sneaks and grab our water bottles. (Check with your doctor before starting an exercise program.) Plus, Sisters has curated some not-to-be-missed articles that readers like you found most inspiring.
Regular aerobic exercise helps trim fat beneath the skin and hidden within the abdominal cavity.
Exercise supports skin cells by boosting blood flow, which delivers oxygen and nutrients while removing waste products. The calming effect of regular workouts may improve conditions such as eczema or acne.
Start off a friendship on the right foot
A Japanese study found that women made more positive first impressions with people they'd been walking with versus people they met while stationary. That's why groups such as GirlTrek are great ways to meet people.
A moonlight stroll with your bae can certainly put you in an amorous mood. Even better, daily 2-mile walks have been linked to improved erectile function.
The movement conditions and lubricates the muscles that support our hip and knee joints. There's even evidence that walking may help prevent arthritis.
A British Journal of Sports Medicine study found that people who got a 30- to 45-minute walk in daily had 43 percent fewer upper respiratory infections during cold and flu season.
Step closer to compromise
Researchers believe walking together during times of disagreement aids in conflict resolution. So, when you and an ideological adversary are stalled, stuck, standing your ground and getting nowhere, consider that taking steps forward — literally — can help you find common ground.
Help manage blood sugar spikes
Sedentary folks risk prediabetes. But the American Diabetes Association reports that getting up and walking for five minutes every 30 minutes improves metabolic function in postmenopausal women who are overweight. Who besides me needed to hear this? A timer app such as Pomodor (pomodor.app/timer), Marinara Timer (marinaratimer.com), Be Focused (for iOS; download from the App Store) or Toggl Track (toggl.com) can help us stick this habit.
Press the snooze button on insomnia
Hormone shifts can do a hit job on our sleep patterns. Weekly, 150 minutes of activity can help set us up for better shut-eye.
Prayer walking is a spiritual practice that brings grace as you pace. You can pray for your community as you walk the neighborhood, contemplate a question as you walk a labyrinth or just let the spirit move you.
Regular exercise supports blood flow to the cochlea, the part of your inner ear that converts sound vibrations into nerve impulses.
A recent report from the Global Council on Brain Health (GCBH), an independent collaborative of scientists, doctors and policy experts convened by AARP, stresses that physical activity is vital to maintain cognition in adults as we age.


Anxious? Research shows that we can pace our way to peace.


Step into problem-solving
Walking meetings at work are a "thing" for a reason. One study found that subjects found more creative solutions for brainteaser-type problems while walking than did the sitting group.


Pump up your people skills
Walking in nature may exercise our empathy. Time outdoors "can make you more civilized in some ways, in terms of making you a more empathetic, more compassionate person. It can make you a better listener and make you feel more connected to your community and to other people around you," Florence Williams, author of The Nature Fix, told mindbodygreen.
"Wave" hello to happiness
The emerging field of "blue space" studies looks at ways in which spending time by the water (ocean, lake, river, waterfall, fountain …) benefits well-being. In one study, office workers who took 20-minute seaside walks daily felt happier and more vital than when they walked in the city or didn't walk.
Walking aids digestion by supporting adequate blood flow to the digestive tract and by helping good bacteria to flourish.
Make the most of your Mediterranean eating plan
You've heard about all the wellness benefits of the Mediterranean diet. But it's part of a lifestyle that also includes walking and staying social.


Chase away racing thoughts
Ten minutes of walking per day may help us hold on to independence as we age.
Walking away from that screen and around the block can help us recover from those video calls seemingly scheduled round the clock.
Perfect your swing while guarding against stroke
All that walking you do on a golf course has cardiovascular benefits.


HIIT your blood pressure goals
Another way hoofing it helps heart health.


To work your inner thighs, try walking sideways for a 60-second interval, followed by walking as you normally would for another minute, then walking sideways for another 60 seconds, while leading from the opposite hip. Walking uphill helps tone your calves and quadriceps.
Studies suggest that walking may reduce the risk of ovarian, kidney, breast and cervical cancers.
Add an easy butt-toning move to your walks by flexing your glutes on the side of your body that's in contact with the ground. You'll feel that little squeeze above your base leg with each step.
Brisk or uphill walking may strengthen bones, which benefit from weight-bearing exercise. Even better, walk a fitness trail at your local park and incorporate pushups, squats and lunges.
A study of people over 60 found that those who cultivated a sense of awe during weekly 15-minute walks felt more socially connected. How-tos here .
Furr-get about loneliness
Got a pooch? Even better. In one study, dog walkers over 50 reported a greater sense of community than subjects who didn't own a dog.
Regular sweat sessions can help prevent or slow the progression of age-related macular degeneration and may benefit sufferers of other forms of vision loss, such as glaucoma and diabetic retinopathy. Discuss any vision changes with your doctor.


Lower-impact exercises are less likely to trigger migraines, and regular workouts can help reduce their frequency.
Regular walks, particularly when outdoors, are linked to positive self-regard.


Bond with the kids or grands
A family discovery walk is a great time to share stories, check in emotionally or explore nature.
Walking tours are a fun, healthy, social and mind-expanding way to travel. But have you tried taking one in your own city?
From walking dogs at a rescue shelter to being a volunteer docent at a museum, learn ways to serve your community while getting in your steps, here.

As a longtime health journalist, even I was surprised at some of the ways a regular walk helps us to thrive. I hope to see you good people outside, on the path to better living. I'll make sure to nod or say "hi" when I do.