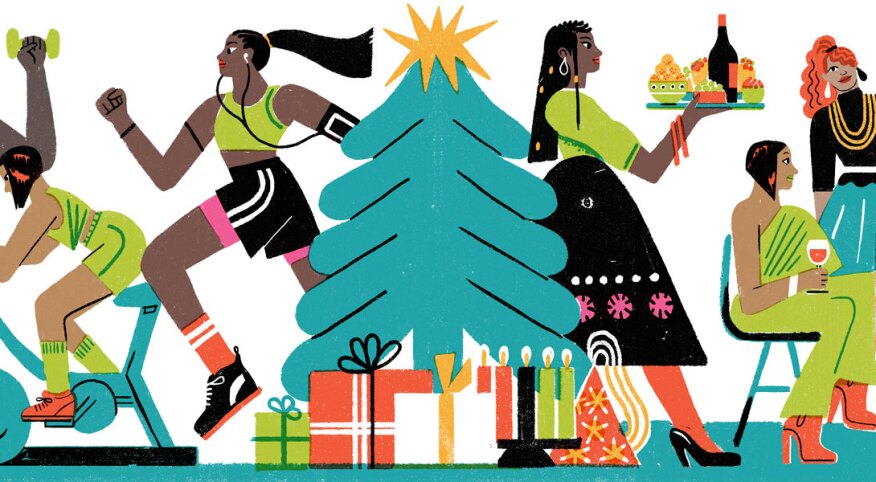 When we're watching our weight, the weeks between Halloween and Valentine's Day can seem like terrain littered with dietary land mines. Honey-glazed ham, cornbread dressing and eggnog are among the delicious-but-dangerous calorie bombs lying in wait at holiday parties and family dinners. Did somebody say pecan pie?

Fortunately, Weston, Florida-based dietitian and nutritionist Lillian Craggs-Dino says that a few healthful habits can help get us through these tempting times and into 2020 wearing the same dress size. Here are her top tips for staying on track while you enjoy your favorite holiday treats.

Maintain your routine. Whether you're a solo runner like me or you prefer to meet your girlfriends at the gym, Craggs-Dino says that keeping your regular exercise schedule during the holidays is crucial. "When we deviate from our typical day, we get off track. This may encourage old habits of making poor food choices, eating in a rush or skipping meals," she says. Evening exercisers may want to try squeezing in a morning or lunchtime sweat sesh so after-work drinks don't interrupt their healthy habit.

Don't party hungry. If you've ever tried eating next to nothing during the day so you can indulge at a party later on, you know it doesn't work. Not only are you likely to be "hangry" at work, but when you get to the party you are so ravenous that you suck up all the food offerings with the efficiency of a vacuum cleaner. "Going hungry to any party is a ticket to overindulgence," warns Craggs-Dino. She advises eating a healthy and hearty breakfast if the social is at lunchtime and enjoying a light snack before evening events.

Drink responsibly. No one wants to pass up a glass of bubbly or a coworker's homemade eggnog. But just two holiday drinks puts you beyond the recommended daily allowance of alcohol for women, which is 5 ounces of wine, a 12-ounce beer or 1.5 ounces of 80 proof distilled spirits. If you do choose to indulge, Craggs-Dino recommends choosing beverages with fewer calories, such as wine, and avoiding mixed drinks that rely on sweetened fruit juices. As for creamy drinks such as White Russians and mudslides, treat them as the desserts they really are, she says, and budget your calories accordingly.

Watch your portions. It's an unfortunate fact that pretty much everything we love to eat during the holidays is either high in calories, fat, sugar or all three (we're looking at you, pumpkin pie!). At buffets, I like to do a lap of the entire table before deciding what to put on my plate. But Craggs-Dino's hack is even more brilliant. "When scoping the dessert or holiday buffet, bring only a napkin and eat only what fits on that napkin."

Track that appetizer on an app. "If I had to pick one best strategy for avoiding holiday weight gain, it would be self-monitoring," says Craggs-Dino. "Research shows that the mere process of tracking your intake, food choices and exercise can help with increasing self-awareness and inspire continued motivation to meet your personal weight and health goals." Try jotting down what and when you eat in a food diary, or turn to food journaling apps such as MyFitnessPal or MyPlate. Self-monitoring is also important when it comes to physical activity. Use a smartphone app or strap on a fitness tracker and get to stepping!

Don't view a cheat as defeat. Overindulging on one occasion just means the next meal is your chance to do better.

But if despite your best efforts, January rolls around and you're carrying an extra few pounds, don't waste time beating yourself up. Instead, Craggs-Dino advises reverting to the strategies that worked for you in the past. Clean the house of triggering foods (bye-bye, pecan pie), resume your regular exercise routine and get back to a regular sleep schedule. It may take a few weeks but you can lose the weight just as you gained it — one pound at a time.