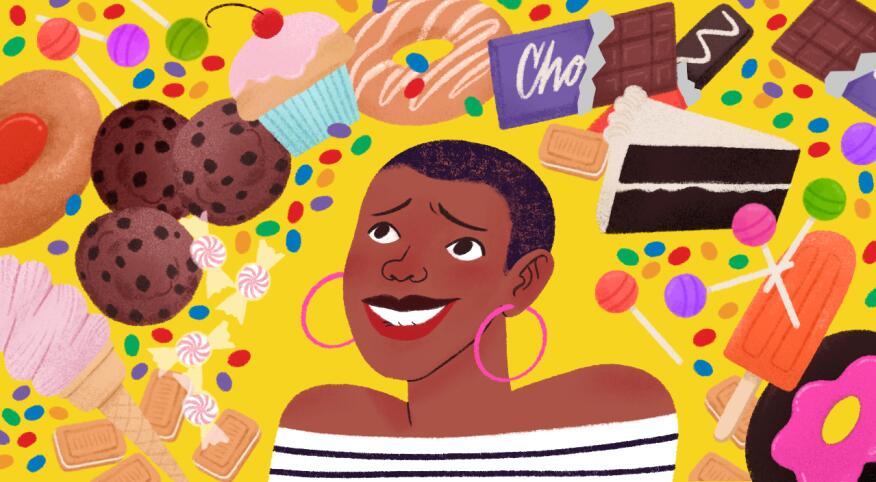 I've never met a piece of chocolate I didn't like. And I'm not alone. Studies show that more than 90 percent of us have food cravings. But sugary diets have been linked to weight gain, cavities, heart disease and stroke. Still, the average American consumes 17 tablespoons a day – about two to three times what the American Heart Association recommends! To cut back on the sweet stuff, try these six simple strategies (and find four more here.)

Prioritize protein. A study published in Nutrition Journal found that people who had a high-protein breakfast had fewer cravings than those who had a low-protein breakfast or skipped it altogether. Try starting the day with a protein-packed brekkie of Greek yogurt, eggs, cottage cheese or a smoothie with protein powder.

Get enough sleep. When Columbia University researchers analyzed the sleeping and eating habits of more than 500 women, they found that those who slept poorly consumed more added sugar than those who got a good night's sleep. To crush cravings, aim for seven to eight hours of sleep a night.

Don't feed the need. Sugar sometimes fulfills an emotional need that has nothing to do with hunger, so take time to get to the bottom of your feelings instead of "eating" them. Once you do, find an alternative way to manage them: Take a walk, call a friend or listen to an uplifting podcast.

Toss temptation. You can't eat that family-size pack of cookies if you don't bring it into the house in the first place. 'Nuff said!

Find a healthy substitute. Back away from the cookies! A food that's naturally sweet —bananas, raspberries, grapes, blueberries or a popsicle with no added sugar ­— can fit the bill. Or try a cup of hot herbal or fruit tea.

Delay the deed. When a craving strikes, stop, take a deep breath and count to 25. You may find the pause powers a resolve to make a healthier choice.