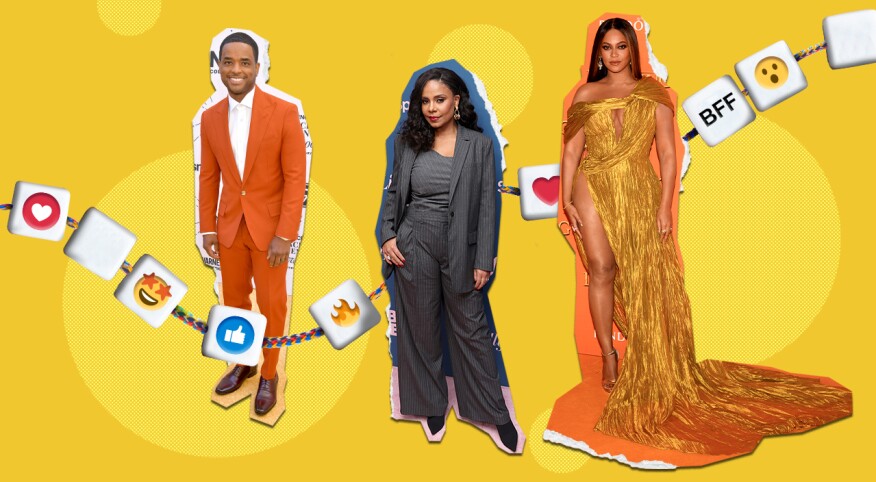 You know Sanaa Lathan, right? Of course you do.

Well, what you didn't know is she's my homegirl. We've hung out at the beach sipping on amaretto sours. We've danced up a storm in nightclubs. I've had a behind-the-scenes look at some of her photo shoots and recent appearances on TV shows. I've even gotten to know her dog, Nala.

Yep, she's my best friend.

Except she has no clue I exist.

What is a parasocial relationship?

I know you're like, "Huh?" Sanaa being my friend in my head is what experts call a "parasocial relationship." The term was coined in 1956 by two social scientists, Donald Horton, Ph.D., of Yale University, and R. Richard Wohl, Ph.D., of Harvard University. They looked at how people tuning in to what was called new mass media back then — radio, television and movies — formed an illusion of having a social relationship with the performers.

Simply put, parasocial relationships are the one-sided attachments people form with public figures like celebrities, social media influencers, reality TV stars, politicians, athletes, authors or even fictional characters in TV shows, movies and books.

Ever feel like you "know" a celebrity or public figure although you really don't? Maybe you see Judge Lynn Toler as a big sister with great relationship advice. Or NeNe Leakes is your tell-it-like-it-is cousin. Those are parasocial relationships.

Why do people have parasocial relationships?

Sometimes "these relationships form based on the amount and quality of one's attachment to individuals in real life," says Jameca Woody Cooper, Ph.D., a licensed psychologist and owner of Emergence Psychological Services in St. Louis. It's easier to imagine a connection with a famous person if you don't have those kinds of connections with people in real life, she says. For example, I don't really have that cool, down-to-earth bestie, so Sanaa fills that role.

Our increased access to celebrities is a factor too. Essentially, you can follow a person's life, or at least as much as they want you to know and see, through their social media pages, says Rhonda Wells-Wilbon, Ph.D., a licensed clinical psychotherapist and associate professor of social work at Morgan State University in Baltimore.

You can see a pic of what your favorite celeb had for breakfast, read their opinions about hot topics, watch them rehearsing for a performance and see them playing with their kids or pets. That makes a person feel they have a connection to the celebrity, Dr. Wells-Wilbon says.

Then the illusion of closeness grows if the person interacts with you, such as liking your comment on their pic or replying to your message.

A study published in the Journal of Social and Personal Relationships found that parasocial relationships increased during the pandemic. Dr. Wells-Wilbon says this makes sense. "People were so disconnected, and all of our relationships became ones we had via electronics and social media. So for many people, especially ones who lived alone or were used to being very social, it was a way for them to re-create their social life in a space where they could still be safe at home," she explains.

The upsides of parasocial relationships

Fortunately, in most cases, parasocial relationships are normal. We identify with the public figures we see on TV, on the internet and in movies, or that we hear singing songs on the radio, and they almost become part of our everyday life, Dr. Wells-Wilbon says.

In fact, she, too, has her people. "Beyoncé is my girl," she says. "And it's just something about Larenz Tate. I just love him."

Although these one-way friendships may sound weird, they can be beneficial. Sometimes the bond is about things we admire about the celebrity, Dr. Wells-Wilbon says. So the person takes on an almost mentor-like role. For instance, in my opinion, Sanaa Lathan is always so well put together. I want to emulate that in my life.

Parasocial pals can also provide some of what a real friend would (without judgment since they don't know you). Sanaa doesn't realize it, but she's given me advice about things like self-love and aging with confidence.

Our made-up relationships can even improve our real ones. Dr. Wells-Wilbon has a family member who's a big Beyoncé fan too. Although they may not have many other things in common, their love for Queen Bey is something they can bond over, she says. "These people and their experiences that we see publicly give us meat and substance that we can use to build or strengthen our real-life relationships, which is very positive."

The key to getting the most out of those in-your-head relationships is to use them for growth. "Examine the qualities of the celebrity that is the object of the parasocial relationship to identify elements that draw you to this person or situation," Dr. Woody Cooper says. You might ask yourself, "What feelings do I have that surround this?" "What am I getting from this relationship?" "What is it that I like about this person?" "Is this relationship fulfilling unmet needs in my life?"

Then the next steps would be seeking out the desirable qualities (of the parasocial person) in others around you and finding ways to address your unmet needs, Dr. Woody Cooper says.

Don't go overboard

That said, people sometimes take parasocial relationships too far. If you get so invested in your one-sided relationship that you avoid spending time with people in your real life or neglect your day-to-day responsibilities, that's problematic, Dr. Wells-Wilbon says.

If your parasocial relationship is of the crush type, you shouldn't over-romanticize it to the point that you can't entertain dating or being involved with someone else in real life, Dr. Wells-Wilbon adds.

And it's definitely concerning — and crossing the line — if you begin to act (or think about acting) on the imagined relationship, such as trying to find out where the person lives or planning to go to their home, Dr. Woody Cooper says.

Yeah, I'm not down with any of that behavior. My fictional friendship with my bestie, Sanaa, is lighthearted and fun — as it should be!