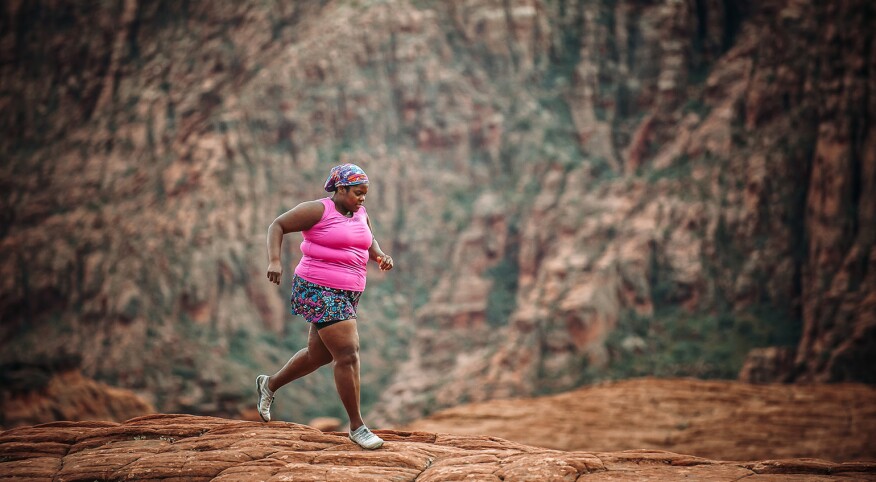 Mirna Valerio routinely races distances most people would drive. As an accomplished ultrarunner and trail runner, she takes on 50K (31-mile) races, marathons and half-marathons all over the world.

She's also 43 years old and proudly inhabits a plus-size body.

Challenging the stereotype of what a real runner looks like, the former teacher, blogger at FatGirlRunning.com and author of A Beautiful Work in Progress is known as "The Mirnavator" to her 18,000 followers in her Fat Girl Running Facebook group. She's an inspiration, but not just because of her achievements.

Valerio's presence within the mostly white world of ultrarunning (an "ultra" is a race of any distance greater than a marathon and may take several days to complete) is opening doors for all women, particularly women of color who may not possess the lean lines of a typical runner's body or take 10 minutes or longer to run a mile. With her vivacious personality and sunny outlook, Valerio somehow makes running 120 miles over six days (more on that later) seem like something other women just might enjoy trying, even those who are still working toward running a single mile.

Although she ran, played field hockey and lacrosse in high school and has been an active adult, Valerio had a health scare in 2008 when she was diagnosed with arterial inflammation. "Combined with my weight, it wasn't a question of if I'd have a coronary or stroke, but when," she told Runner's World magazine. A doctor diagnosed her with morbid obesity, and she recommitted to her health. She started running, first 5Ks, then 10Ks, and eventually half-marathons, marathons and ultra distances.

"You can't wait for something — a health scare, a wedding, an anything — to get on the physical and mental wellness wagon," she says. "Our bodies and minds are connected, and we've waited too long to honor that connection. My mission is to model a lifestyle in which joy and community in the outdoors, and in life in general, is at the forefront. My message is, 'Do you, be great, and bring joy to others.'"

Here, Valerio shares the lessons she's learned on the trail and what she wants sisters of every age and size to know about the joys of being active in the great outdoors.

Walking is welcome. It's OK to start out walking or to take walk breaks during your run. Walking doesn't diminish your efforts. Feel free to stop and smell the flowers or, better yet, stop and express gratitude for the amazing machine that is your body. (Coaches often advise beginners to focus on increasing their active minutes rather than mileage. Over time, those incremental gains add up to major progress.)

You don't have to be motivated! I don't focus on motivation because it's very ephemeral. But I do love the mental and physical challenges of running long distances. [This sport] has given me a sense of accomplishment and brought an enormous community to my life. My goals are longevity, long-term health and wellness.

The trail is a teacher. There are so many life lessons learned on the trail. The biggest ones for me are grit and perseverance. Even when I have a low moment [on a run], I know there's always a work-around. It may not be right that instant, but eventually I'll figure out what's wrong, get to a place where I can start dealing with it and then move on. This applies not just to races but all areas of my life.

The outdoors is yours. When I started [racing] I could tell by other people's body language that they were wondering why I was there. But I've always been one to inhabit spaces where people think I don't belong. It comes with some discomfort but then I remind myself that the outdoors doesn't belong to any one person, people or place. We coexist with Mother Nature. And I never got the message from her that I wasn't invited.

Gratitude is the attitude. I don't have a religious practice but I feel very in tune with the earth and part of something way bigger than me. When the going gets tough, my mantras help give my mind a break [and a chance to] refocus. I'll say, "This is my job and I'm working." Or "mountains make my heart stronger." I also practice gratitude. I'll say, "Thank you, legs, for carrying me this far. Thank you, heart, for pumping." And I talk to nature. "Hello, birds!" "Hello, trees!" "Hello, trail!"

Life can be tough. But you are tougher. My toughest race ever was the TransRockies Run, a six-day race in the Colorado Rockies. The first year I did it, I only completed 75 of the 120-mile course. But in 2018, I finished. I came in dead last, but I was so joyful in that moment. I learned that sometimes you don't achieve something right away, even if you've worked hard. I had to reconfigure, reimagine and redo. And the second time, it worked!

Taking a break is fine. Since 2008, when I recommitted to my health and wellness, I've never thought of quitting. I'll take a couple of days or even weeks off, but quitting isn't in the stars. This is a lifelong wellness plan and I want to run as long as I can. And if that means taking breaks to make sure my body is rested, I'll do it.

It's fun to run in a pack. I host retreats. Last month, we gathered in Morganton, North Carolina. We'll head to Copper Canyons, Mexico in October. The retreats cater to women who love the outdoors, women who want to love the outdoors but don't yet, and women who are active and run at a 10-minute-mile pace or slower but are sick and tired of folks assuming either they're newbies or they're trying to lose weight. You'll enjoy events like these if you want to create friendships, be in community with others who have similar goals, and discover new ways of engaging in self-care and self-reflection.