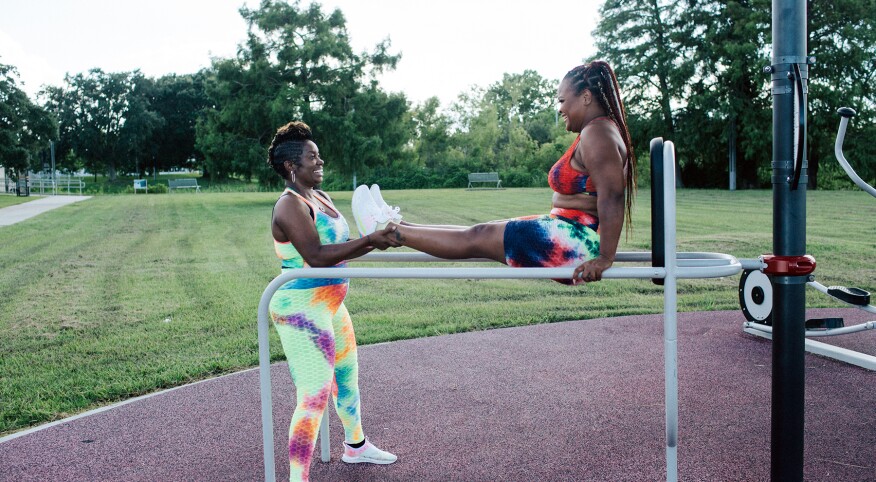 One thing I didn't miss during the pandemic — my $29-a-month gym membership. Not only did walking outside for exercise save me money, but I enjoyed strolling around my neighborhood while soaking in the fresh air.

Now that I'm vaccinated and feel comfortable gathering with others again, I'm still reluctant to give up workouts in nature to return to the gym. Luckily, I don't have to.
Outdoor fitness parks have all the workings of a gym, but there are no walls, no contracts and no fees.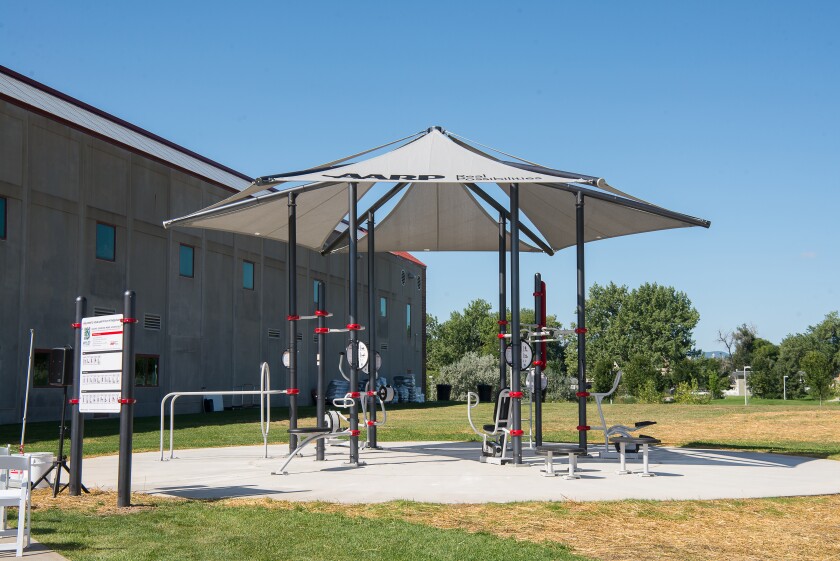 Like many sisters I know, living through a pandemic has made me more aware now than ever of the importance of taking care of my health. Not only can exercise reduce the risk of such conditions as heart disease, diabetes and some cancers, but it is one of the best ways to unpack extra pandemic pounds and maintain a healthy weight.

Working out at an outdoor fitness park is one of Adrienne McAdory's go-to ways to exercise when the weather is nice. The 50-year-old from Lorton, Virginia, says she gets the best of both worlds: a sense of calmness from being outside in nature and the opportunity to work out for free.
If everyone shows up at the park after work at 5:30, you feel a sense of belonging.
Delayna Watkins, nurse, wellness expert and author
"It's a waste of money to pay for a gym membership if you don't go regularly," she says. Yet, working out at home has its drawbacks because, like many of us, she doesn't own gym equipment. Even with a form of exercise as simple as a sit-up, "It's really nice to be able to have foot holders where you can pull yourself up," McAdory says.


Free! AARP Fitness Parks In All 50 States

As a way to commemorate the organization's 60th anniversary in 2019, AARP collaborated with national nonprofit FitLot to build parks in every state, along with Washington, D.C., Puerto Rico and the U.S. Virgin Islands, by the end of 2021. An AARP grant will also cover the costs of hiring fitness instructors to lead classes at the parks.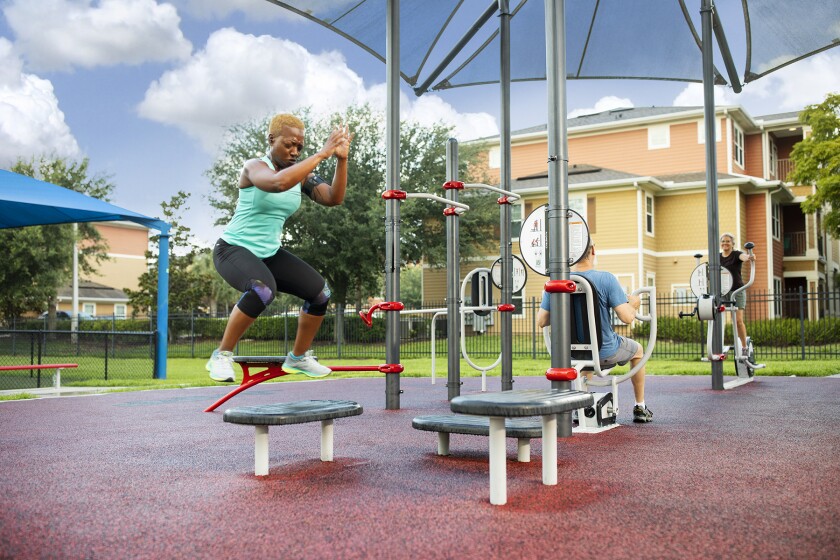 AARP opened the first of these fitness parks in St. Petersburg, Florida, in April 2019 and has since opened parks in such cities as Atlanta; New Orleans; Jackson, Mississippi, and Mobile, Alabama. Find the one nearest you by clicking here. To find out where to find other adult fitness parks in your community, contact your local department of parks and recreation.

"We wanted to make sure that we had an outlet for people to be able to go and exercise," says Shonnda Smith, senior director of parks and recreation for the city of Mobile, whose AARP-installed fitness park opened in November 2019. It was important that such an outlet not be cost-prohibitive because "many are not able to pay $19 per month for a gym," Smith says.

Research has shown that working out in outdoor fitness parks not only helps to improve our health, but it also provides a sense of community. If everyone shows up at the park after work at 5:30, you feel a sense of belonging, says Delayna Watkins, a nurse, wellness expert and the author of Release the Weight Without the Wait. Not only might you make a friend, but you may be more likely to keep working out because of the companionship, Watkins adds.

Outdoor fitness parks are also more welcoming than gyms, Watkins says. Anyone who has ever compared their walking speed to that of the person on the treadmill next to them knows that gyms can be intimidating. "When we're outdoors, we're all just kind of doing our own activities," Watkins adds.

Smith believes memories of the pandemic will give us an incentive to use fitness parks long after it's finally in our rearview mirror. "I was reading this article about a woman who recovered from COVID-19, and she said having strong lungs is part of what helped her get through this," Smith says. "Her lungs were strong because she exercised on a regular basis."