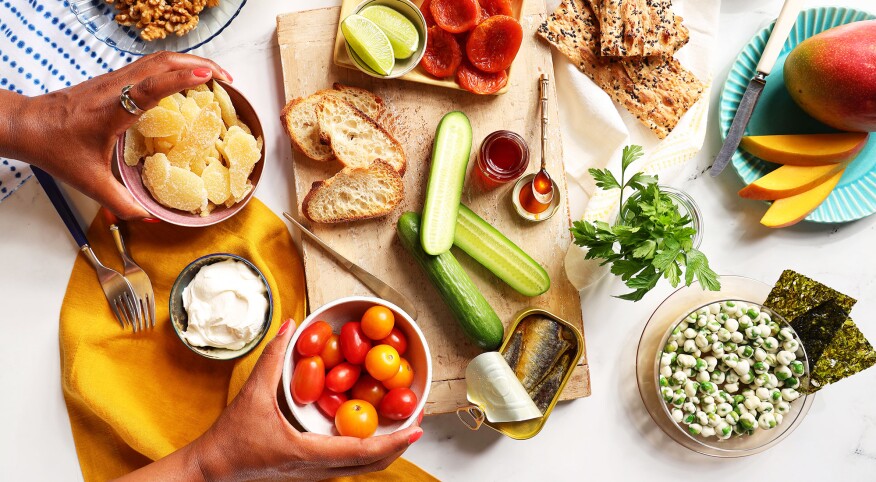 Charcuterie boards are a big trend that isn't going away anytime soon, and it's easy to see why — they're customizable, you can make them as colorful, simple or elaborate as you want, and the possibilities are endless. While a typical charcuterie board comes with an assortment of cured meats, cheeses and crackers, sometimes we still want to indulge (with a variety of healthy options available), whether we're creating a solo board or having a few girlfriends over.

How can we curate a well-put-together charcuterie board that will wow our guests and keep our health goals intact? Valerie Agyeman, R.D., dietitian and host of the women's health podcast Flourish Heights, has the answer with two healthy boards that are nutritious — and don't skimp on flavor.


Moroccan-Mediterranean Dream Board

Ingredients:

Cherry Tomatoes
Herbed Goat Cheese
Whole Grain Crostini
Marinated Grilled Chicken
Sardines
Dried Apricots, Figs & Dates
Labneh (a thick yogurt dip)
Spicy Olives
Hot Honey
Roasted Chickpeas

Agyeman's Moroccan-Mediterranean Dream Board may just transport you to a seaside town somewhere in Morocco or elsewhere on the shores of the Mediterranean, but with ingredients you can easily find at the grocery store. It's equally nutritious and delicious, with a healthy dose of vitamins, proteins, antioxidants, fiber and more. [Editors' Note: This article was published hours before the devastating earthquake occurred. ]

Related Breaking News: How to help those affected by the Morocco earthquake and Libya flood

"The small bursts of juicy sweetness in the cherry tomatoes provide a generous dose of vitamins A and C," Agyeman says. Labneh, a type of Middle Eastern strained yogurt, does double duty in this board. "Packed with probiotics and calcium, labneh's creaminess and tanginess adds the perfect flavor to the board and can be easily paired with vegetables." Having a good charcuterie board requires a balance of protein, fats and carbs to satisfy, which Agyeman does by adding whole-grain crostini, spicy olives and sardines (high in omega-3 fatty acids). Dried apricots and figs add a sweet and fiber-rich component (and are a nod to the open-air markets in Morocco teeming with dried fruits!).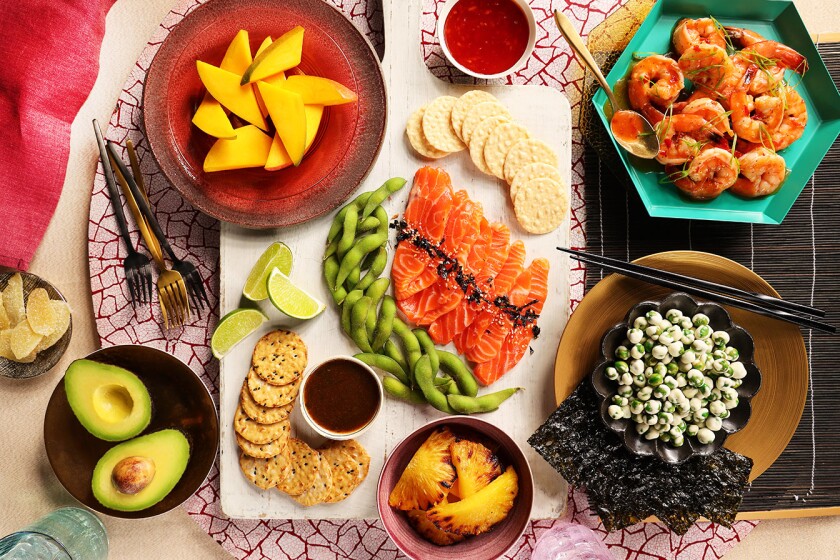 Asian-Caribbean Fusion Board

Ingredients:

Edamame
Sliced Mango
Seaweed Snacks
Sushi-Grade Salmon
Avocado
Brown Rice Crackers
Wasabi Peas
Dried Ginger
Sweet & Sour Shrimp
Jerkyaki Sauce
Grilled Pineapple

Umami gives our foods that savory "oomph" that keeps us coming back for more, and Agyeman doesn't shy away from that in her Asian-Caribbean Fusion Board. Pescatarian-friendly and packed with ingredients like protein-rich edamame, brown rice crackers for some crunch (and a good dose of complex carbohydrates), dried ginger and sliced mango, this board satisfies both the savory and sweet tooth crowd.

"High in vitamins A and C, the mango adds tropical sweetness and a refreshing touch to the board and balances the other flavors," Agyeman says. Her ode to the Caribbean is also seen in the Jerkyaki Sauce and grilled pineapple. "Uniting Asian and Caribbean elements, the Jerkyaki sauce brings savory tanginess, enhancing the board's fusion with flavor," she says. "Grilled pineapple brings a smoky-sweet goodness, and it's also a source of vitamin C to support immunity." Agyeman balances out the tropical flavors with some umami-rich Asian foods. "Seaweed snacks are rich in iodine and trace minerals to support thyroid health, and provide a unique umami flavor that elevates the board," she says. Avocado rounds out the board by providing some creaminess to complement some of the bolder flavors, like the spicy wasabi peas.