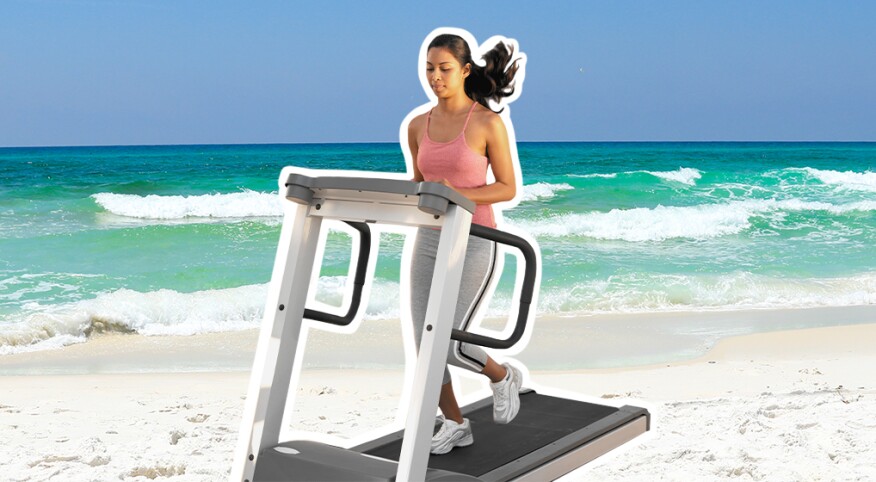 There's a trip my sister and I have long wanted to take together, leaving our husbands at home. We imagine ourselves renting bikes to tour from village to village in the South of France, tasting wine and cheese and nibbling on loaves of baguettes as we go. Well, who knows when that trip will happen now? The pandemic has altered vacation plans. But it is possible to virtually travel almost anywhere and take those walks, runs or rides in locales we may have only dreamed about visiting.

From biking in Dubai or Paris, to a run on the beach in Tulum, Mexico, or a walk along the ridge of the Grand Canyon, these virtual tours make stationary bikes and treadmills feel like a true escape. All the while, you'll be staying healthy and maintaining your much-needed peace of mind. No treadmill? No problem. Once you've mastered the easy moves in this indoor walking workout from AARP Wellness Ambassador Denise Austin, you're good to go.

We did the work for you and trekked the roads of YouTube, finding the best of the best virtual and free escapes around the globe. (If you're not a subscriber, you may need to skip through an occasional commercial.) Also remember to check with your physician before embarking on any new, or possibly strenuous, forms of exercise.

Escape to an emerald Eden off East Africa

Video name: Relaxing Walk at Sunrise 4K, Seychelles, Beach Hotel Hilton Labriz Resort Island Silhouette
Run time: 20:12
Exercise: Treadmill or walk in place

Like an emerald necklace, the Seychelles, an archipelago of over 100 verdant islands scattered across the Indian Ocean, is a rare and flawless thing of beauty. The islands are also the playground of VIPs such as Russell Wilson and Ciara, and Prince William and Kate Middleton. Imagine your feet sinking into the pristine ribbons of sand that kiss the stunning turquoise water on this remote spot off the eastern coast of Africa. Take deep breaths as you virtually stroll along the beach while the ocean breeze brushes your face.

Have a stroll in sunny Havana

Video name: Havana, Cuba 4K Walking Tour
Run time: 50:49
Exercise: Treadmill or walk in place

If you enjoy people-watching while on holiday, here's a video featuring people of every shade of beautiful black, brown and café con leche as they dine on patios or drive vintage cars. This virtual walk offers the feel of the cobblestone sidewalks, open air markets, plazas and churches. The route takes us to the waterfront with a stroll along the famed El Malecón, a scenic boulevard along the Havana harbor. If you listen closely, you'll catch the sound of Afro-Cuban jazz streaming outside the vibrant and colorful buildings.

Run along Mexico's Caribbean coastline

Video name: Tulum Beach Virtual Run - Beautiful Walking & Running Treadmill Scenery
Run time: 31:33
Exercise: Treadmill or jog in place

Shot along the Caribbean coastline of Mexico's Yucatán Peninsula, this virtual tour features peace among the palm trees. Find your Zen as you walk or run along the soft, white, sand beach in Tulum. You can almost feel the warm Caribbean Sea tickle your feet as you stride along.

Tour the Grand Canyon

Video name: Grand Canyon National Park Virtual Rim to River Run Down South Kaibab Trail 4K
Run time: 2:00:49
Exercise: Treadmill or walk in place

Even if you do make it to Grand Canyon National Park, it's difficult to see all of it, and it's even more difficult to see it from a variety of vantage points. This video literally takes you to the edge of the basin, plus up and down cliffs with an unparalleled view of the canyon below and the vast sky above.

Pedal the Arabian Peninsula

Video name: Dubai Virtual Cycling from the Ambient Collection
Run time: 29:12
Exercise: Stationary bike or elliptical trainer

With a mix of modern urban landscapes and relaxing water views, Dubai does not disappoint. Watch people stroll the palm-fringed walkways as your ride takes you past al fresco diners and sleek skyscrapers. The video even gives you facts about the city via quick pop-ups.

Pedal the boulevards of Paris

Video name: Virtual Cycle Ride in Paris Along the River Seine and Louvre and Eiffel Tower
Run time: 23:35
Exercise: Stationary bike or elliptical trainer

Take a spin through history as you experience the city that gave Josephine Baker her career as a cabaret singer and dancer during the 1920s Harlem Renaissance, where Black artists and activists such as Langston Hughes, Richard Wright, Adelaide Hall and Duke Ellington went looking for a place where they could freely create and be celebrated. This video allows a leisurely ride while taking in such stunning and famous Parisian sites as the Eiffel Tower, Arc de Triomphe and the Louvre Museum.

Cycle through sunny Spain

Video name: 30 Minute Sunshine Beach Relax Cycling Training Spain 4K Video 2018
Run time: 31:27
Exercise: Stationary bike or elliptical trainer

Take a virtual power-ride along the coast of Spain and the Mediterranean Sea. Explore picturesque areas such as L'Estartit, L'Escala, Empuriabrava and Rosas in Catalonia. Wind your way through narrow streets, virtually breathing in the warm sea air, explore seaside towns and enjoy the expansive skies.