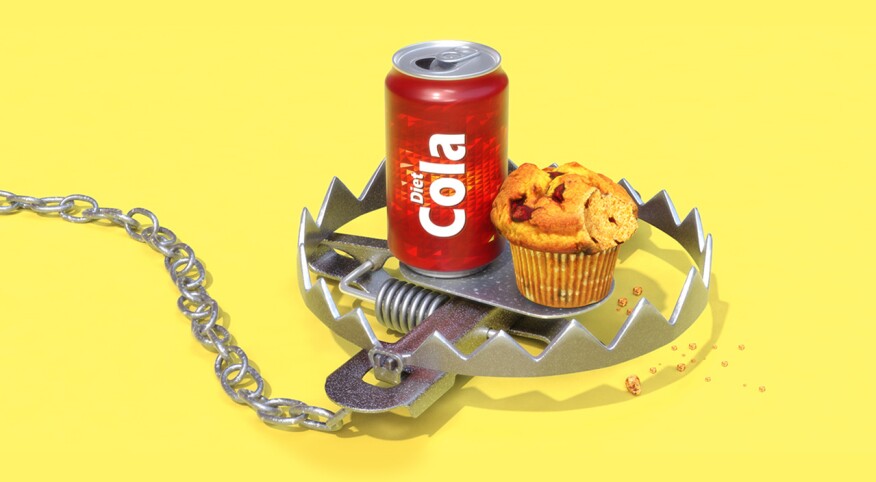 My annual physical one spring confirmed what I had suspected — those few pounds here and there that I'd put on over the past few years had coalesced into real weight gain that was putting me on the path to prediabetes.

After a month of counting calories and increasing my exercise, the scale barely budged. I considered giving up. But I decided to put my health writer's research skills to use and investigate what was holding me back. Turns out, I'd unwittingly fallen into some sneaky diet traps. I needed to get smarter in order to get slimmer. By side-stepping these pitfalls, I lost 30 pounds, a pants size, and most of the mini spare tire around my middle. I gained a boatload of energy and a ton of 'I see you, girl' compliments. Here's what was stopping me, and how I got back on the path to my goal.

Getting older
Back in the day, I could burn off the beginnings of a muffin top over a few Saturday nights spent cha-cha sliding and stepping in the name of love on the dance floor. But as I got older, my tummy bulge clung to me like a stubborn toddler at bedtime .
I learned that weight gain is caused by loss of muscle mass that starts around age 30 and speeds up as we round 40. As our bodies lose muscle, we require fewer calories and our metabolism slows. By the time we hit 50, the lost muscle starts getting replaced by fat. The medical term is sarcopenia, but I just call it late-onset flab. The condition — and the weight gain — happens when we don't turn down our calorie intake and turn up the exercise. And counting on the In My Feelings Challenge to dance off the pounds doesn't cut it. To build muscle I had to step up my fitness routine. I rejoined my local Pilates studio and signed up for classes that incorporated weighted balls, resistance bands and the Pilates reformer machine.

Drinking without thinking
I'd congratulated myself for switching from regular to diet soda years ago, but it turns out I shouldn't have been so smug. A recent Canadian study found that diet sodas are associated with modest long-term increases in body weight, BMI and waist circumference. Check, check and check. I had been downing Diet Coke in place of a cup of coffee for energy and diet ginger ale whenever I was thirsty. I swapped most of those sodas for H 2O. One study found that people who drank a half a liter of water 30 minutes before meals lost 44 percent more weight. But I missed the fizz, so I sipped on flavored seltzer (zero calorie, zero added sugar) instead.

The smartphone
If I took all the hours I spend mindlessly scrolling through Instagram and took a walk instead, I'd be a lot closer to reaching my weight goal. Sometimes all you need is a little nudge from productivity apps like Offtime and Forest, which encourage you to put down your phone. For an even bigger push, I turn to apps like Workout Alerts and 30 Day Fitness Challenge, which give me step-by-step instructions for various exercises.

Magical thinking
Sometimes we know we're not making the healthiest choices, but we convince ourselves otherwise. If you don't count the mimosas you had at brunch because, well, it's brunch and it's liquid, then you might be guilty of magical thinking. Magical thinking had me treating myself to a cranberry-orange muffin on the way home from my indoor rowing bootcamp class every Saturday, and then wondering why the numbers on my hating-ass scale never went down. Eventually, I started holding myself accountable for all my food choices. If I planned on having a big dinner, I ate a lighter lunch. Instead of a muffin, I had a spoonful of sorbet as a post-workout treat.

Not getting enough sleep
There were days when I would be practically falling asleep at my desk and decided to get a cup of coffee — and a candy bar from the vending machine — to keep me going. Then, I'd swing by the Chinese restaurant for some greasy takeout because I was too tired to cook. Lack of sleep makes for bad food decisions. Blame an increase in ghrelin, the hormone that acts as a signal that it's time to eat, and a decrease in leptin, the hormone that tells your body to stop eating — both of these levels are affected by the amount of shuteye you get. One night of staying up to binge Orange is the New Black won't make much of a difference. But if you're consistently getting less than 7 to 9 hours of sleep, you're setting yourself up to pack on the pounds. Once I started prioritizing downtime, it became a lot easier to give the vending machine the side-eye instead of my coins.