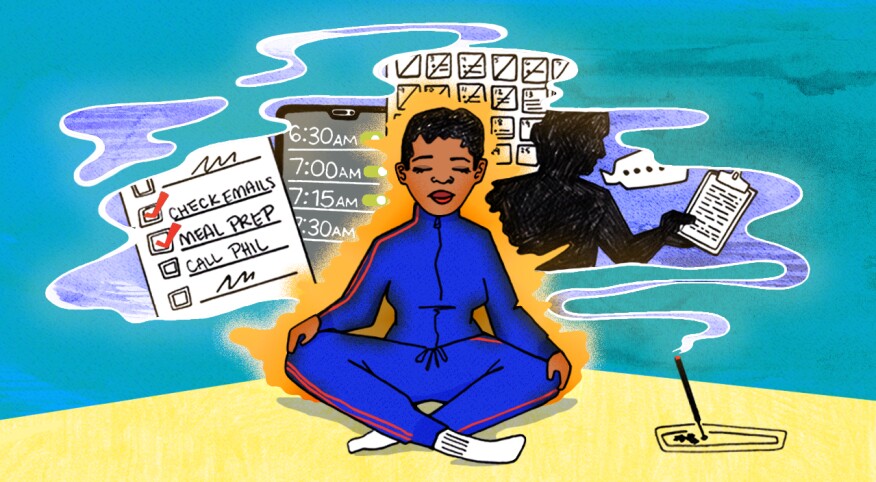 You're enjoying a great Sunday and then bam – you remember that you have to go into the office tomorrow. Your bubble of happiness starts to deflate as you think about everything you have to deal with in the upcoming week: the never-ending to do list, the microaggressions from your "well-meaning" co-workers, figuring out when to do your hair. Suddenly you realize that you've let your work life infiltrate your home life and eat up your valuable weekend. It's an all-too-familiar feeling. In fact, it's so common that it has a name: the Sunday Scaries.

While work is a must (bills gotta get paid!), anxiety and feelings of disappointment can take away from the free time we do have, which can in turn make us feel even worse about the workweek. For Black women, it's even more of a challenge. "You're forced to navigate unfair treatment combined with judgment, discriminatory practices, unsafe work environments, comments about the hair and comments about professionalism," says Kiara Norwood, M.A., an alternative wellness therapist who specializes in helping Black women holistically heal trauma. "You walk into an office and have to prepare yourself for all of these different experiences that are going to impact you in a variety of different ways."


Take Back That 24 Hours of Me Time

Thankfully, there are some simple strategies to combat these emotions.

Get still. Not only does meditation help you slow down, refocus and get rid of anxiety, it's been proven to have physical benefits such as lowering blood pressure, reducing stress and improving sleep quality. It's also good for overall wellness. "Being able to incorporate this mind and body technique can be really beneficial," says Norwood. Take a beat, do some deep breathing and recenter.

Stay in the moment. Anxiety can come from thinking about the future, so instead of dwelling on things that haven't happened yet, practice being present. Focusing on where you are, what you're doing and who you're with gives you less time to worry about what's coming on Monday. Being intentional about your life also helps. "Intentionally create time for yourself and with your community, family and friends doing things that you enjoy," says Norwood.

Focus on what's going well at work. Negatives tend to stick in our brains more, but reflecting on the parts of your job that you do like can help you see it in a different light. What made you feel joy about your job in the first place?

Affirm yourself. Reframing can also mean affirming that no matter how things are at work, you still deserve respect. "There is something to be said about being able to ground oneself and recognize that the way that you're being communicated with and treated is not representative of who you are or what you bring to the table," says Norwood.


Is It Time to Leave a Toxic Workplace?

One major consideration is whether your Sunday Scaries fall in line with the average ones or if it's a bigger sign that your work situation is toxic and that you need to get out. "Ask yourself how you're feeling," says Norwood. "A lot of times as Black women, we are put in situations where we feel like we have to ignore our emotions and ignore all of the signals that our body is giving us that something is wrong."

When I realized that I was spending so much of my free time complaining and trying to normalize being unhappy at work, I knew it was time for a change. So much of our time is dedicated to our careers, and knowing what you want your daily experience to look like is an important first step in improving your situation. My solution was to leave my office life behind and write full time.

"When you're in environments that feel toxic and harmful, it can be difficult to feel hopeful or recognize that outside of your environment, there are places where you can be seen, appreciated and valued. There are places that will reaffirm your capability and reflect the beauty of you to you," says Norwood. "I think that's important for Black women, specifically, to remember. You may be experiencing these things at your workplace, but it's not representative of everywhere, and it's not representative of you."

It took months for me to remember that, but when I did, I took a big step that monumentally improved my life. It's not all rainbows – I still have stress about work, but now I have more control over how often I feel it and know that I am more fulfilled at the end of the day.

Whether you have some minor habitual shifts to make or it's time to find a new job, life is too short to spend our free time dreading the workweek. Prioritize tackling your Sunday Scaries so that you can make the most of your life.