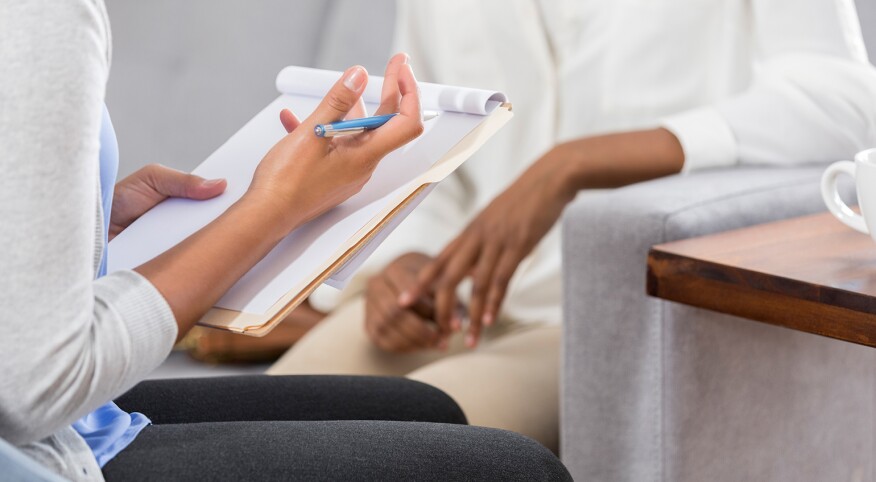 From the editors: The Black community is coping with historic challenges relating to social justice, health and the economy. We're all in this together. During this turbulent time, Sisters From AARP is prioritizing new and existing content that supports our readers' mental, physical and economic safety and well-being, including this story. Feel free to email us at sistersletter@aarp.org and share your thoughts on how we, as Black women, can best support one another now.


With nearly 1 in 10 (read: 4 million) Black adults experiencing depression on any given day, I'm a firm believer that we should all find ourselves on a therapist's couch at some point. It took me three rounds of searching to land on my current therapist to treat my anxiety, but finding the right fit has truly been life changing. Here's your "my homegirl is walking me through the process" guide to finding a therapist who actually understands what you go through every day as a Black woman and is equipped to help you along the way.

Take stock.
We tend to call all mental health care providers "therapists," but there are actually a few kinds of providers. Your first step is to figure out which type you need to see. A psychiatrist is a medical doctor who can diagnose and treat mental, emotional and behavioral disorders using medication and electroconvulsive therapy; they don't usually employ talk therapy. Psychologists and counselors are who we typically think of when we call on therapists; they help patients adopt healthier thought and behavior patterns via psychological assessments and talk therapy. A social worker offers interventions and connections to broader services and is usually tied to an agency or community organization.

Call on your friends.
We rely on our girls for hair product and restaurant recommendations — why not ask them about this? If one of your girls is seeing someone she trusts, ask if she thinks her therapist would be a good fit for you, too. Does she expect you to journal? Give out homework assignments? Is she on call during off-hours? And don't let distance stop you; many therapists now offer video sessions. My homegirl lives in California but sees my D.C.-based therapist every week.

Go Black.
You want someone who is culturally competent. The right therapist will understand when you talk about experiencing imposter syndrome in your mostly-white workplace and get it when you say you feel like Bernie getting ready to set your soon-to-be ex-husband's clothes on fire. Head to Therapy for Black Girls to find a directory of licensed Black women providers.

Consider payment.
If you don't have any good recommendations on deck, your insurance company's website should be your next stop. Search for folks in your area who take your plan. If you don't have insurance, first try asking the therapist you like if she operates on a sliding scale; many make concessions for folks without coverage. If you have Medicare, you can get your sessions covered. Or try a Federally Qualified Health Center or the Open Path Psychotherapy Collective; they can both connect you to mental health care at a reduced cost. There are also apps that provide low-cost care; see if Talkspace or Betterhelp could work for you.

Cross reference your choices.
No matter where you find your possible therapist, it pays to get some more info. Psychology Today has a therapist finder that includes photos — so you can see their race and gender expression — and detailed info on how each person runs their practice, who they typically take on as clients (adults, children, families) and what types of conditions they typically treat. You can also see where they trained and where they are licensed. See what your gut tells you as your browse your candidates' pages.

Treat it like dating.
You wouldn't settle down with the very first person who asked you on a date, would you? Commit to looking until you find the right person. Start by making calls and talking to at least three candidates. You'll likely need to leave messages and have them call you back when they're not with patients. Double-check that they take your insurance and ask how they came to this work and how they work with clients. Then set up appointments with at least two of them. Pay close attention to how you feel during each session. Is one of them someone you want to talk to for 45 minutes each week? If not, move on. Rinse and repeat until you find someone you connect with.