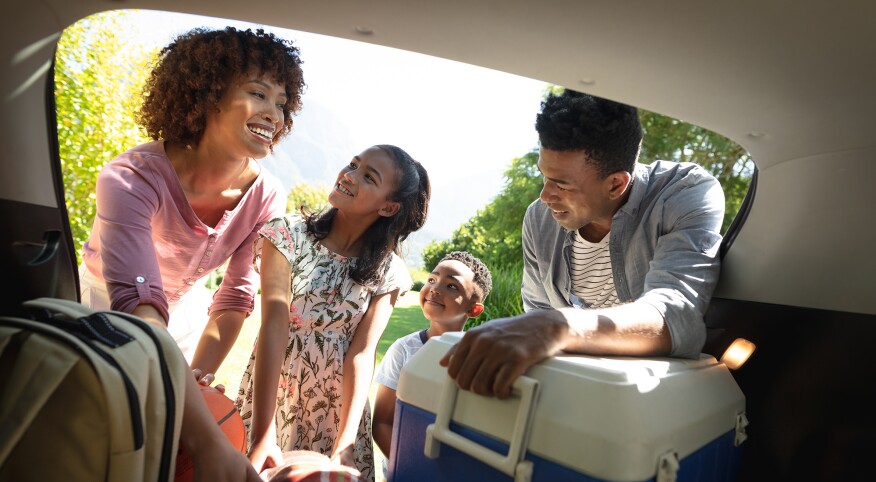 Summer is in full swing, and that means road trips. Whether we're visiting family and friends or bringing that long-awaited girls' trip to fruition, keeping our healthy routines on the road is possible, even when the candy aisle is calling our name at the rest stop. With some planning ahead, you can maintain your weight and health on the road.

While it may seem healthier to stock up on low-carb or low-fat foods for your trip, it's crucial to get a balance of nutrients, according to Krystal George, AMFT, RDN, a therapist, registered dietitian nutritionist and recipe developer. "When consuming snacks, it's important to make sure your carbohydrates are paired with protein and fat," she says. "Most of the time, we find ourselves snacking excessively because our snack isn't filling enough."


Below, George shares some tips for your next trip:
Omega-3 trail mix
Skip the chips and cheese curls, and pack the MVP of munchies. These premium blends tend to be less salty than traditional trail mixes and have some protein and healthy fat to help you feel satisfied, says George. Thanks to dried berries, stone fruits and/or raisins, you'll get that perfect salty-sweet pairing without candy add-ins. The omega-3 fatty acids in nuts and seeds are anti-inflammatory powerhouses, so you're helping to stave off disease in addition to hunger. Find the snacks in large sizes meant for sharing.

Try: Trader Joe's Omega Trek Mix ($14.98 Amazon.com), Nature's Garden Omega-3 Deluxe Mix ($18.99, naturesgarden.net), Power Up Premium Trail Mix Mega Omega ($5.28, walmart.com)


Pita and hummus
With the variety of hummus flavors available across the savory and sweet spectrum (chocolate hummus, anyone?), it's easy to find one that you'll enjoy on the road. Pair with some pita chips, and you have a great source of protein, fiber and carbs, according to George.


A chopped salad made with sturdy veggies
Vegetables like bell peppers, carrots, celery and green beans keep well for long trips. Jazz up your veggie salad with raisins, dates or grapes, a quick honey mustard vinaigrette, and you have a great side salad to go with your meals.


Apples and nut butter
Apples are fiber-rich, says George — and pairing them with nut butters can keep you full on the road. You can slice your apples ahead of time, soak them in a mix of lemon juice and water, and rinse before storing them in a resealable bag, or bring a small paring knife to cut your apples on the go!


Chickpea "tuna" salad
Legumes are a great food to pack on road trips, says George, and she loves to make a chickpea "tuna" salad with mashed chickpeas, mayo and veggies. The great part of this chickpea salad is the endless options: Add a bit of curry powder, harissa or berbere spice to the mayo for a bit of a kick, sharp cheddar cheese or relish for a bit of tanginess. Vegans on board? Use avocado mayonnaise.

Healthy sandwich fixings
Sandwiches are one of the easiest meals to pack on road trips, and they are a great canvas for experimenting with different flavors. "Sandwiches with whole grain bread and lean protein, such as low-sodium turkey breast with lettuce, tomato and avocado, can be made if your hotel has a mini-fridge," George says. "Sandwiches can be a filling option while traveling and can be easily paired with fruits, such as grapes or cherries, to bump up the fiber."


If you need to grab a quick bite, you can still stay healthy while on the road
Here are a few tips from George:

Add fruits and veggies to meals when stopping at fast casual/fast food restaurants. "Many places have small fruit cups or side salads to give you some extra fiber," she says. "Most fast foods are carbohydrate-rich, so adding some fiber can help keep you nourished and full."

Look for prepackaged healthy foods. If you're at a gas station, George recommends buying prepackaged oatmeal cups, unsalted nuts and yogurt. You can even make a quick breakfast with an unsweetened oatmeal cup, a banana and a pack of almonds. And speaking of breakfast, while it's tempting to just drink a cup of coffee before hitting the road, having fuel to start the day is crucial. "This could be a banana with peanut butter, or a granola bar with nuts and fruit for carbs, protein and fat."

Eat mindfully (and enjoy yourself). Traveling is fun — and eating should be a part of that! "One way to use mindfulness tips to eat out is to check the menu before to see the meal options. Look at the sides section of the menu to see if they offer vegetables to add to your meal," George says. "Also, don't stress about not having control over how the meal was cooked. Instead, focus on choosing a meal item that you desire, take your time and eat and be aware of your fullness signal, and add fiber and protein to keep you full and satisfied."