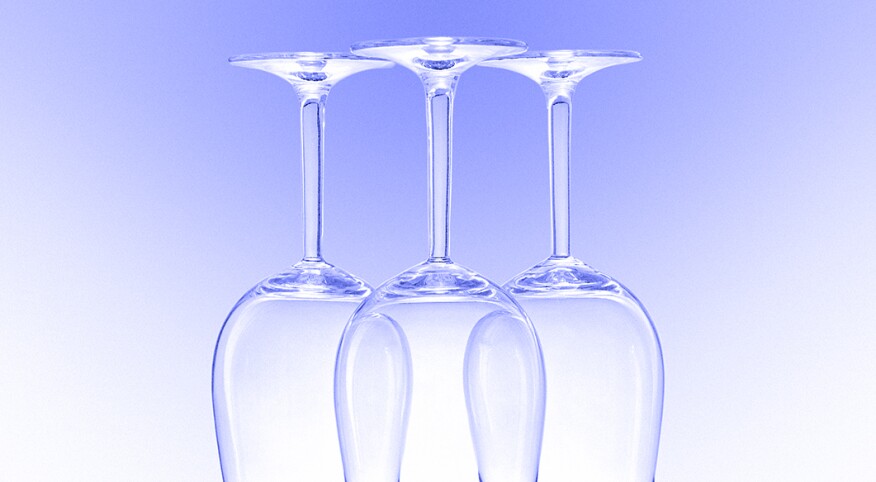 At one point in my life, I used to drown my stress in alcohol. Hard day at work? I'd have a glass of wine. Kid driving me crazy? I would pour up after bedtime. Relationship problems? A shot of liquor could make me feel better. And a girls' night out or in automatically meant the drinks would be flowing.

If you get where I'm coming from, we're far from alone. Plenty of women turn to wine or something stronger to wash away the day's worries. And, whew, the pandemic has given us many triggers to drink. According to a report sponsored by the National Institute on Alcohol Abuse and Alcoholism, alcohol intake has increased for all adults, but Black women's drinking really spiked in the short term after COVID-19 started, to nearly three times the usual consumption. And mothers of young children, especially, started imbibing greater quantities. Those whose youngest kid was between ages 6 and 12 drank twice as much, and drinking quadrupled for mamas whose youngest kid was 5 or under.

Now, a drink here and there isn't a big deal. However, says Wiyatta Fahnbulleh, Psy.D., a clinical psychologist in Los Angeles, alcohol use becomes a problem when:


You find yourself pouring incrementally more over time to get through the day.
It starts to impair your day-to-day functioning.
It keeps you from doing things you're supposed to do.
It negatively alters your emotions and behavior.
Even if that's not happening, drinking can become an issue if alcohol is your go-to for dealing with stress and helping yourself relax, says the clinician, who goes by "Dr. Wiyatta." "What you're doing is putting your feelings on pause for the time being, but whatever it is that's stressing you will come right back up as soon as the alcohol wears off," she says. Then, you could find yourself drinking more often to lift your mood.

Excessive drinking, which is binge drinking (for women, four or more drinks during a single occasion) or heavy drinking (eight or more drinks per week for women), comes with many health risks. To name a few, it increases your chances of developing high blood pressure, heart disease, cancer and mental health problems. So, it's best to limit your intake.

Here are some alcohol-free ways to relax and take the edge off.
Do something physical. Getting all sweaty probably isn't your idea of relaxation. But the endorphins released during exercise (plus the relaxation from that post-workout shower) can put you in a blissful state. Fortunately, almost any exercise will get those chemicals flowing.

Air out your stress. Breath work—slow, controlled breathing—works in just a few minutes. Inhale. Exhale.

Try meditation. A super-serene friend convinced me to try meditation. Can you say "woosah"? I know my family is thankful for those times when I go to my place, center myself and come back floating like a peaceful queen. If you have trouble meditating, these free guided meditations can help you get the hang of it.

Spill the tea. We're talking about journaling, not gossip. Michelle Obama is a big fan of journaling. So is Dr. Wiyatta. She likens journaling to having an emotional purging on paper. Think of it as a brain detox. If you're not up for writing, recording a voice memo or video on your phone can be just as therapeutic, Dr. Wiyatta says.

Get your freak on. Shout-out to Missy Elliott. Whether with a partner or solo, a little sexual pleasure releases tension and those feel-good endorphins mentioned earlier. Speaking of which, if you turn to alcohol to help you loosen up for date night or sex, look for other ways to get ready for action. Put on a sexy dance for yourself. Soak in a warm bath and listen to some Adina Howard. Slip into some lingerie. Read an erotic story.

Break out the crayons. Dr. Wiyatta says coloring engages nearly all the senses and refocuses your attention on what you're doing in the present moment, so it's difficult to think about outside stressors. After one of those workdays, I printed out a coloring page, searched the house for some crayons and let my inner child take over. I dig it! And I must say, my unicorn picture was glam!

Take a mental trip. Let's face it: Alcohol is a quick fix when you don't have the time (or patience) to do some of these other things. Visualization, another form of meditation, is just as fast — and it's discreet. "Go toward your happy place," says Dr. Wiyatta. If that's the beach, imagine yourself there. Close your eyes, if possible. Smell the air, hear the waves, feel the warm sand caressing your toes.

Mix up a mocktail. Sometimes alcohol is a long-ingrained habit tied to a specific activity. Maybe you're used to having a drink with dinner. Or self-care Saturday always includes wine. Sip a delicious mocktail instead.

Give yourself a massage. Let your fingers melt away tension. Gently knead your neck and shoulder muscles. Use your thumbs or fingertips to draw little circles along your temples, forehead and jaw muscles. Or give your scalp a nice rubdown. If you usually have a nightcap before bed, self-massage is a great replacement to help lull you to sleep (though it can help you destress anytime).

See your people. There's something about ending a long week (or day) hanging out with family and friends. Laugh it up, play cards or dominoes, or even vent to blow off some steam. Remember, get-togethers don't have to mean drinks. It's possible to have a social life without booze.

Near the beginning of the pandemic, when the world around us was falling apart, I admit I went back to my old ways of drinking to wash away the troubles. Fortunately, I realized I was going down a slippery, booze-filled slope. By forcing myself to find healthier ways to manage my stress, I cut down on drinking and got back on track.

If you realize you're headed toward trouble or might already have a drinking problem, talk to your doctor or get help from the Substance Abuse and Mental Health Services Administration's National Helpline at 800-662-HELP (4357) or FindTreatment.gov.