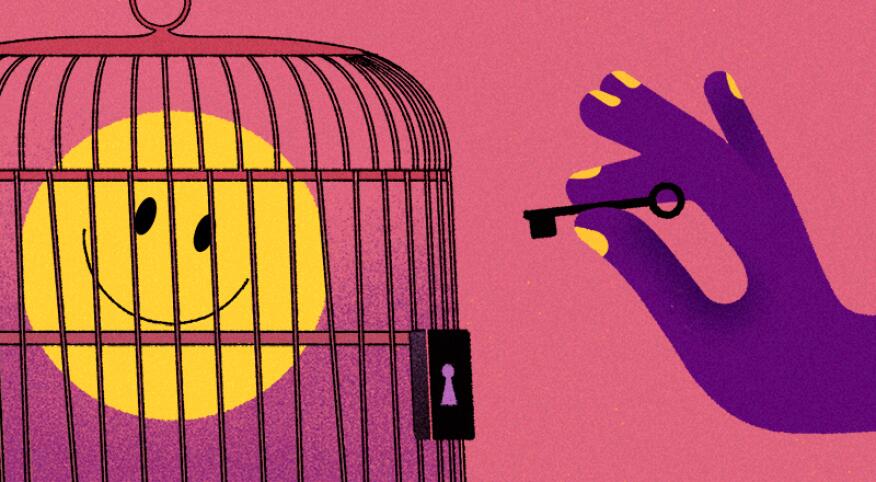 For whatever reason, it's always been difficult for me to balance accomplishing my goals while not placing parameters around my happiness. Don't get me wrong, as a mental health counselor I am a strong proponent of goal setting and life planning. I have experienced the power of proper planning both professionally and personally. But at 38 years old, I now realize how important it is to not center my goals and happiness adjacent to people and circumstances that I can't control.

For instance, by my mid-30s I saw myself happily married to the love of my life, accomplished in a fulfilling career as a counselor, with at least two children enjoying all of the vacations, nice homes and luxury cars that a healthy bank account could afford. So when I was 25, I left my career in entertainment publicity, went back to school to earn my master's degree and pursued a career in counseling.

When I made these changes at 25, I wasn't unhappy. But I knew 10 years down the road I would want more and I thought that making these changes would guarantee my picture-perfect family. I was wrong.

Fast-forward 10 years, and I was still unmarried and childless. I wasn't doing poorly career-wise, but my lifestyle was far from luxury cars and three-story mansions. And where was the family that I planned and prepared for?

I was a bit disillusioned by my life not looking exactly as I envisioned it. So, I continued to dangle my happiness in front of my face like a carrot. I would tell myself, "When I complete my doctorate, I'll be happy." When I completed my doctorate at 34, I told myself, "When I get married and have a child, I'll be happy." Now, one year into marriage, I have an inquisitive toddler but still find that I sometimes hold my happiness for ransom.

As humans, we seek pleasure, but pleasure-seeking is by nature fleeting, unstable and dependent on circumstances that we sometimes can't control. When we fall short of achieving a goal or when an outcome doesn't happen as we hoped, it can lead to frustration, anger and jealousy. In my case, for example, I was frustrated and disappointed that my life didn't follow the neat timeline that I created.

Even more painful, once I landed my dream job and began living the life that I had hoped for, I realized it wasn't the job, or for that matter the life, that I truly wanted. That's the tricky thing about goals and happiness. They are constantly evolving. Once I successfully accomplished one set of goals, I created a mountain of new goals that I began to chase, many of which were out of my control.

This year — exasperated and tired of chasing happiness — I realized that I would never experience true peace if I continued on my happiness hamster wheel. That's not to say that I'm the poster child for around-the-clock happiness. I still deal with disappointment and wrestle with romanticized and unrealistic expectations of myself and others. But with time and more hard lessons than I care to admit, I've learned how to plan, control what I can and make peace with the rest.

Consider these tips that have not only worked wonders for my clients but have also been instrumental to me in finding my happiness.

Focus more on the journey. Although goal setting is healthy, sometimes it's important to focus on the process more than the outcome. Sure, reaping the rewards of our accomplishments is fun, but it's fleeting. However, the feeling of accomplishment and what we learn while accomplishing our goals can last a lifetime.

Prioritize family and values over material items. A 2019 study released in the Journal of Happiness Studies found that materialism becomes problematic when we begin to believe that possessions and our acquiring them are essential to our happiness. Instead, we can prioritize building and strengthening our relationships with ourselves and others over material items. Let's be real: A purse or even a gorgeous home can be replaced, but the love that we feel for ourselves and others can't.

Practice gratitude. When we find ourselves disappointed or hurt after things don't go as planned, some psychologists suggest that we use emotion reappraisal, which is somewhat like the age-old "make lemonade out of lemons" adage. The idea is not to suppress or minimize what we are feeling in the moment, but to shift our focus and instead ride the wave of gratitude for the things that bring us happiness.

Stay in your lane. We all face challenges. So it helps to focus on yourself and stay in your lane. When I was learning to swim as a little girl, I remember my instructor stressing the importance of remaining in my lane, because when I veered off course, I slowed myself down. Lives are meant to be lived not compared.