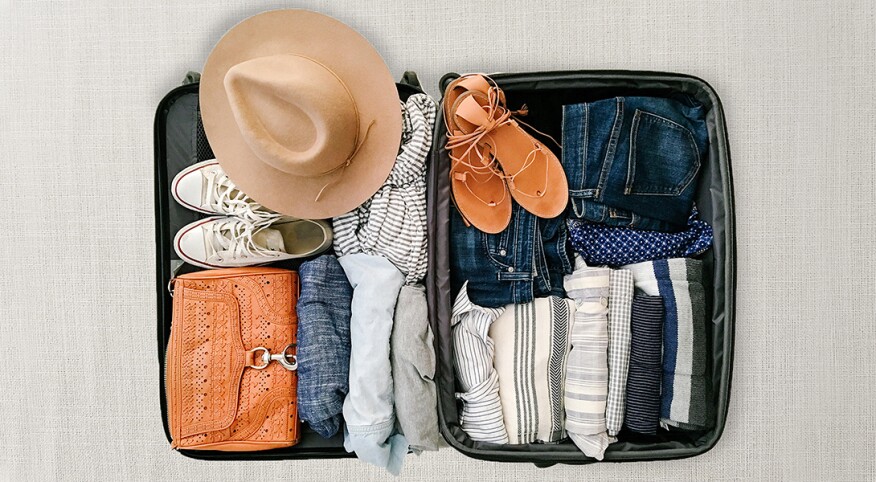 In 2018, I took 34 flights and traveled 73,000 miles for my job in the travel industry. So I like to think I know a thing or two about packing efficiently. It took me years — and more than a few packing fails — to perfect my personal protocol. But it only takes five minutes of reading to make it yours. So take my packing tips and make packing for your next trip a breeze.

Start with a list
For years, I'd always get to my destination and realize I'd forgotten at least one thing. That all changed after I created a personalized packing list. Divided into categories (electronics, snacks, workout stuff, beauty supplies, etc.), it's a reminder to bring the small, Sarah-specific things (my satin bonnet, Garmin running watch, protein bars) that make a big difference to my trip but aren't typically found on preprinted packing lists. I keep my list in the Notes app on my iPhone so I can easily add or subtract items, and it's bulleted so I can check things off as I toss them into my case. I haven't forgotten my water bottle, iPod or chargers since.

Be perfectly clear
By now you know that if you're carrying liquids or gels in your hand luggage, the TSA requires they be no more than 3.4 ounces and that they all be stowed in a single quart-size clear bag. Most travelers default to a trusty transparent sandwich baggie that, although it's inexpensive and easily available, isn't designed to withstand the rigors of frequent travel. I'm a fan of more substantial TSA-approved totes and always have my "go bag" packed and ready to jet. Some of my favorites: Muji's clear TPU case, which is made of thick plastic and has a proper zipper, so you can use it over and over again. The Daily Edited's clear travel case is a splurge, but if you're a frequent-flyer like me, you may find its features (monogrammable Saffiano leather trim and two zippered compartments) worth the price. Another tip: Instead of buying travel-sized versions of products, which are usually more expensive per ounce, head to the drugstore for small bottles and jars and decant your favorites.

Pick a palette
So you've finally booked that girlfriend's getaway to Charleston, South Carolina. Now what will you wear when you're there? I start planning each trip's wardrobe by picking a color palette. To a neutral, such as black, white or gray, I add one or two other colors that complement it and only pack clothes in that colorway. For a Caribbean trip, I might decide on yellow and white; for city trips, I may pick black as my base and add red and cobalt as accent colors. Either way, when I use this formula, everything's guaranteed to work with each other. (Getting multiple uses out of a single item is key, especially if you're #TeamCarryOn, like me.) And I can always pump up the volume with a patterned scarf or sequined clutch.

Accessorize with abandon
What stops a limited color palette from being … well … limiting? Accessories. Colorful chunky necklaces are the workhorses of my travel trousseau, adding some va-va-voom to the simplest jeans-and-T-shirt combo, or transforming an office-appropriate sheath dress into a dinner-and-dancing ensemble. Lately I've been packing statement earrings, which have the same effect, take up even less space and are a cooler option in hot weather (or hot flashes). For weightless style, you can't beat a patterned scarf, which does double duty as a blanket on the plane and a wrap at the beach. Acrylic or resin bangles add an armful of interest and needn't be taken off as you pass through security. And that zippered pouch you're storing your jewelry or lingerie in can also double as a snazzy evening clutch.

Roll with it (or not)
In the packing wars, there are two major teams: #TeamRoll and #TeamFold. (There's also #TeamStuffItAllInAndHopeItFits, but no one want to be a member.) However, I proudly play for both sides because I find each method has its pros and cons. Folding works best for tailored pieces made of easily-creased woven fabrics such as dress pants, jackets and button-down shirts. But when it comes to softer, more casual clothes (T-shirts, knit dresses, workout wear), I'm all about the rolling. On most trips I use a combo of both methods, first laying a base of flat folded clothing, followed with sausage-like rolls of crease-resistant knits on top. To further maximize space, my underwear, accessories and socks get stuffed into shoes, an evening clutch holds my jewelry and my heaviest shoes (protected from my clothing in shoe bags or disposable hotel shower caps) always go at the bottom of my carry-on for better balance.