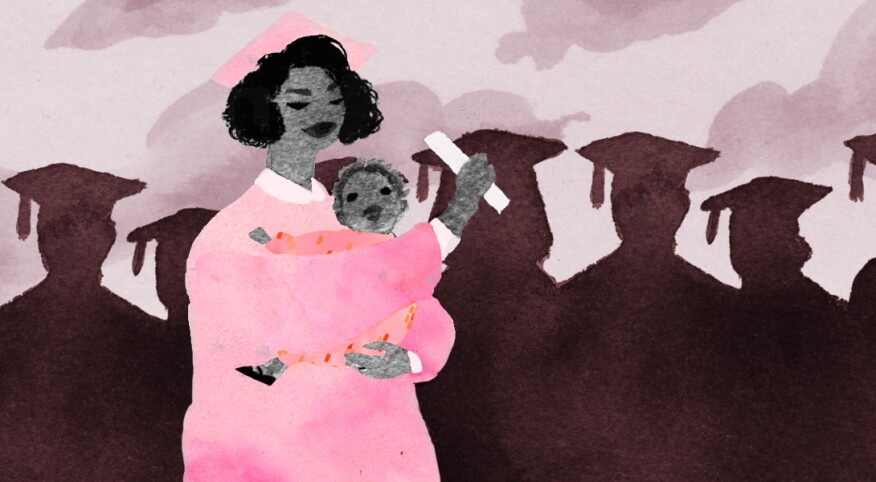 The medical office on my college campus was an outdated nook in a building I'd never been in before. Everything about it was vintage: scuffed linoleum floors, almond-colored wall tile cemented with graying grout, furniture that looked like it had dutifully serviced students since the school had been founded. I took it all in, judgmental even in my nervousness, and shrank when a white woman touched my forearm. She gave me a soft, empathetic look and gestured for me and my then-boyfriend, JD, to sit at a round table encircled with mismatched chairs.

She wore a long, floral skirt and a cable-knit sweater, the uniform of the local conservative Christians who came to campus every week to provide free pregnancy tests to broke and terrified college students. Two days before, as I got ready for class, my body had been assailed all at once with telltale symptoms. Knee-buckling fatigue. Sore breasts. A stomach that turned on itself, even though I rarely got sick.

So JD and I had taken the telling walk to that quiet, unpeopled part of the school grounds, trying to keep each other's thoughts preoccupied with our usual chitchat, except now it was forced around the possibility that I was pregnant. The floral-skirted woman eased into a seat across from us. When she did, our upper bodies leaned in and tented the laminate tabletop. Three pairs of eyes fixated on the pregnancy test in its center.

"Sometimes it takes a few minutes to work, so we'll give it a little time," she smiled reassuringly, folding her hands in front of her in anticipation for a wait. The last syllable of her sentence hadn't finished vibrating through the air before two symmetrical purple lines darkened and stared up at us. It was positive. I was pregnant. It was amazing how it had only taken a short walk to go from a comfortable unknowing to an urgent, new panic.

I didn't cry, at least not then. Instead, I looked over at JD and opened my mouth just enough for shock to come out in the form of a dry, helpless laugh. Everything I was feeling was caught somewhere between my heart and my throat. That little plastic device just told me that, at 19, I was going to become a mom when I was still very much dependent on my own.

He let his head dangle between his slumped shoulders. His girl was having a baby. He'd join the fraternity of young, Black men who'd made children before they made lives for themselves. I'd be another tally mark in some statistician's research about young, unwed mothers. We couldn't console each other. We were too lost in reasons to console ourselves.

I wasn't just a college student. I was the sum of my mama and my grandparents' vigilance and prayer. I went to Lincoln University as the first person in a very hard-working, very blue-collar family to go to college. I think I was the first to even apply. I wanted to go, which was good because I was expected to, and they were all consumed with pride when I did so on a full scholarship. To confess that I'd put that lifelong grooming and preparation in jeopardy for the reckless choices about boys that I'd been repeatedly warned not to make was a layered failure.

That's the joyless story of how I became a mom. No one shared their excited congratulations. No one squealed with delight. No one ran to me with hugs or offered ridiculous baby-name suggestions. I loved my child before she was even born but there was very little joy during my pregnancy. On top of disappointing my mama and suffering the emotional consequences because of it, JD and I broke up and my story played out just like my mother's had, which was the opposite of what she'd wanted for me. And I raised my daughter by myself, just like she did, with the help of a beautiful village of family and friends who are like family.

I did graduate — a year late, but I graduated — and my baby Skylar and I made a life happen together. She turned 20 last month, two decades of being smart, opinionated and insightful. And a little spoiled.

So yes, it's been two whole decades since I've had a baby baby, but I don't think I'm finished with being a mother. I'll always be Mommy to Skylar, of course, but I actually never wanted to be one and done. Inside the little dream journals where I used to articulate my visions for my life when I was in my 20s, I wrote "get married and have more children," bless my little clueless heart. Like that's ever a goal you can really manipulate according to your own timeline. There were relationships with marriage trajectories, but they never got me to the altar. Thank God for it, because I surely would be divorced, incarcerated or miserable, maybe a combination of the three.

Continued next week.