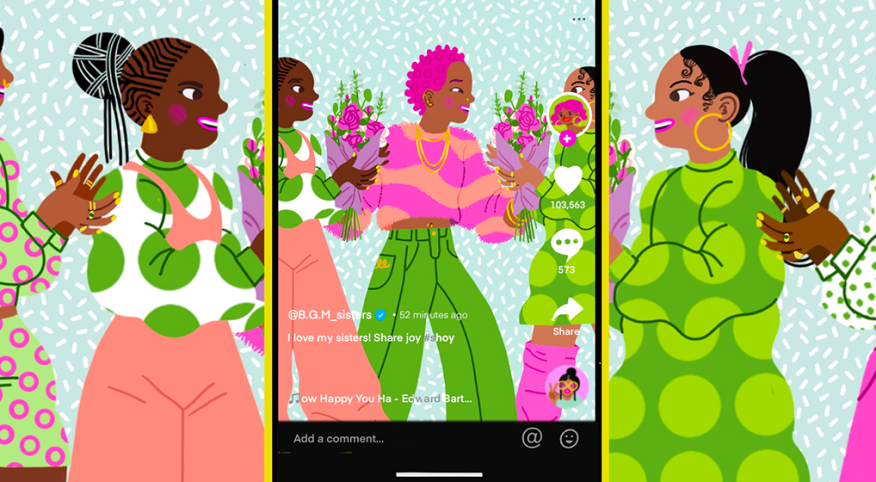 I love to see people win. I root for family, friends, random people on social media and even strangers. I'm the person hyping folks up and going overboard with the congrats. There's just something about seeing someone achieve an accomplishment or experience a little good fortune that brings a smile to my face.

And I'm not alone. Black women are champions at championing other people.

Think back to 2015, when Viola Davis became the first Black woman to win an Emmy for best lead actress in a drama series. Taraji P. Henson (who was also nominated) leapt to her feet, applauded and hugged the heck out of Viola! Kerry Washington cried tears of joy.

Or Michelle Obama's touching tribute to Justice Ketanji Brown Jackson when she became the first Black woman to serve as a justice on the Supreme Court. In part, she wrote, "I was so moved to see Justice Ketanji Brown Jackson confirmed this afternoon. Like so many of you, I can't help but feel a sense of pride — a sense of joy — to know that this deserving, accomplished Black woman will help chart our nation's course."

Speaking of Michelle Obama, there's also that "Yasss!" feeling we get anytime she accomplishes something or simply steps out looking stunning.

Yep, we're happy for each other and get joy from the joy of others.

So when I came across an article in The New York Times talking about "finding pleasure in another person's good fortune" like it was some novel concept, I couldn't help but roll my eyes. Social scientists have even made up a new (and hard-to-pronounce) word for it: freudenfreude. Freuden what? Some of them even came up with a Freudenfreude Enhancement Training program!


We're rooting for everyone Black

Huh? People, this is nothing new! I'm not sure if some members of other cultures have a problem experiencing joy when it's not their own, but Black women (and men too) have been doing this for ages. It's so ingrained in us that it's something we don't even think about much. It's just who we are as Black people.

Now to something we already knew, but it's good to have it confirmed: Research shows the joy we experience from others has many benefits. According to the Greater Good Science Center at the University of California, Berkeley, positive empathy has been linked to increased happiness and life satisfaction. And in a small study published in the journal Psychological Science, participants who experienced positive empathy reported increased well-being.

Plus, sharing joy can help you grow closer to people.


You go, girl!

"The more positive energy you put out for those around you, the more you can expect to get back," says Jameca Woody Cooper, Ph.D., a licensed psychologist and owner of Emergence Psychological Services in St. Louis, Missouri.

Best of all, though, as we know, is that positive empathy makes you feel good. Hearing a compliment from another Black woman, especially, is so satisfying.


Since we can all stand to use a little more viral joy, here are some tips to make it happen.

Check yourself. Someone else's win doesn't mean your loss. "Success isn't like pizza where there's eight slices, and the more someone gets, the less there's left for you," says La Keita Carter, Psy.D., a licensed psychologist and owner of the Institute for HEALing in Owings Mills, Maryland. If you find it difficult to be happy for others, she recommends working with a therapist to try to resolve the issue.

Seek out goodness. "Train yourself to observe and listen for opportunities to celebrate the success of the people around you," Dr. Woody Cooper says. Pay attention to what they're doing, what they're working on and what brings them happiness, she says. Also, ask people directly, "What's something good that's happened to you lately?" The achievements don't always have to be big. Small stuff counts too. Your partner didn't hit the snooze button this morning? That's a win.

Show interest. Once you learn of something good that's happened, do what experts call "shoy" (sharing joy). Revel in the person's happiness. Make eye contact, smile and express enthusiasm. "Get it, girl!" or "I'm so proud of you. I know you worked really hard to close that deal." Then, help her feel even better (and increase your joy) by asking follow-up questions. "What was your supervisor's response to your snagging such a huge client?"

Think of wins as a community effort. Yes, even if they don't have anything to do with you directly. "Realize a positive step for any Black woman is a positive step and collective win for all Black women," Dr. Woody Cooper says. One example she points out: Vice President Kamala Harris. "We don't have to all aspire to be president or vice president, but her achieving that means there will be more doors open for us in politics."

Let happiness inspire you. Dr. Carter's excitement about other people's success comes from viewing them as learning opportunities. Take, for instance, when she recently won CEO of the Year at a ceremony for local small business owners. "They highlighted a woman who had won three times in a row. After the event, I beelined to her and said, 'You're amazing. Tell me about the impact this has on you. How and when did you take your business to the next level?'" The result: She made the woman feel good — and got some great tips for her own profession.

Share your success. When you toot your horn, also express gratitude for others who played a role in helping you reach the victory (mix bragging with gratitude, what experts call "bragitude"). That makes it more likely someone will share your joy instead of feeling competitive or jealous. So you might tell a friend, "I was finally able to lose 10 pounds. Thanks so much for those healthy recipes you sent me. They really helped."

Keep at it. If experiencing happiness for others doesn't really come naturally to you or you're nervous about expressing your joy for other people, it may feel awkward or fake at first. Keep practicing. Dr. Woody Cooper says the more you celebrate other people and express positivity, the more authentic (read: better) it will feel. That's a win-win for everybody.