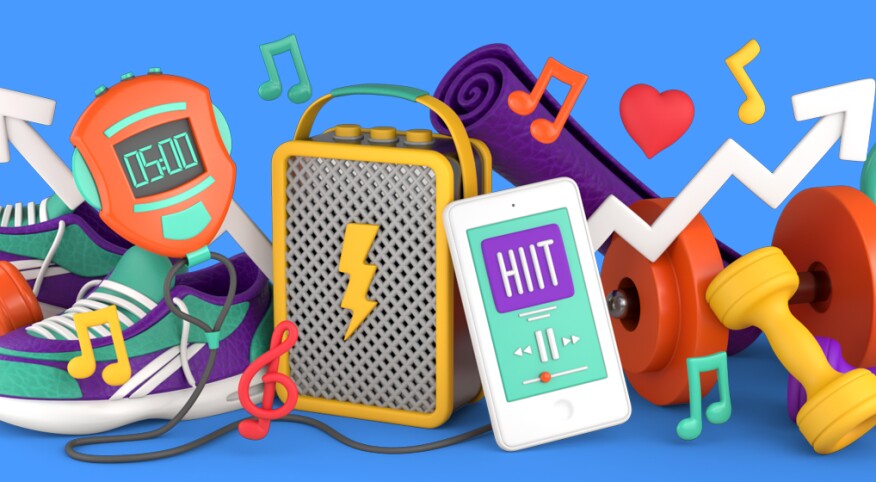 Are you ready to ramp up your fitness routine? Whether you'd like to drop a few pounds or tone and maintain your physique, make this playlist your workout companion. It may help you burn, baby, burn calories with an energetic and nostalgic mix of mid- and up-tempo hits perfect for a high-intensity interval training (HIIT) workout (click here to see a motion graphic demo of full-body toning moves).

Not sure what HIIT training is all about? Well, if you recall doing wind sprints in gym class, then you already have an idea what it's like. HIIT means doing brief bursts of intense exercise followed by periods of slower, less demanding work. Walking at a fast pace followed by walking slowly also counts. The great news for grown-up, sexy and busy ladies like us is that HIIT packs the benefits of a traditional workout into a much shorter session. Studies also show that HIIT is an effective way to help build muscle, regulate insulin, reduce belly fat, increase heart function, slow down signs of aging on a cellular level and keep you active longer. As the name says, HIIT can get intense, so it's a good idea to talk with your doctor before starting, especially if you're a beginner or have any medical conditions.

So put on your flyest workout wear, lace up your sneaks and get into the groove with 25 pop, dance, hip-hop, gospel and R&B jams and remixes by some of your favorite artists, including Whitney Houston ("I'm Every Woman"); Patti LaBelle ("New Attitude"); Aretha Franklin ("Freeway of Love"); Donna Summer ("Bad Girls"); Kirk Franklin ("Looking for You"); the Pointer Sisters ("Jump [For My Love]"); Salt-N-Pepa ("Push It"); Janet Jackson ("Miss You Much"); and Tina Turner "("What's Love Got to Do With It").