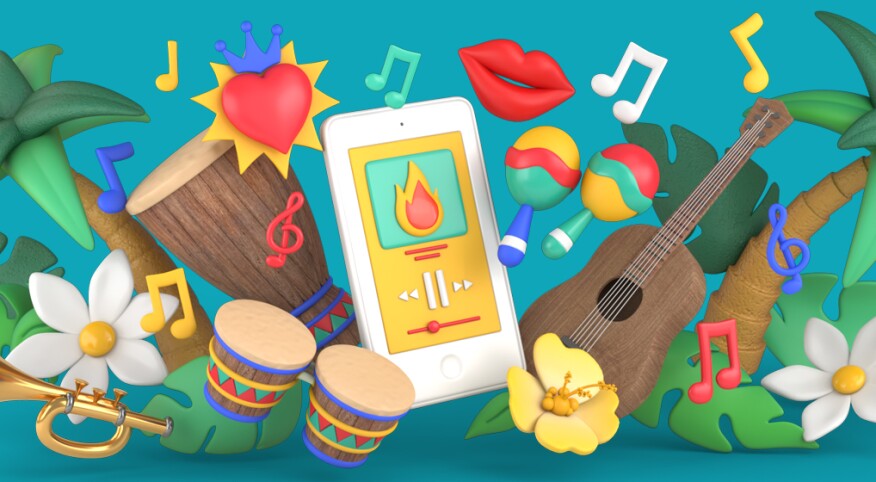 From Central America and South America to the Caribbean islands, Latin music and culture are inextricably linked to the Black diasporic experience. In fact, a Pew Research Center survey showed that one-quarter of U.S. Hispanic adults self-identify as Afro-Latino, Afro-Caribbean or of African descent with roots in Latin America.

We already know that Colombian superstar Shakira's hips don't lie. And the reason the Latin rhythm Gloria Estefan sings about is gonna get you is that you hear the sounds of Mama Africa in the conga-conjured beats. So get ready to shake your rump like J.Lo and Shakira did during their muy caliente 2020 Super Bowl Halftime Show performance!

Here, we've curated a spirited playlist that includes many of our favorite Afro-Latinx and Latin American artists, including Celia Cruz, the Cuban-born Queen of Salsa ("La Vida Es un Carnaval"); Puerto Rican American star Jennifer Lopez ("Let's Get Loud"); Amara La Negra ("What a Bam Bam"), a proud Afro-Latina from Miami with Dominican roots; and sexy salseros Ricky Martin ("Vente Pa' Ca," featuring Wendy), Luis Fonsi ("Despacito") and Marc Anthony ("Vivir Mi Vida").

Even Janet Jackson and Beyoncé couldn't resist putting their soul siren stamp on the Latin dance jams, with "Made for Now," featuring Daddy Yankee, and J Balvin and Willy William's "Mi Gente," respectively.

Push play, and let's get loud!