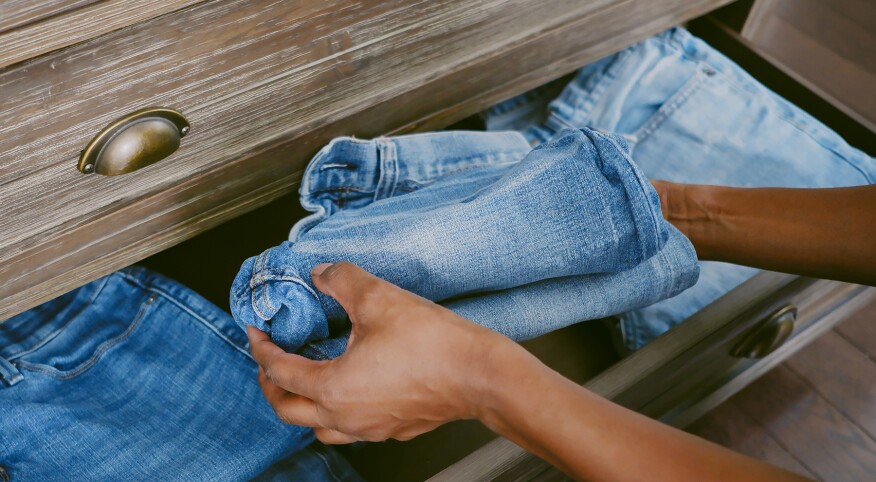 Jeans are a classic find-them-in-every-closet item. But thanks to the pandemic, you probably took some time off from wearing them in favor of more comfortable (and stretchy!) bottoms. Now that we're back to going out — and you know, being seen — you may find that your denim game needs a little help.

Finding the perfect pair of jeans is no easy task. There are so many brands, fits and colors to choose from, making the process a little daunting. But no worries, sis, we got you. Whether you need a pair or two for the new season, or you lost weight due to those at-home workouts in the past year and a half, here are some tips to help you score your next best pair of jeans.


Go for a Little Stretch

While 100 percent cotton jeans exist and work for specific styles, you'll want some stretch in your denim in most cases. All-cotton denim can sag at the knee and bottom and stretch out over time, so unless you're wearing a relaxed and baggy style, having a small amount of elastane in your jeans will give them flexibility and recovery after several wears and washes.

When shopping for your next pair, take a peek at the content label. You want to see anywhere from 1-3 percent elastane, sometimes branded as Lycra or spandex. Some body-contouring styles may have slightly more than 3 percent, but beware, jeans with a high amount of elastane bring you dangerously close to jegging territory.


Discover the Best Fit for Your Shape

Everybody and every body, regardless of size and shape, can rock a denim look. But one of the keys to looking great is to make sure your jeans work with and enhance your body type. Straight-leg and skinny jeans can work on all body shapes and are great wardrobe staples to have in your closet. But to maximize your unique silhouette, explore a variety of jeans styles and lengths.

If you have a "pear" shape (wider hips than shoulders and bust, full hips and bottom), long bootcut and flared jeans help flatter and balance your curves. For "apple" silhouettes (broader shoulders than hips, slim or straight through the waist, hips and rear), skinny jeans help draw attention to your bottom half. Bootcut and flared styles work, too. "Rectangle" shapes — also called straight or athletic (shoulders and hips are about the same, waist is not well-defined) — do well with skinny jeans and straight-leg fits. Depending on your height, floor-grazing flared and bootcut jeans work, too.

And for hourglass shapes (bust and hips are about the same, well-defined waist, curvy top and bottom), regular-length skinny jeans show off your curves and taper your leg, while high-waisted flared styles balance your hips and elongate your legs.


Know Your Wash

The wash (aka color) on your jeans can mean the difference between highlighting your best ass — ets or drawing attention to your problem areas, so it's crucial to know how to leverage it. Generally speaking, darker washes are slimming and flattering, so you typically can't go wrong with denim in darker shades and black. Darker jeans also work well if you're going for a dressier look.

On the other hand, denim in white and light washes make an area look bigger, so they're best if you're intentionally trying to balance out your top half or create an illusion of curves on the bottom. Lighter washes do have their place, though, depending on the style.

Boyfriend jeans and the currently-trending "mom jeans" work well in medium and light washes. As with all aspects of finding the right jeans, experiment and have fun. Outside of the typical blue shades, colored jeans can add a nice pop to a fall or spring wardrobe, black jeans are always in and gray jeans are chic.


Know Your Rise

Rise is the distance from the crotch seam to the top of the waistband, and it determines how low or high the jeans will sit on your waist. Typically, the rise on denim jeans ranges from seven to 12 inches and falls into three categories: low, mid and high.

Low-rise jeans sit well below your natural waist and can often be a bit revealing in the back. High-rise jeans sit above your natural waistline and do wonders if you have a little extra room around your midsection or want to accentuate your curvy hips. In between the two are mid-rise jeans, which sit at your natural waist and provide a comfortable, classic fit.

Keep in mind, one brand's high-rise may be another's mid-rise, so it's best to explore a few different brands and styles until you discover the most flattering rise for you.


Finish It off Right

Complete your denim look with the right tops, layers, shoes and accessories. As you put together outfits, think about creating a contrast between your top and bottom halves. For example, pair roomy jeans with more fitted tops. Figure-hugging denim, like skinny jeans, look best with flowy tops, roomy sweaters or structured blazers.

Consider color, too. Unless you're aiming for a monochromatic look (which can work!), you want to contrast darker jeans with light tops and vice versa. Play around with the tops and jackets in your closet to come up with a few combinations. Once you've figured out a few formulas, you can mix and match the items in your closet for endless possibilities. A few winning combinations to try include a blazer, T-shirt, straight-fit jeans and sneakers for a casual-chic vibe; a flowy top, skinny jeans and flats for a wear-anywhere look and a button-down shirt, floor-grazing dark, flared jeans and heels for a dressy-casual look.


Broaden Your Denim Horizons

Go beyond jeans and inject denim throughout your wardrobe. The fabric comes in just about every clothing style, as well as accessories, so if jeans aren't your thing or you want to try other ways of wearing denim, opt for a denim jacket, skirt or top. These pieces are seasonless and can work for both dressing up and dressing down.