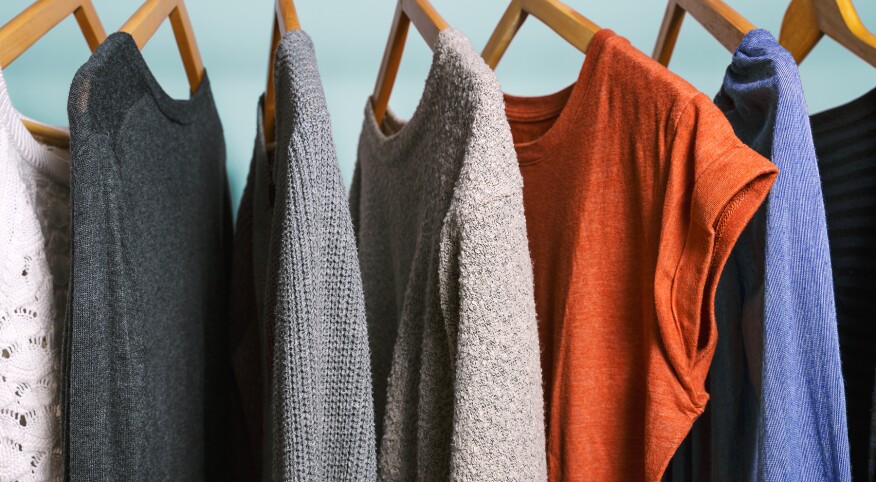 After experiencing a challenging year physically, emotionally and mentally, Athena Valentine, 34, was seeking ways to streamline her life. She wanted to reduce the time she spent on daily routines so she could focus her time and energy on her health and career.

Holly Reid Toodle, 45, was struggling with a sudden weight gain. The extra pounds left her with a closet full of clothes that didn't fit. She needed a new wardrobe but didn't want to spend the money replacing everything she owned.

To meet their needs, both women embraced the concept of a capsule wardrobe — a limited and carefully curated selection of clothes that coordinate with each other. Building a capsule wardrobe can be an excellent way to save time and money and bring some organization into your life.

The rules for creating a capsule wardrobe are not hard and fast. Some sources say it takes as little as 10 items, while others suggest 30 or even 50. Quantity aside, the bottom line is to cull the clothes in your closet until you have a selection that meets your day-to-day needs. The pieces should coordinate with each other in terms of style and color.

Some sources say it takes as little as 10 items, while others suggest 30 or even 50.
Valentine, a personal finance expert, owns fewer than 30 pieces of clothing. She based her capsule wardrobe on a neutral palette of black, navy, gray and cream — with a pop of red. "I decided to go with a neutral color scheme so I could just throw 'whatever' on while matching," she says.

When building a capsule wardrobe, consider your lifestyle. For example, Toodle, a certified public accountant who generally works in an office, has a capsule wardrobe of just 22 items:

● 2 dresses
● 4 pairs of pants
● 2 pairs of jeans
● 3 blazers
● 1 denim jacket
● 10 shirts/blouses

Many capsule wardrobe enthusiasts also apply the concept to shoes and outerwear, reducing those items to a limited selection.

Paring down her clothing options has allowed Valentine to simplify her daily routine. "The main goal of my smaller wardrobe is to reduce decision fatigue while looking put together," she says. "I save time getting ready because I just need to grab a pair of bottoms and then any top since they are all the same color scheme." She's also saved money in the process. Valentine previously would spend around $50 a month on clothes. She estimates that since implementing a capsule wardrobe a couple of years ago, she's spent a total of $126 on clothing, shoes and accessories.

Toodle says after eight months of having a capsule wardrobe, she'll be a fan of the concept for life. "It saves time, money, and the simplicity of it all creates peace," she says. Like Valentine, she has shaved time off her morning routine. And she's cut her annual clothing budget from $3,600 to under $1,000, which she spends on seasonal shoes and quality undergarments. "The savings will fuel other financial goals like home renovations and retirement," Toodle says.

Here are some tips for creating a capsule wardrobe.

Start with what you have. You don't have to toss everything you own and start from scratch. Likely, you have several items that can work as the foundation of your capsule wardrobe. "Because I decided to stick to a color scheme, I just gave everything away that didn't [work]," Valentine says. "I then surveyed what I had remaining and purchased anything that I needed."

Prioritize fit and quality. Since the items in your wardrobe will be worn repeatedly, make sure they fit well and are well-made. That doesn't mean you have to spend a lot of money on them. Be on the lookout for sales and discounts or consider buying some pieces secondhand.

Embrace your personality. "Your capsule wardrobe doesn't have to be bland and uninspiring," Toodle says. "Allow yourself to include colors you love or pieces that energize you."

Give it a test run. If you're concerned a capsule wardrobe may be too limiting, consider giving it a trial run. Select your items and pack away the rest for a month. You can always retrieve them if you discover that you whittled your closet down too much.

Keep your capsule wardrobe tight. Valentine uses the "one-in, one-out" rule. "If I allow myself to buy a new top, I know I have to give one at home away," she says. Since I love all of my clothes, I don't want to give anything up, so 90 percent of the time, [a garment I've tried on] goes back on the store shelf."

Get help from the pros. Consider a ready-made capsule collection, or browse online brands for inspiration building your own. For example, ZoeGoes (zoegoes.com) offers curated 2-, 3- or 6-piece capsules, while the Tiny Closet (thetinyclosetshop.com) specializes in essential wardrobe separates that work year-round. Both sister-owned businesses operate sustainably.

Having a capsule wardrobe puts an end to the dreaded what-to-wear dilemma. Consider adopting this approach if you'd like to get back precious time in the morning and put some precious dollars back in your pocket.