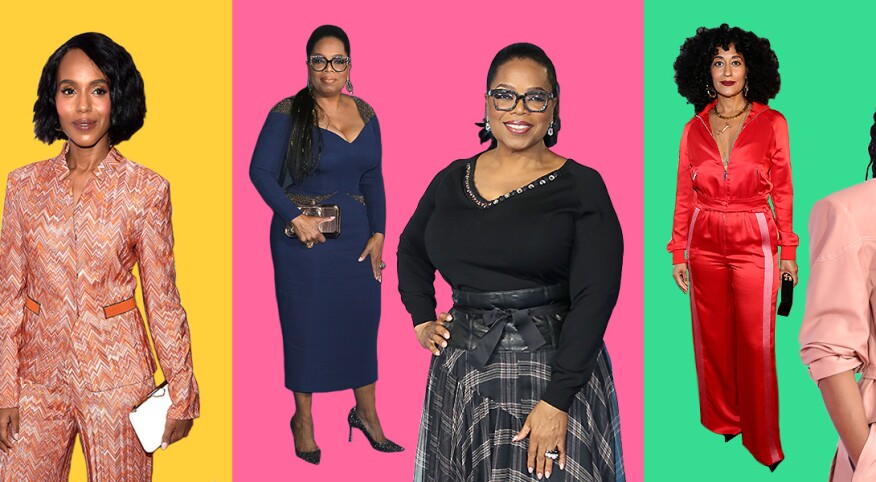 There are well-dressed women and then there are fashion icons — those stylish sisters who elevate apparel into artistry. While top wardrobe stylists and celebs have fashion industry access and can drop serious coin on their outfits, what puts them in a class by themselves can't be bought — but it can be taught. Their signature style is about being courageous and self-aware enough to speak boldly and authentically through wardrobe choices, as well as word choices. Katorra Enoch-Longshore of Styled for You explains, "Personal style is a form of nonverbal communication that is intrinsically connected to how others perceive you. Ensure that your style personifies who you are in an authentic way."

Ready to join the conversation?

Ask yourself, "What's my story?" Then stick to it. Are you a risk-taker? A romantic? A bon vivant? A boss? Tracee Ellis Ross, a frequent-flier on best-dressed lists, told People that her style is "joyful AF." "Develop a style plan that identifies who you are and what you represent, and where you are going professionally and or personally," says Enoch-Longshore. You'll hone your shopping skills and avoid a closet full of pricey items you rarely wear.

Wear your heart on your sleeve. Clothing conveys your emotions, so if you're not "feeling" a potential purchase, ignore the trend, the discount or the need for retail therapy and leave it on the rack. "When shopping for looks, make sure you go off of how you feel," advises Camille Thomas of Coco Amor Styles. Ellis Ross has said of making a clothing choice, "It has to make me feel like a badass when I put it on." If a dress, boot or sweater doesn't speak to you, it won't speak for you. So, going forward, only buy what you love. Also, don't be surprised if your shopping bills shrink as a result!

Make a fitting statement. You're an original. Own that. You don't need to order pricey couture to make a garment uniquely yours. But you do need to alter it so that it appears to have been made for you. Style star Kerry Washington told Yahoo, "I think every girl should have a tailor in her phone. There is no magic garment, so I think it is important (even if it's the tailor in the back of your local cleaners) to be able to give clothes the little nips and tucks that make them feel perfect for you."

Observe the rule of three. Professional speechwriters live by this principle, which works with nonverbal communication as well. The gist: Ideas presented in threes are generally more attention-getting, more pleasing and more memorable for your audience. And three data points create a pattern and a mood. They articulate your statement charismatically — without overwhelming. Stylist Tiffany Barringer, who works with various recording artists and has done fashion editorials for Vogue Italia, advises, "When planning an outfit, three pieces — for example, a blouse, denim [jeans] and a jacket — create a complete look."

Punctuate your statements. Don't be intimidated by standout earrings, necklaces and belts. If you like, you can alternatively startyour fashion story with a statement accessory and then center the rest of the look around it, suggests Rachel Brooks of Aledia Rae Styles.

Inject an element of mystery. Sisters on best-dressed lists show skin strategically. You'll often see Oprah in cleavage- or collarbone-revealing looks, but rarely without sleeves, for instance. Or she'll give us the cold shoulder with cutouts atop the sleeves. Choose one body part to accentuate with a bare or sheer look and cover the rest. Revealing more may come off as TMI.

Repeat and rephrase. Style-savvy women judge investment pieces as those with the lowest cost per wear. Say you're looking at two LBDs in a similar style: a high-quality one priced at $125 and a low-quality one priced at $45. If, over several seasons, you could end up getting 100 wears out of the pricier one but only nine wears out of the less expensive one before it starts to lose its shape or appeal, your cost per wear of the more expensive dress would end up being lower. Quality saves you money! Ellis Ross has said, "I really believe in re-wearing clothes. If you're going to spend lots of money on a jacket, wear it a whole bunch of times." Instead of shying away from wearing something you wore last week, force yourself to think of a new creative way to wear it again and again! Need something trendy for a single occasion? Consider a fashion rental service.