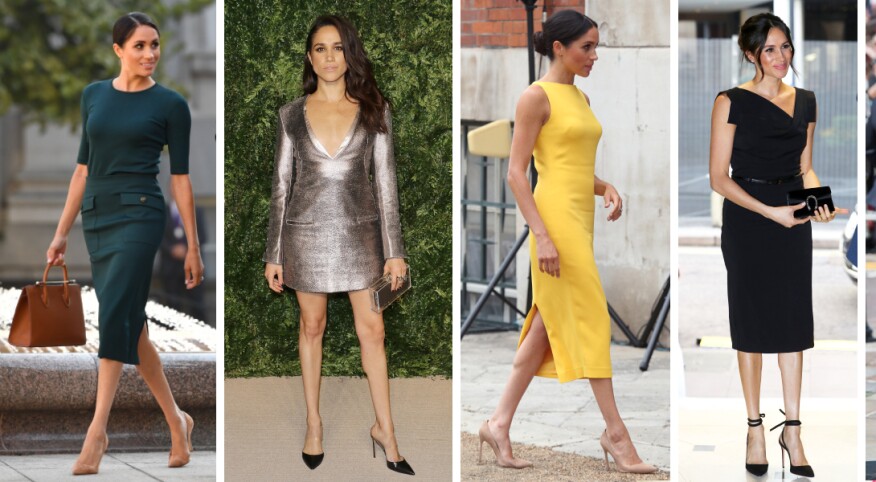 Before she married Harry, Meghan Markle was known for her role on Suits, her lifestyle blog The Tig, her advocacy for women's issues and yes, her shoe game. Our girl was just as likely to be seen rocking her go-to Sarah Flint ballet flats as she was stilettos. Now that she's the Duchess of Sussex, four-inch heels have become her staple even when she's on gravel or grass. No matter what height heel the graceful 37-year-old slips on, she hardly seems to put a foot wrong — no teetering and no my-dogs-are-barking painful looks. So inquiring minds want to know, how does she do it?



Here are six high-heel hacks inspired by the Duchess of Sussex:






Wear shoes a size too big. Meghan reportedly goes up a size in her heels to avoid blisters and bunions. To keep the shoes from slipping off your feet, a fashion insider tip is to stuff the toe with padding such as lamb's wool.


Protect your feet. If going up a size doesn't do the trick and wearing heels still causes damage to your dogs, your local pharmacy has you covered. Scholl's Bunion Cushions and Profoot Toe Pouches are two comfort foot care options.


Watch and learn from a pro. You can perfect your pumps power walk by watching Tyra and Miss J on America's Next Top Model or any Beyoncé video. Here are six key steps to stepping up your stiletto game: walk heel-to-toe, take small steps, don't rush, lean slightly back, visualize yourself walking a straight line and arch your foot slightly.


Switch it up. We'll bet the Duchess still ditches the designer stilettos when the paparazzi aren't peeping. No matter how much you love your high heels, wearing them every day is a recipe for pain. Podiatrists recommend changing out of heels for a bit on days when you've been on your feet. Meghan gave her guests custom-designed slippers to wear at her wedding reception. And even if you never wear heels, experts recommend alternating shoes to keep feet fresh and healthy.


Break 'em in. To get your shoes ready for a job interview, wedding or Trooping the Colour, wear them around the house with a pair of thick socks for a few hours. Experts say this will stretch all the areas that otherwise might pinch your feet.


Opt for a kitten heel. A few seasons ago, you might get a citation from the fashion police if you were caught in this modest, one-and-a-half-inch heel. This season, however, the Michelle Obama favorite has made a comeback.