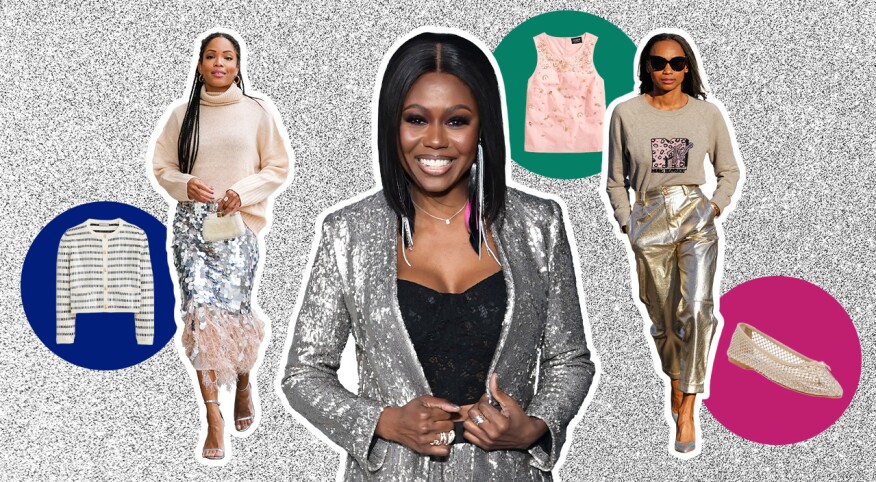 Once reserved for winter holiday parties and special occasion dresses, "shine" is officially an every-season, any-occasion look. Of course, one of this year's spring and summer trends was shimmer. Fall 2023-'24 runways are giving us a peek at brightly colored metallic outerwear, including capes, coats and puffers. Underneath, we've seen patterned dresses embellished with sequins and metallic mesh jackets from designer Byron Lars. The looks were accessorized by gold boots, silver flats, strappy metallic sandals and rugged black boots embellished with silver-tone studs. Alexander McQueen showcased glittery party looks with metallic fringe. Chanel's cruise collection had gold and gold-embellished bathing suits paired with black.

But it can be tricky to get the look just right. Unless you're Diana Ross or Beyoncé, wearing head-to-toe shine may leave you looking like a walking disco ball. Thankfully for the rest of us, there are many ways to incorporate glam into our wardrobes — from the bold and blingy to the sweet and subtle. The key to adding a bit of glitz to your outfits is to do it in a way that makes you look and feel extra but not too extra.


Here's how to incorporate shine into your everyday looks.
Stick with the classics.
If you're bringing shine into your wardrobe for the first time, ease into the look by sticking to your tried-and-true silhouettes and colors. Depending on your style, consider classic pieces like blazers, pencil skirts, T-shirts and layering camis. For colors, go beyond sparkly black and silver and try shiny looks in neutrals and pastels — which bring a soft touch to the shine trend. By sticking with styles and colors you're already comfortable wearing, you'll still feel like you — just more glammed up.

Shown here: Emilie Sweater Lady Jacket in Sequin Stripe, J.Crew ($298)



Subtle or showstopping? Up to you.
When we talk about wearing shimmer, we often think of sequins and other in-your-face flashy looks. But you can bring sparkle into your outfits in a variety of ways. From sweetly embellished tops to subtle metallic textures to naturally shiny fabrics like satin, you can pull off shine in a way that works for you.

Shown here: Embellished sleeveless shell top, J.Crew ($168)



Upgrade your accessories.
Wearing shiny accessories is a fast, easy and low-stakes way to bring a little bling to your everyday outfits. Go beyond jewelry, though. Sparkly belts, metallic bags, embellished hats and other glitzy accessories can add a touch of flair to any look.

Shown here: I.N.C. Embellished Mesh Belt, Macy's ($59)



Shine your shoes.
A pair of blinged-out shoes can bring a bit of glam to any outfit, whether it's a white button-down shirt and jeans, a little black dress or a structured suit. Just let your shoes be the wow factor in your outfit and avoid pairing them with other sparkly pieces. From rhinestone ballet slippers to shiny pumps to metallic cowboy boots, footwear is a fun way to add shimmer to your style.

Shown here: Steve Madden Blossoms Rhinestone Mesh Ballet Flat in Blush Stones, Nordstrom ($80)



Strike the right balance.
The trick to wearing shine successfully is to create balanced looks. For example, pair sparkly tops with classic or casual bottoms like wide-leg trousers, pencil skirts, jeans, cargo pants and shorts. Also, consider layering shiny tops and T-shirts under blazers or leather jackets for a contrasting look.

Sequined and metallic bottoms go well with white button-downs, T-shirts, turtlenecks and camis. And for full-on sparkle styles like a shimmery dress or a sequined blazer and matching pants, offset the bold look with toned-down accessories, layering pieces and shoes that complement your outfit rather than compete with it.