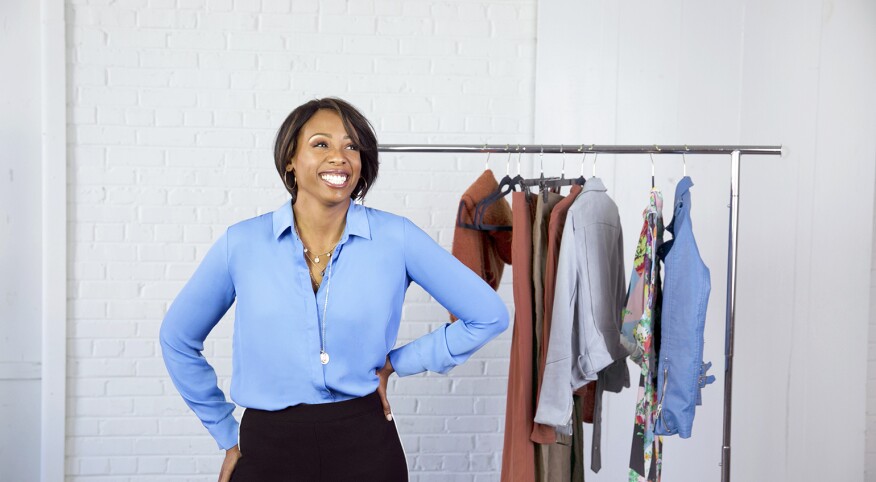 Latoya Brown is the type of woman who turns heads when she enters a room. Her confidence and impeccable style will make you ask, "Who is she and where does she shop?" So it's only fitting that Latoya is a personal stylist who wants women to feel amazing in their clothes everyday, not just on special occasions.

I've always heard that a new wardrobe can be transformative, and Latoya knows a thing or two about transforming. Before moving back to Richmond, Va., to start Fashionfluential Personal Styling, Latoya was in an unfulfilling career in finance. But staying unfulfilled wasn't a part of Latoya's plan for her life. Now, she uses her eye for fashion and knack for planning and organizing to help her clients live their best lives, too.

I met with Latoya to discuss her approach to helping women look and feel their best.

First things first, what are three tips you'd give to someone who is just getting started thinking about their personal style?

Number one: Think about what you already love to wear and do more of that. Most of the time, you have tons of clues to your personal style sitting right in your closet.

Also, get inspired. Pinterest and Google Image are good resources to start your search. Clip pictures of outfits that draw your eye and feel like you. When you look at all the images together, your personal style will become more clear.

And three: Edit. Your. Closet. Once you've identified your favorite pieces and compiled pictures that speak to your personal style, the next step is to edit out the items in your wardrobe that don't fit into your vision.

What are some mistakes you see your clients make during their personal style journey?

The biggest mistake my clients make is buying things that are on sale without considering the quality of the piece and how it fits into their style goals. Everything on sale isn't worth buying.

I've definitely been guilty of that. How can we avoid making that mistake?

Shop with intention instead of shopping out of habit or desperation. This looks like:
Knowing what you already own so you don't purchase the same item again.
Having clarity about your personal style and what you really like to wear.
Having a list of items you'd like to add to your wardrobe.
Learning the features of quality pieces. I look for natural fibers, prints and dyes that show on both sides of the garment, linings and patterns that line up accurately.
What's your go-to style hack?

Adding a third piece like a jacket, blazer or duster.

I can wear a top and bottom in the same color – black T-shirt and black-jeans – then add a statement jacket for an effortlessly stylish look that gets noticed every single time.

What's something that everyone in the fashion industry knows that the average person might not know?

Everyone in the fashion industry knows that tailoring is the key to good looking clothes. Whenever you buy something off the rack and it doesn't fit, it's not you – it's the clothing.

The only way to have clothes that look like they were made for you is to have adjustments made by a tailor. It's worth the additional investment of $10 to $15.

Anything we didn't cover that will help Sisters from AARP readers take their personal style to the next level?

Experiment. Some looks will be great, and others will be super embarrassing, but you'll never find the great ones if you don't mix it up and try something new!