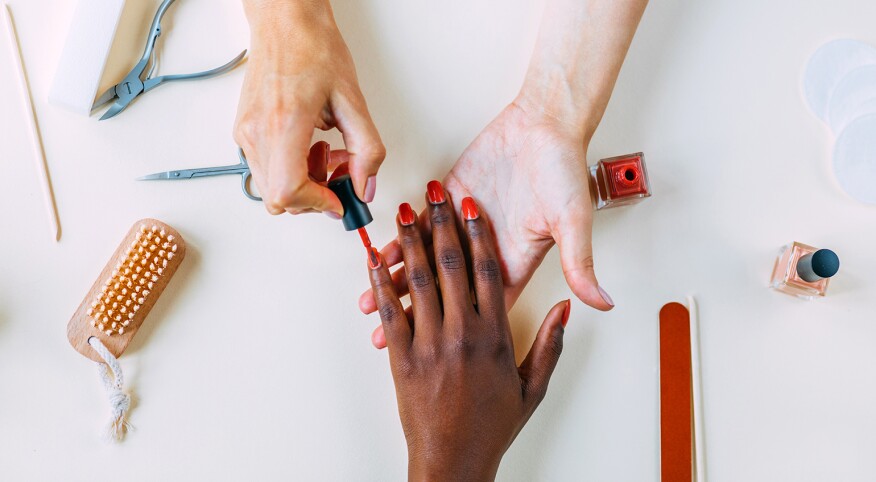 It's time to get our holiday sparkle on! This busy season, we all want to look our best, yet we seem to have the least amount of time. That's why many sisters' go-to service at the nail salon is a long-lasting gel manicure. I love the way this nail-care option delivers color and shine that won't quit — no matter how many cards I've opened or presents I've wrapped.

What's not so great is the weakened nails, peeling or cracking that can happen with repeated applications. (Once, my nail beds were so thinned, I winced in pain as the tech prepped the area for application.) Repeated use of gel manicures also can increase the risk for skin cancer and premature skin aging on the hands, the American Academy of Dermatology (AAD) reports.

Shari Hicks-Graham, a board-certified dermatologist from Downtown Dermatology in Columbus, Ohio, adds: "We are not certain that any true risk [for skin cancer] exists, but we do know that ultraviolet A [UVA] light contributes to DNA changes in the skin associated with skin cancer development."

If you're getting a gel mani, know that the U.S. Food and Drug Administration views nail curing lamps (used to cure or dry gel nails or polish) as low risk when used as directed by the label. And there are things you can do to help keep your nails healthy before, during and after a manicure. Check out these tips, including info on Sisters-tested, do-it-yourself (DIY) and UV-free gel polishes that will save you time, cash and the need to reapply frequently.

Nourish your nails daily. One way to do this is to talk to your doctor about over-the-counter biotin supplements, says Hicks-Graham. I've been taking them for a couple of months, and I notice far less nail peeling and more youthful skin on my hands. Hicks-Graham also suggests regularly applying cuticle oil to seal in moisture. "Even olive oil or almond oil will do the trick," she says. Two retail options worth trying: L'OCCITANE Shea Nourishing Nail & Cuticle Oil and Milk + Honey Everything Oil.

Wear sunscreen to your nail appointment. You read that right. Consider keeping a broad-spectrum, water-resistant sunscreen with an SPF of 30 or higher in your purse year-round so that you can apply it to your exposed skin during the day. Put some on your hands before your mani to help protect them from the UV radiation used to seal gel nail polish to the nail. You'll help guard against skin cancer and photoaging your hands with regular use. (Another option is to put on dark, opaque gloves with the fingertips snipped off before nail polish is applied, reports the AAD.)

Ask your manicurist not to cut your cuticles or push them. That skin is there to keep out bacteria and fungus. If you're regularly massaging in a nail oil or cuticle cream, they should be free of cracks and in good condition.

Resist the urge to pick, peel or scrape polish when it starts to loosen. Visit a pro to have it removed.

Go easy on the acetone. Gel nails take about 15 minutes soaking in remover to come off. You don't want your fingers in that stuff for so long. Instead, ask the tech to soak cotton balls with acetone, apply one to each nail and secure them with aluminum foil.

Consider a DIY gel polish that doesn't require UV curing. You'll save money and avoid exposure. Here are three Sisters-tested options:

1. Get long-lasting wear: OPI Infinite Shine System
The primer and the topcoat come in a set for about $20 (prices may vary) and the color (labeled Infinite Shine 2) is about $13. Our tester tried several shades and said they lasted 10 days before chipping.

2. Get great color options: Sally Hansen Miracle Gel
With this system, you don't have to buy a primer. For about $20, you can buy the gel topcoat and a pretty color that lasted about five days for our tester.

3. Get glam in less time for less money: Revlon Colorstay Gel Envy Nail Polish
Our Sisters tester says two coats of color and one of topcoat dried in just 10 minutes. This is the one to stash in a desk drawer at work for midweek chic. But though Revlon.com reviewers give it four stars on average, our tester said she noticed chips after just four days. Discount stores sell the color for around $3 and the topcoat for around $5.

A final pro tip: After the holidays, think about giving your nails a holiday. Dermatologists recommend going without polish for at least a week or two every once in a while.