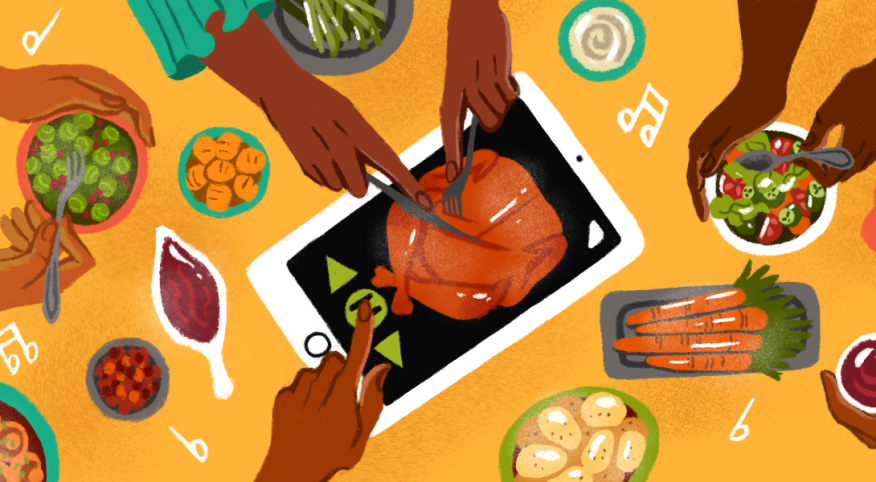 Thanksgiving is a time to celebrate with family and friends. Like Mary J. Blige sings on "Family Affair," "We don't need no haters. It's time to love one other!"



Mom is busy making sure everyone's plate and tummy is full. Pass the mac and cheese, collard greens and sweet potatoes, please! The house is filled with laughter, thanks to corny jokes and off-key singing from uncles and brothers. Everyone is eager to hear a progress report from the student returning from college. After dinner, the young folks challenge each other to a dance battle, Auntie pulls out the Scrabble board or Taboo board game and Dad lounges on the sofa watching the football game.



To keep the good times rolling, we've included songs that will affirm and uplift you and your tribe by Mali Music ("Beautiful"), Jill Scott ("Blessed"), Kindred The Family Soul ("All My People") and the O'Jays ("Family Reunion").



And no matter what your spiritual practice is, Thanksgiving is a great time to rejoice in and reflect on the gift of life and all of the blessings we've received this year. As India Arie sings on "Give Thanks," "There will never ever be another day just like this day, so let's give praise now." More songs by Sounds of Blackness ("I Believe"), Fred Hammond ("Thank You (I Won't Complain)"), Bob Marley & the Wailers ("Give Thanks and Praises") and Aretha Franklin ("Amazing Grace") will nourish your soul.



So keep this joyful and prayerful playlist playing in the background while you sip a little wine, season the greens and stuff the bird. Then share it with the fam during your Turkey (or Tofurky) Day celebration!