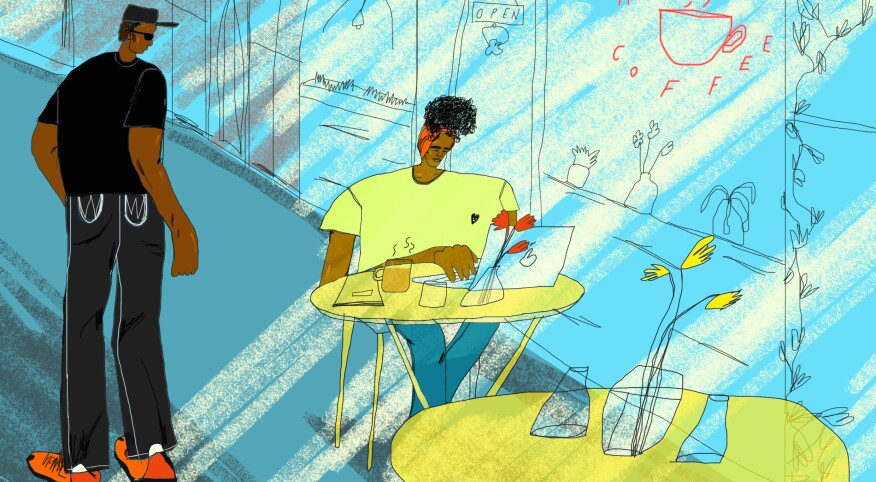 My epiphany came as I gazed at myself in the mirror, with swollen red eyes, a snotty nose and my hair all over my head. It was time to say goodbye to my relationship. I deserved better than being lied to and cheated on. It had turned into a cycle, each time with a different girl, but still the same lies. Rinse, spin, repeat.



I met my forever bae when I was in college. He was a local guy who somehow catapulted beyond my walls of defense with his charm, good looks, sense of humor and knack for putting together a mixtape. I placed him high up on a pedestal. His likes and dislikes became mine. Slowly, my dreams of becoming a reporter started to be replaced with visions of being a housewife. Before I knew it, we'd been together for four years and decided to move to another state to play house. Life was good and red flags were not on my radar.



If I think back far enough, the little white lies started in the first six months of the relationship. "I wasn't at the club," even though there he was in pictures. But I believed him because love is completely blind at times. As the relationship progressed, the lies got more creative. He would say he was going out for late night workouts or out-of-town trips to see his family, yet no one ever saw him. At some point, he just stopped coming home and random calls with hang-ups became the norm. I began to slowly transform, becoming insecure, extra clingy and needy. I started snooping through his things and the trail led me to a woman he'd been seeing for months. We broke up, but I wasn't ready to say goodbye, so I begged and pleaded for him to work it out. Not my finest moment.



A year later, we moved back to the college town where we met and the lies increased. I became so crazed by trying to keep tabs on him, I'd drive by his friends' houses at all times of the night to see if he was where he said he was going. I was calling them, hoping for confirmation that he was indeed true to his word. I had become doubtful, no longer the confident young woman I was when we first met. I started dropping my friends just to be at his beck and call if he wanted to throw me a smidgeon of his time. I quit my job at a television station because, in my mind, my second shift hours gave him ample time to cheat. My life began to revolve around this man and I became scared of being alone.



Nearly eight years into the relationship, a married woman showed up at my house to inform me about the relationship she had with my boyfriend for months. He had taken her on our dream trip, using my credit card to wine and dine her. I later found out he had gotten his coworker pregnant, as well as his best friend's baby mama. Needless to say, I was destroyed. Something had to give.



After hiding in my bedroom for days, I emerged to look in the mirror. I saw a woman in her mid-20s with so much life left, a woman who still had unfulfilled dreams. I realized I didn't even know who I was because I had made this man the center of my world. I looked at myself in the mirror and knew that saying goodbye was necessary if I was going to choose me. I had to love myself more than I loved him.



I took his clothes to a consignment shop, pawned the jewelry he gave me, purchased a laptop and directed my hurt energy into creating a blog that helped me on my career path. I got a new job in television and moved to a new city for a fresh start. I discovered my love of writing and started to spread my wings and tap into my passion for music, which landed me opportunities to interview some of the industry's legends like Patti LaBelle, Charlie Wilson and the Jacksons.



I thought leaving would break me, but instead it made me stronger and allowed me to grow. I lost myself in that toxic relationship, so saying goodbye allowed me to say hello to my true self. I no longer harbor resentment. Instead, I'm grateful that the experience in my 20s made me the person I am today in my 40s. So, in the words of Beyoncé, thank God I found the good in goodbye.