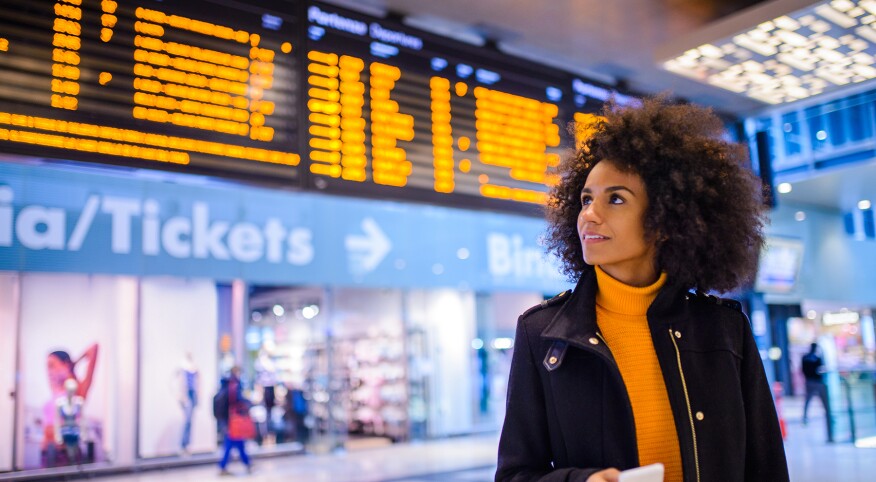 The last quarter of the year is packed with extended holiday weekends, then a Christmastime break. That means air and hotel deals we might have snagged during the shoulder season are giving way to eye-popping prices for flights and nights.

Looking to trim costs, many of us grit our teeth and wonder if we can muster spending several hours en route slogging through crowded terminals that smell of fryer grease and duty-free perfume, and then camping out at a noisy gate. Nonstop flights tend to cost more for a reason — about 20 percent more, according to Google Flights.

Yet there may be benefits beyond savings when you add an extra leg to your journey, especially if you select a layover or stopover that allows enough time to make that hub city a destination in its own right. Even your airport wait can transform into a spa-ing, shopping, fine-dining or fitness session if you know where to find the fun and make it an intentional attraction on your itinerary.

Here's Why the Shortest Layover Isn't Always Best

Travel has changed since 2020. Considering all the delays and cancellations that have become ubiquitous during the pandemic, it's a smart move to give yourself an extra-fluffy cushion of time between your connecting flights. In some cases, it now makes sense to arrive at your destination a day or two earlier (and to not cut it too close returning home either). Remember the horror stories from the summer? A family missing their Disney cruise and sleeping several nights in the airport. Sixteen girlfriends stranded after attending a bachelorette party. Wedding guests whose flights were canceled scrambling to buy painfully expensive tickets to make it to the church on time.

Consider that some lounges allow you to bring guests at no additional charge, and once you're settled into your overstuffed chairs, you can all hit the snack buffet for free. Compare that with everyone ordering from the terminal's food court. Luxury can cost you less.
Stopovers and layovers aren't always the headaches they once were. They may save you frustration, money, fatigue or boredom. One key is to fly out of a major airline's hub, or central transfer point. Another is to know the difference between the two types of waiting periods. Generally, a layover is under 23 hours, but they typically seem to range from 30 minutes to eight hours. A stopover is 24 hours or longer. Those definitions may change depending on if you are flying domestically or internationally, but for our purposes, let's stick with the 24-hour dividing line.

5 Reasons to Love a Layover or Stopover

The travel industry has come up with ways to make getting there part of the fun.

You might add an additional stopover destination to your getaway.
You might enjoy sightseeing in your hub city via airport programs.
You may access a VIP lounge and enjoy drinks, food, concierge services and cushy digs while waiting for your flight.
You may work out the kinks between flights with wellness amenities such as massage and fitness classes.
You might refresh yourself by using salon, nap or shower facilities.
Visit Another Country or City During an International Stopover

Many international airlines have a stopover program that allows their passengers to spend one to seven days in a selected destination when their originating flight connects with a major airport hub. You heard that right: You can visit additional destinations for the price of a ticket to just one. In some cases, savvy trip planners can get discounts with partnering hotels or even enjoy a couple of nights of lodging with the airline footing the bill. You may also snag free transportation and discounts to tourist attractions.

That's why, before purchasing airfare for international travel, it's smart to find out about various airlines' stopover programs. Each program operates differently, so be sure to look at the details. Some require that you select multiple cities at the time you book your flight, while others offer the option of adding a stopover within 72 hours of booking.

Good to know: A stopover must be a location that is on the carrier's route to your destination. It cannot be the originating city, nor can it be your final destination. For example, if I'm planning to visit Buenos Aires. I can book a flight with Copa Airlines leaving New York's John F. Kennedy International Airport (JFK), stop in Panama for up to six days, then continue to Buenos Aires. Visit stopoverinpanama.com for details.

Before confirming your stopover, check to see if a visa is required. Also, find out how much time is needed for going through security. Last, consider whether you will exchange currency or just make purchases using a credit card.


Places to Visit During a Stopover

TAP Air Portugal from JFK Airport allows you to stop in Lisbon or Porto for up to five nights, then continue your trip to the Ivory Coast, Ghana, Morocco or Amsterdam. For complete details, visit flytap.com and click on stopovers.

Everyone talks about visiting Dubai. But did you know there are six other emirates in the United Arab Emirates (UAE) that are just as nice? One is Abu Dhabi, the capital of UAE. Etihad Airways offers a stopover in Abu Dhabi. The airline will give you two free nights in a select three- or four-star hotel, or you can get up to 50 percent off a room at a more exclusive hotel for two to four nights. If you stay for multiple days, you can take day trips to the other emirates, including Dubai.

Some other options are Aer Lingus, with a stopover in Dublin, Air Canada, with a stopover in Toronto, and the Colombian airline Avianca, with a stopover in Bogota at no additional cost.

Unfortunately, when traveling within the U.S., multiple-night stopovers are not the norm. But there can still be fun things to do during a layover, especially if it is in a major hub.


What to Do During a Layover

If you are flying from a major hub or huge terminal, there are often activities to indulge in while waiting during your layover. JFK and Dallas-Fort Worth (DFW) offer spa services. You can tone up with yoga classes at San Francisco (SFO), Chicago O'Hare (ORD) and DFW airports. The amenities at each airport vary. Some boast on-site museums, showers, libraries and even sleeping quarters. For specifics, visit the services page of the airport.

If you have a shorter layover or don't feel like being too active, larger international airports tend to have lounges. To gain access, you don't always need frequent-flier status with a particular carrier. You might also qualify using a travel-rewards credit card, by purchasing a one-time entry pass or by enrolling in a third-party travel program that offers access. For instance, my platinum membership with Interval International allows me to access more than 1,000 airport VIP lounges in more than 500 cities in over 130 countries on a fee-per-use basis. Consider that some lounges allow you to bring guests at no additional charge, and once you're settled into your overstuffed chairs, you can all hit the snack buffet for free. Compare that with everyone ordering from the terminal's food court. Luxury can cost you less.

If saving money is a priority and you don't mind dealing with inconveniences such as flight connections, these options can take some of the bitterness out of cost-saving layovers and stopovers.