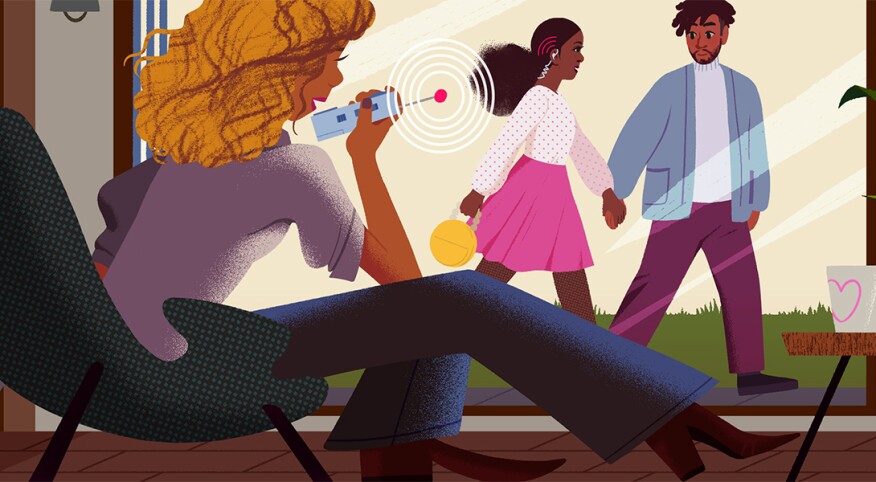 In 2001, I begrudgingly signed on to a dating site. At the time I was working as a casting director for CBS Television and teaching classes for actors on marketing and auditioning. After it dawned on me that my dating profile photo was essentially like an actor's headshot, and a first date was an audition, I was able to cast myself into my own love story and meet my husband online. I've been helping others do the same ever since via my site at DamonaHoffman.com.

There have been some ideas to challenge. For instance, in 2009 and 2014, OKCupid released user behavior data that indicated that Black women on their site sent the highest number of outgoing messages but received the fewest responses. Media outlets declared Black women are unsuccessful in dating online based on these statistics.

Many Black women, including the participants I coached on the TV series #BlackLove, had internalized this perceived imbalance in the dating pool. They came to my dating program feeling skeptical that they could meet a match. Yet, regardless of race or age, I can confirm that since January 2019, 90 percent of my clients are partnered within 10 weeks of working with me.

With the number of available apps and the rapid pace of dating today, it's easy to become overwhelmed and disappointed by the state of courtship. That's why I'm simplifying modern dating and giving women a roadmap to love based on psychology, statistics and the experiences that my clients and I have had with dating over the last 15 years.

Here are the five biggest challenges that I see and how my playbook fixes them.

Challenge 1: You've lost hope in dating.
Fix 1: Change your mindset, change your life.
Finding a match isn't all about what you say or do — it starts with how you think.You have to believe that there is a match for you. Visualize who that person is and how they will make you feel. Get clear on your most important values: Is faith a true deal breaker? Is dating someone of a different race absolutely nonnegotiable or just scary because you haven't done it before?

Challenge 2: You don't know where to meet people.
Fix 2: Expand your circle and embrace dating apps.
The opportunity for you to connect with someone in "real life" can be limited. Your dream date isn't going to knock on your door unless they're delivering a pizza.

My recommendation? Get outside of your social box. A dating app can help. No matter what you've heard or seen it expands the opportunity for women of any age to fall in love. In fact, online dating is now the most popular way for new couples to meet, according to a 2019 report from authors at Stanford University and the University of New Mexico. In 2017, 39 percent of heterosexualcouples and 65 percent of same-sex couples met online, the authors wrote.

You also can make new connections through Facebook groups and Meetups, where you can find community around interests, identity and more. Furthermore, global travel is on the rise and many of my Black female clients find they are in high demand abroad, for both hookups and serious relationships.

Challenge 3: Dating feels like a waste of time.
Fix 3: Save time by screening.
Having a substantive conversation beforeyou go on a first date is key to making sure that the people you give your time to are aligned with your must-have qualities. If my clients are meeting someone from a dating app, I require them to set a pre-date phone call, no more than 20 minutes long. Ask two or three questions about things in their profiles that piqued your curiosity and you'll quickly see if they embellished or if they're interesting enough for a first date.

Challenge 4: You forgot how to flirt.
Fix 4: Practice makes perfect.
I consider flirting a learned behavior. If you haven't been on a date in years, you've simply been practicing and strengthening different behaviors. When you are relearning flirting skills, start with smiling and making eye contact in situations where you otherwise might have avoided it. And notice the reaction that you get. Then, ask compelling, nonstandard questions that inspire storytelling. For instance, ask things that spark nostalgia, which increases dopamine in the brain, the same chemical that makes us feel butterflies when we are in love.

Challenge 5: It never gets serious.
Fix 5: Escape the texting trap.
The ghosting epidemic (people disappearing while you're dating them) is due to most people struggling with communication after dates. These days, post-date communication can happen over text, and it's easy to get stuck in what I call the "texting trap," which usually consists of endless "How was your day?" texts but doesn't blossom into something meaningful. Years ago, I used to allow older clients to tell me they weren't comfortable with texting. Now, I find that this is a crucial skill to develop.

To inspire another date, refer back to things you connected on and reference activities that could be fun to do together. If the person is unresponsive or reticent to move on to another date, you can't get caught up in what could have been. Save your energy for the next match.

The bottom line is that there has never been a better time in history for a Black woman to be single. Technology has opened up new possibilities for dating, communicating and meeting someone who matches you on many levels. If you believe love is possible for you, and you're willing to change your routine, you can find your dream match.